The words "Napa Valley" are inextricably connected to "wine" today. Of course, this hasn't always been the case. Have you ever wondered how Napa became the wine-growing powerhouse that it is today?
The Napa Valley was first settled by Native American tribes, who were drawn to the rivers and streams that fed the valley floor. In the late 1700s the Spain built a fort in the area, followed by Russian rancher
s in the early 1800s. By the mid-1800s all of California was considered a province of Mexico, including the Napa Valley.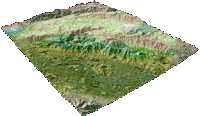 In 1836, George Yount established Rancho Caymus, building his home, a sawmill and a grain mill. Not only was he the first Anglo-Saxon in the area, he built the first log cabin and planted the first vineyard in the area. Upon his death, the town that had sprung up nearby was christened Yountville in his memory.
Following Yount into the area, Nathan Coombs built the town of Napa in 1847. The Gold Rush of 1849 brought affluence and excess to the area, triggering an explosion of vineyards and wineries to supply thirsty and well-healed miners. At first, wine was made from nearby Mexican grape stock, but European vines were brought in around 1860 that quickly became the standard.
Life was not all sunshine and roses, however. Between Prohibition and the great phylloxera insect infestation, many of the wineries of the 1800s were wiped out. It was not until the mid-1900s that growth returned to the valley, with Robert Mondavi leading the charge.
Today the Napa Valley area is home to over 130,000 full-time residents, and is said to attract about one third as many visitors as Disneyland. Hundreds of wineries, tasting rooms and restaurants make any visit a treat. With the constant growth and rebirth of vineyards and wineries, we keep on coming back. Won't you join us?
---
About the Author
: John grills a mean steak and is always in the market for another wine fridge. Believes that if a winery has more than 10 employees, it's probably too big. Buys wine faster than he drinks it, but who cares?
---
It pays to subscribe!
We will send you a brief email whenever there's a new post, so you'll never miss an article. We promise not to be a pest. Unsubscribe any time you like. And, of course, we won't let ANYONE else use our subscriber list. By subscribing, you agree to our
Privacy Policy
.
So go ahead,
click here to SUBSCRIBE
!