Everything in life follows fads and trends. Wine is no exception. We aren't particularly good at identifying wine trends, but one trend we have noticed, and enjoyed, is the emergence of Montepulciano as a wine of note!
Two years ago, I had never heard of Montepulciano. I am no resource for wine knowledge, its just that I had never been to a winery that produced said wine. Then, in a period of just a few months, three of my favorite wineries presented Montepulciano wine on their tasting menu. Mind blown!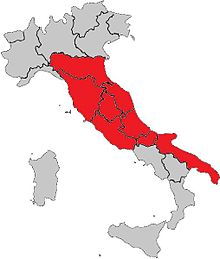 credit: wikipedia
The Montepulciano grape has been grown for many generations in Italy. It seems to have received its name from the town of Montepulciano, although the grape is not grown there now. To help confuse everyone, there is a fancy appellation "Vino Nobile di Montepulciano" that doesn't refer to Montepulciano grapes at all, but rather Sangiovese grapes. Makes sense, right?
Wine makers who know of the Montepulciano grape grow to love it. Montepulciano grapes ripen a bit later than other varietals, so harvest time doesn't compete with other grapes. It tends to have high yields, so a few rows of vines can source a lot of wine. The berry also has a low "skin to juice" ratio, so there's a lot more juice than solids in the must, making production a bit easier.
The wine from the Montepulciano grape has a beautiful, ruby red color, low acid and mild tannins. The flavor profile is typically a mid-sweet start cascading to a dry, almost tart finish. These are all good traits around our household!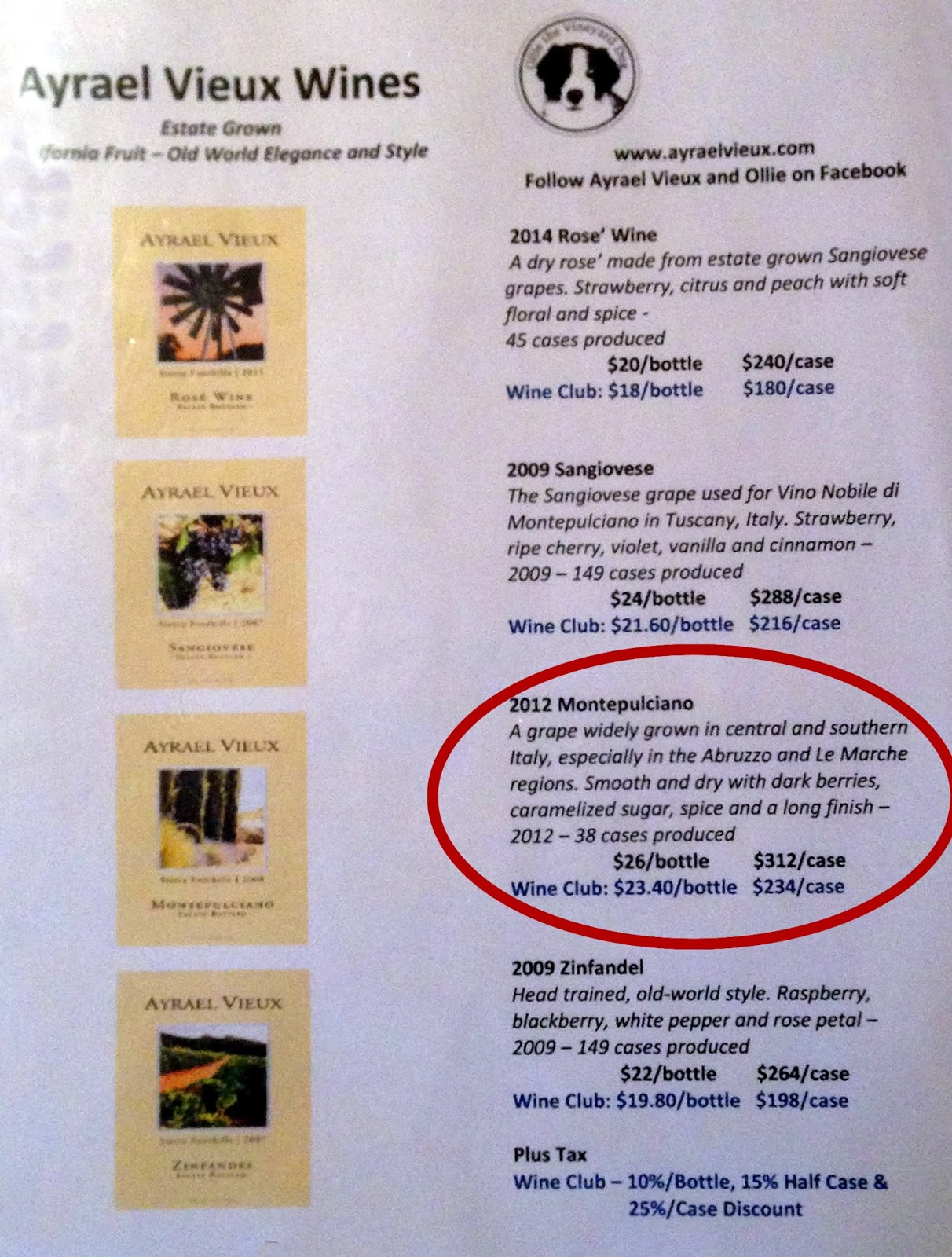 We first fell in love with the Montepulciano varietal at Ayrael Vieux, a boutique vineyard and winery in Murphys. Without exaggeration, it was our infatuation with this new wine that caused us to become club members there.
We next encountered this lovely varietal at Gianelli Vineyards in Jamestown. Once again, we loved the roller coaster ride of flavors and the refreshing, food-friendly finish. We wisely purchased some bottles to bring home.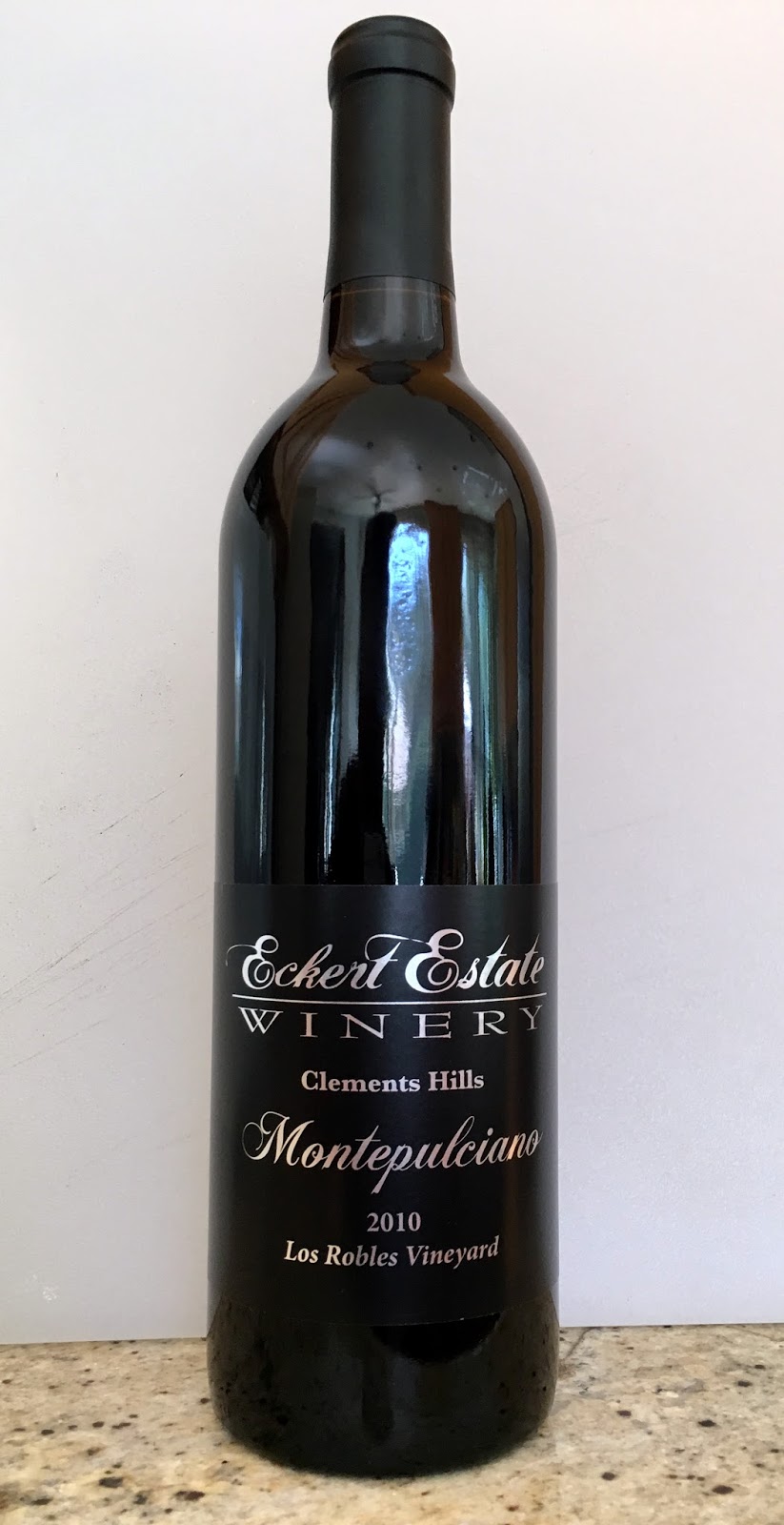 Then just last week we stopped by Eckert Estates Winery to taste our way through their new releases. Boom! Mike made a Montepulciano! Once again, great flavor profile, mild tannins, low acid finish, what's not to love?
So, there you have it. An up and coming varietal with everything it needs to really make a name for itself. Will it overtake Cabernet Sauvignon, Zinfandel or Merlot? Probably not, but if you haven't given Montepulciano a taste, you're overlooking something really special.
Cheers!
---
About the Author
: John grills a mean steak and is always in the market for another wine fridge. Believes that if a winery has more than 10 employees, it's probably too big. Buys wine faster than he drinks it, but who cares?
---
It pays to subscribe!
We will send you a brief email whenever there's a new post, so you'll never miss an article. We promise not to be a pest. Unsubscribe any time you like. And, of course, we won't let ANYONE else use our subscriber list. By subscribing, you agree to our
Privacy Policy
.
So go ahead,
click here to SUBSCRIBE
!