Are you in the club? The wine club, that is. What's that? You don't know about wine clubs? Here's what you should know about a great way to get closer to the wineries that you love.
Have you ever been in a winery and noticed a "club members only" note on the wine list? Or have you seen a "release party" announcement displayed in a tasting room? If so, you've discovered a few of the perks of being a wine club member.
A wine club connects a winery with their most devoted fans. The winery and club member both make commitments to the other and get benefits in return. Strike the right balance, and everybody wins!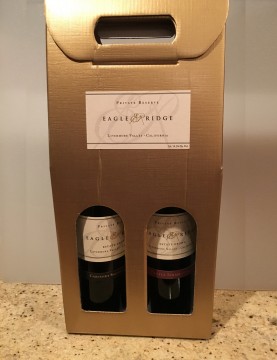 At the core, becoming a club member means that you agree to accept a "club pack" of wine on a periodic basis. Boom, that's it. Not complicated, but a real life commitment that should not be minimized. You can cancel your membership pretty much whenever you want, but you should check on your termination obligations before signing on the dotted line.
The winery gets a number of benefits from operating their wine club. They get nearly guaranteed sales of a predictable quantity of wine. They also get an enhanced relationship with their core customers, including the opportunity for email marketing to these club members on an ongoing basis.
As a club member, you get benefits, too! These benefits start with discounts on purchases. Many wineries extend these discounts beyond just their wine, to include everything they sell. You also typically receive free tastings when you visit, which can add up at your favorite winery haunts. Many times, limited production wines are available only to club members. Non-members just look on  and dream! One of our favorite benefits is the wine club release party. Not all wineries throw parties, but for us, it is a critical part of our decision to become members. These parties feature the newly-released wines and many times include food pairings and possibly live music. A party in every respect!
Frequent readers will know that we are members of quite a number of wineries. Probably too many, if viewed in the abstract. It may not be obvious, but we try to be strategic in our selection of wine clubs for membership. We consider a winery's wine style, release schedule, average cost per release, and most importantly, their approach to release parties! We've reached our limit on wine clubs, based on financial and wine storage considerations. That means that we add a wine club only when we are ready to (regretfully) cancel another club membership. Tough choices!
There you have it: the ins and outs of wine club membership. Which wine club will you join first?
---
About the Author
: John grills a mean steak and is always in the market for another wine fridge. Believes that if a winery has more than 10 employees, it's probably too big. Buys wine faster than he drinks it, but who cares?
---
It pays to subscribe!
We will send you a brief email whenever there's a new post, so you'll never miss an article. We promise not to be a pest. Unsubscribe any time you like. And, of course, we won't let ANYONE else use our subscriber list. By subscribing, you agree to our
Privacy Policy
.
So go ahead,
click here to SUBSCRIBE
!