Gertrude Stein said that "A rose is a rose is a rose." It turns out, though, that a Pinot Noir is not exactly a Pinot Noir or a Pinot Noir. We spent an evening learning about some of the many clones of Pinot Noir. Let the battle begin!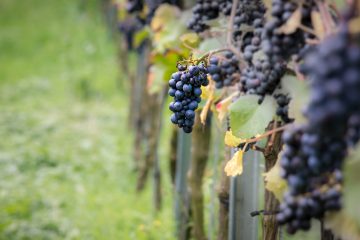 Our good friends invited us to join them as they explored the nuanced differences between several clones of Pinot Noir. To keep the variables to a minimum, all of the wines were sourced from the same winery, harvested the same year, and crafted by the same winemaker. The only variable was the particular clone of Pinot Noir. Isn't science wonderful?
Grape clones are not genetically modified humans serving as Clone troopers for the Jedi Order. Rather, grape clones are create by grafting a cutting or bud of a "mother" vine onto another root stock. This produces another vine with genetically identical grapes. By cloning, grapes with the best characteristics can be multiplied to vineyards around the world. Pinot Noir is one of the oldest wine grape varieties, and it has over 1,000 registered clones, with fifteen or so the most popular because of their quality.
Our friends are wine club members at Bouchaine Vineyards, said to be the oldest continuously operating winery in the Carneros District. We have tasted there a number of times, and agreed that their Pinot Noir library was amazing. Our approach was simple: four wine glasses, each filled with a different Pinot Noir clone. Compare, contrast. Clearly, we were in for a treat.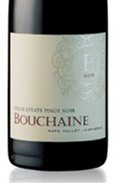 Glass number one contained Bouchaine's 2015 Dijon Clone Estate Pinot Noir. The Bouchaine tasting notes said, "This wine succeeds at walking the line between being dense, unctuous, intriguing, and elegant all at once.  Our winemakers wrote pages of aroma and flavor notes, but it all boils down to one word…sexy.  You will be rewarded by decanting this wine, it is a giant." We agreed that this boisterous wine improved while in the glass, with great aromas and a food-friendly finish.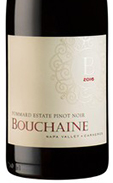 Glass number two was their 2015 Pommard Clone Estate Pinot Noir. Bouchaine said, "A juicy and succulent expression of Pinot Noir.  With an intoxicating nose of plums, blueberry and spicy tea rose, you won't be able to put your glass down.  The creamy gorgeous entry builds to an unctuous spicy finish of dark cherries, mocha, brown sugar, and French roast.  The lushness of this wine is addictive!" Our group was was evenly divided between loving this one and preferring the Dijon clone.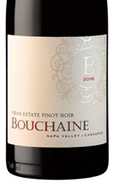 Glass number three was my favorite, their 2015 Swan Clone Estate Pinot Noir. Per Bouchaine, "The origin of the Swan clone is clouded in mystery; some think it came from the Romanee-Conti vineyards. It was brought to the United States by Joseph Swan and originally planted in the Russian River Valley. This wine is a blend of heritage blocks off of our estate, and the fruit favors perfume, purity, and charm rather than powerful structure." We found this to be a wonderfully complex and layered wine, perfect for the boeuf bourguignon that was the star of our dinner.
Our final glass was Bouchaine's 2016 Gee Vineyard Pinot Noir. Their notes said, "The blend is 100% St. Clair selection from the original vineyard planted by Jim St. Clair in 1968. The Gee vineyard is now over 30 years old and is completely dry farmed, sending roots deep into the soil and concentrating flavors. Unctuous dark cherry and pomegranate aromas are held together with layers of cigar spice and earthy complexity.  The wine enters with a burst of cherry and quickly envelops the entire palate, leading to notes of rosemary, charcuterie spice, and chanterelle mushroom.  The finish goes on and on…" Although not technically in the same vintage as the other wines of the evening, it served as a lovely conclusion to our tasting. The compact fruit notes and smoky finish topped off a lovely tasting and dinner.
So after our scientific tasting and re-tasting, the final preference score came out with three of us preferring the Dijon clone, two favoring the Pommard, one giving the Swan clone the nod, and the remaining pair voting for the Gee Vineyard offering. This certainly supported Bouchaine's strategy of producing so many variations on the Pinot Noir theme. The concept of something for everyone? Proven with this battle of the Pinot Noir clones!
---
About the Author
: John grills a mean steak and is always in the market for another wine fridge. Believes that if a winery has more than 10 employees, it's probably too big. Buys wine faster than he drinks it, but who cares?
---
It pays to subscribe!
We will send you a brief email whenever there's a new post, so you'll never miss an article. We promise not to be a pest. Unsubscribe any time you like. And, of course, we won't let ANYONE else use our subscriber list. By subscribing, you agree to our
Privacy Policy
.
So go ahead,
click here to SUBSCRIBE
!