The pressure slowly grows as the calendar winds inexorably toward the highest stakes holiday of the year: Valentine's Day. K&L Wines provided the perfect pressure relief: their "Almost Valentine's Day" champagne tasting. Just add some flowers and chocolate and consider the holiday handled!
Our son, Brian, gave us tickets to this event as part of his Christmas gift to us so we had been looking forward to the day for quite a while. We met Brian in the giant parking lot outside the San Francisco K&L Wines store and made our way past all the shelves of champagne to the back, where the tastings were held.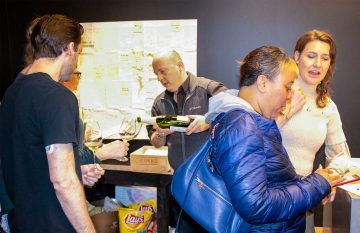 We reached the tasting bar to find Scott Beckerley, assistant manager and tasting leader, in full swing taking care of several dozen champagne tasters. As we approached, he greeted us by name and gave us each a glass and a quick orientation to the day's tasting. He called it his "Three Stooges tasting" in honor of the three Pinots being represented: Pinot Gris, Pinot Noir, and Pinot Meunier.
We started with a NV Derot-Delugny "Cuvee Fondateurs" Brut which was 100% Pinot Gris. This was a delightful introduction to Pinot Gris presented as a sparkling! So different in a very good way, with kumquat and black olive hints dancing behind the crisp fruit. We made a note to purchase a bottle of this unique sparkling. The next taste was a NV Drappier "Sans Soufre" Brut Zero Blanc de Noirs Champagne. We learned from Scott that the cellars aging this champagne date back to the 1100's and that Georges Collot of the House Drappier was nicknamed "Papa Pinot" for his laughable (at the time) decision to plant Pinot Noir in a region of Chardonnay. We enjoyed the classic Champagne flavor profile, with a bit of mushroom and rose toward the finish.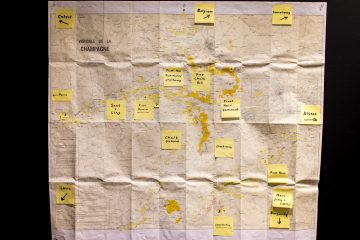 Scott then poured a 2012 Michel Arnould "Memoire de Vignes" Brut, made from 100% Pinot Noir, 50 year-old Grand Cru vines in Verzenay. This Champagne showed persistent, yet restrained ripe red fruit and faint aromas of hazelnut. We then moved to Pinot Meunier, starting with a NV Solemme "Ambre de Solemme" 1er Cru Brut Nature, made from 100% Pinot Meunier. Dry, with a lilting lemon acidity, we thought we could taste pistachios or almonds at the start.
A NV Derot-Delugny "Coiffe Blanche" was next, and our first taste of the day of 100% Pinot Meunier. Made in the style of Pinot Noir, we thought it showed a darker nose and palate, balanced tartness, and a bit of caramel on the finish. Scott next poured a 2012 Gilbert Jacquesson Vintage Brut, again made entirely from Pinot Meunier. We learned that the vines from Les Chaillot were planted in 1970 and those from Les Jenne Craux were planted the year before. These well-aged vines produced a Champagne with a full body with good weight, leading with green apples and finishing with cherries. The NV Trudon "Rosephile" Brut Rosé was our last 100% Pinot Meunier tasting. A very deep red (at least for a rosé), the color was developed by combining 91% "white" Meunier, with little skin contact, with 9% "red" Meunier darkened from more extended skin contact. We enjoyed the warm strawberry and rhubarb notes, with nice dryness from the 9g/L dosage.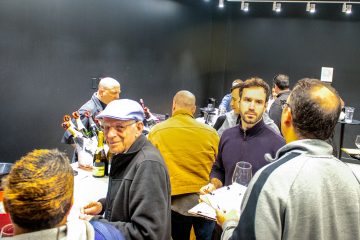 Our penultimate taste was a NV Jean Jacques Lamoureux Brut Rosé made from 100% Pinot Noir. The rosé color was imparted by several days of skin contact. We loved the dense fruit, mid-sweet strawberry notes and faintly smoky finish. We closed our tasting with a 2015 Jean Jacques Lamoureux Rosé, a still Pinot Noir wine made in the whole cluster method. This wine reminded us very much of a Burgundy, with layers of cranberry, strawberry and fresh currant.
Tasting complete, we thanked Scott and spent some time shopping the K & L Champagne aisle. A case or so later we were ready to venture out into the rainy San Francisco afternoon. This year's Valentine's Day was off to a great start!
---
About the Author
: John grills a mean steak and is always in the market for another wine fridge. Believes that if a winery has more than 10 employees, it's probably too big. Buys wine faster than he drinks it, but who cares?
---
It pays to subscribe!
We will send you a brief email whenever there's a new post, so you'll never miss an article. We promise not to be a pest. Unsubscribe any time you like. And, of course, we won't let ANYONE else use our subscriber list. By subscribing, you agree to our
Privacy Policy
.
So go ahead,
click here to SUBSCRIBE
!