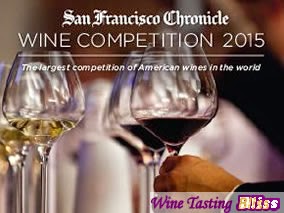 The results of the 2015 San Francisco Chronicle Wine Competition have been announced. This was a very good year for Livermore Valley wines and wineries! 37 Livermore wineries received a total of 178 medals. Here is the complete list of Livermore Valley winery winners. In many cases, we have previously written about visiting these winning tasting rooms. Just click on a winery name and you will be taken to our most recent posting. Congratulations to all of the participants!

Livermore Valley Chronicle Wine Competition Winners
Winery
Medals
3 Steves Winery
Best in Class 2012 Thatcher Bay Merlot
Two Silver medals 2012 Cienega Valley Cabernet Franc and 2012 Small Lot #2 Cabernet Sauvignon
Auburn James Winery
Double Gold medal 2010 Artist Series Napa Valley Meritage
Gold 2010 North Coast Speedster Bordeaux blend
Two Bronze medals Cabernet Sauvignon and Cabernet Franc
Bent Creek Winery
Best of Class 2012 Cabernet Sauvignon
Two Silver medals Cabernet Franc and Red on Red
Bronze medal Syrah
Big House Wines
Gold medal 2012 Zinfandel
Silver medal Red
Bronze medal White
BoaVentura De Caires Vineyard
Silver medal 2007 Port
Bronze medal 2011 Bordeaux blend
Caddis Winery
Silver medal 2011 Cabernet Sauvignon
Bronze medal 2012 Barbera
Cedar Mountain Winery
Two Silver medals 2002 Late Bottled Vintage port and the Toy Vineyard Reserve Viognier Port
Bronze medal Blanches Vineyard Cabernet Sauvignon
Charles R Vineyards
Three Bronze medals 2009 WR Ranch Cabernet Sauvignon, 2010 J. Covarruvas Cab and 2010 Tracy Hills Touriga
Concannon Vineyards
Gold medal Captain Joe's Reserve Petite Sirah
Three Silver medals Chardonnay, Petite Sirah, Petit Verdot
Five Bronze medals Chardonnay, Petite Sirah (2), Cabernet Sauvignon (2)
Crooked Vine Winery
Best of Class 2012 Cabernet Sauvignon
Double Gold medal 2012 Cabernet Franc
Golds medals 2012 Moxie and 2012 Syrah
Five Bronze medals Fume Blanc, Viognier, Pinot Noir, Petite Sirah, Petit Verdot
Cuda Ridge Wines
Gold medal 2012 Sangiovese and Merlot blend and the 2012 Syrah
Three Silver medals Merlot, Cabernet Sauvignon, Cabernet Franc
Bronze medal Petit Verdot
Dante Robere Vineyards
Two Silver medals Syrah and Dante's Inferno
Three Bronze medals Syrah, Mourvedre and Two Cellar Rats
Darcie Kent Vineyards
Two Gold medals 2013 Hoffman Chardonnay and the 2012 DeMayo Zinfandel
Silver medal Merlot
Three Bronze medals Chardonnay, Cabernet Franc, Crown Block Red
Eagle Ridge Vineyards
Gold medal 2010 Petite Sirah
Bronze medal 2013 Pinot Grigio
Eckert Estate Winery
Two Silver medals Reunion Rhone Blend and Clements Hill Dolcetto
Two Bronze medals Melange du Rhone and Ensemble
Ehrenberg Cellars
Two Silver medals 2012 Wilderotter Zin and 2012 Michael David Syrah
Two Bronze medals Zinfandel and Syrah
En Garde Winery
Double Gold 2012 Russian River Pinot Noir
Gold medal 2012 Russian River Starkey Hill Pinot Noir
Two Silver medals Albarino and Pinot Noir
Three Bronze medals Rose, Petite Sirah, Magdalena
Entropy Cellars
Silver medal Livermore Valley Bordeaux Blend
Fenestra Winery
Double Gold 2010 Lodi Tempranillo
Gold medal 2009 Thatcher Bay Livermore Valley Cabernet Sauvignon
Seven Silver medals Semillon, Verdelho, Syrah, Grenache, Malbec, Conjugation, and Port
Four Bronze medals Riesling, Semonnay, Mourvedre and Tawny Port
Garre Vineyard
Two Bronze medals Profound Secret Bordeaux blend and 2012 Tempranillo
Las Positas Vineyards
Double Gold medal 2012 Estate Cabernet Sauvignon
Four Gold medals 2012 Estate Tempranillo, 2011 and 2012 Coccineous and 2012 Casimira desert wine
Four Silver medals Pinot Gris, Petite Sirah, Reserve Cabernet Sauvignon (2)
Three Bronze medals Barbera, Syrah and Muscat Carnelli
Longevity Wines
Bronze medal 2013 Livermore "Pink" Pinot Grigio Rose
McGrail Vineyards
Two Gold medals 2009 Picazo Vineyard Merlot and 2011 Cabernet Sauvignon
Silver medal Sauvignon Blanc
Mia Nipote Winery
Two Silvers medals 2009 and 2010 Lencioni Vineyards Cabernet Sauvignon
Bronze medal 2011 Cabernet Sauvignon
Mitchell Katz Winery
Gold medal 2011 Livermore Falling Star Cabernet Sauvignon
Two Silver medals Sangiovese and Wesley's Blend
Two Bronze medals Chardonnay and Cabernet Sauvignon
Murrieta's Well
Two Silver medals 2013 "The Whip" White Blend and 2012 "The Spur" Red Blend
Nottingham Cellars
Gold medal 2012 Harris Tesla Cabernet Sauvignon
Six Silver medals Chardonnay, Cabernet Sauvignon (2), Petit Verdot, Supremacy and Red Blend
Two Bronze medals Chardonnay and Malbec
Occasio Winery
Double Gold medal 2012 Cabernet Sauvignon
Gold medal 2012 Thatcher Bay Merlot
Silver medal 2012 Ghielmetti Vineyards Syrah
Page Mill Winery
Five Silver medals 2013 Sauvignon Blanc, 2011 Petite Sirah, 2012 GPS, 2012 Cabernet Sauvignon and 2012 Cote Vineyard Merlot
Retzlaff Winery
Gold medal 2013 Sauvignon Blanc
Two Silver medals Merlot and Cabernet Sauvignon
Bronze medal Chardonnay
Rios Reserve Estate Winery
Silver medal Cabernet Franc Port
Three Bronze medals Cabernet Sauvignon, Cabernet Franc and Brett's Port Blend
Rodrigue Molyneaux Winery
Two Bronze medals 2010 Cab and 2011 Le Bocage blend
Stoney Ridge Winery
Five Silver medals 2012 Zinfandel, 2012 Syrah, 2012 Petite Sirah, 2012 Cabernet Sauvignon and 2012 Trifecta blend
Steven Kent Winery
Two Gold medals 2011 Cabernet Franc and 2011 Petit Verdot
Silver medal Cabernet Sauvignon
Bronze medal Chardonnay
Thomas Coyne Winery
Silver medal 2012 Confluence Bordeaux Blend
Four Bronze medals Grenache,Red Rhone Blend, Merlot and Petit Verdot
Vasco Urbano Wine Company
Double Gold medal 2012 "Heine" Petit Sirah
Three Silver medals Syrah, Mourvedre and GSM
Wente Vineyards
Best of Class 2013 Morning Fog Chardonnay
Two Gold medals 2013 Louis Mel Sauvignon Blanc and 2013 Riverbank Riesling
Three Silver medals Pinot Noir and Cabernet Sauvignon (2)
Two Bronze medals Chardonnay and Merlot
Wood Family Vineyards
Four Silver medals 2013 Para Mas Amigas Chardonnay, 2012 Muy Bueno Zinfandel, 2012 Big Wood Zinfandel and 2012 Thompson Ranch Cab
---
About the Author
: John grills a mean steak and is always in the market for another wine fridge. Believes that if a winery has more than 10 employees, it's probably too big. Buys wine faster than he drinks it, but who cares?
---
It pays to subscribe!
We will send you a brief email whenever there's a new post, so you'll never miss an article. We promise not to be a pest. Unsubscribe any time you like. And, of course, we won't let ANYONE else use our subscriber list. By subscribing, you agree to our
Privacy Policy
.
So go ahead,
click here to SUBSCRIBE
!