Our second venture into the Lodi wine district began with a visit to d'Art Wines. We didn't know very much d'Art Wines before we arrived, so we had no idea what to expect. A colorful and exuberant tasting room, plus some amazing wines equaled a great kick-off to a fun day.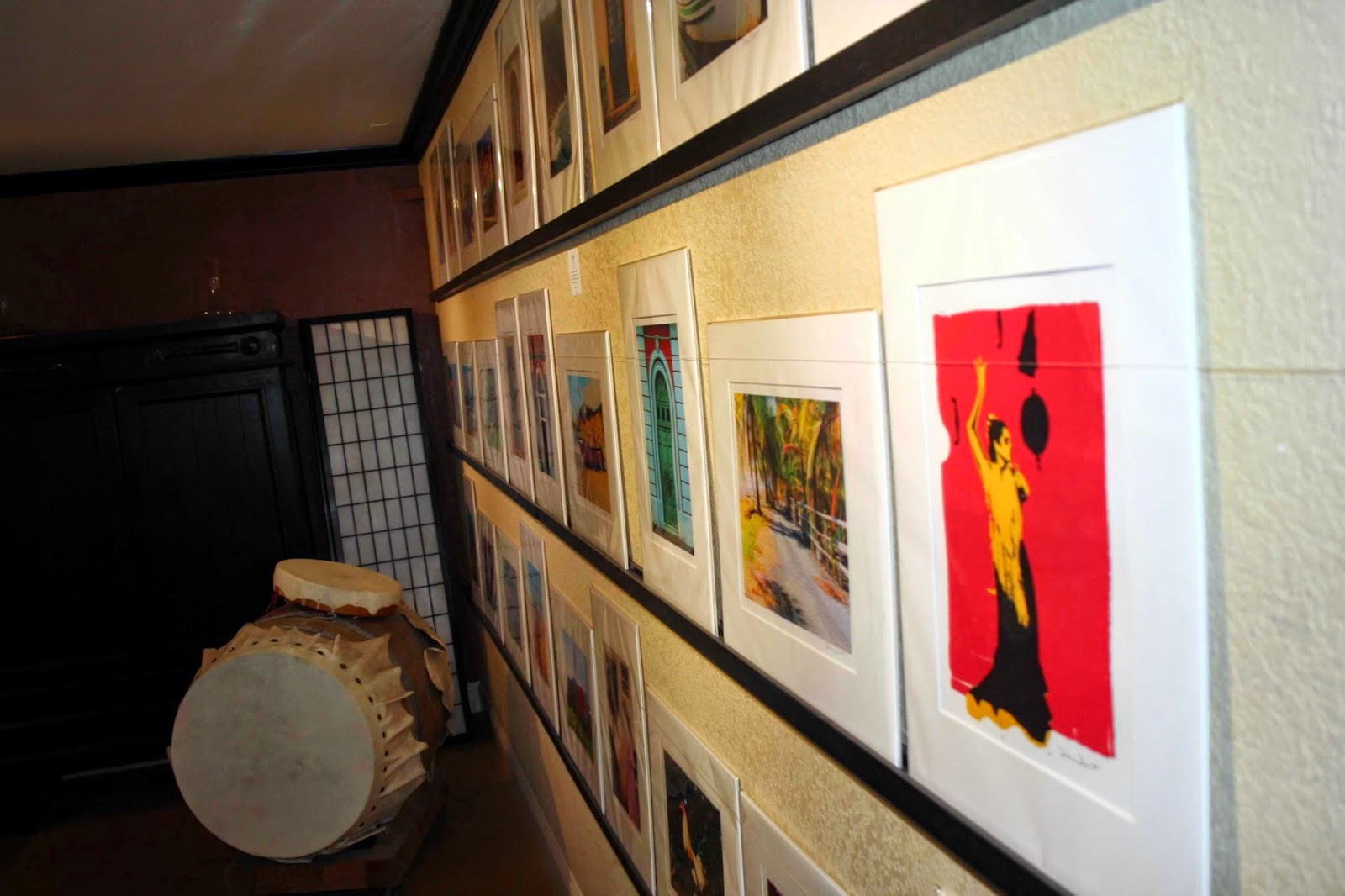 The d'Art tasting room is a feast for the eyes. Owners Helen and Dave d'Art have filled the room with graphic arts that echo Dave's history in the printing business. Joyful colors and dynamic images on the walls put all of us in the ideal mood for some hand-crafted, small lot wines.
We started our tasting flight with their 2012 Garancha. This was a perfect introduction to the d'Art approach to wine making: local fruit transformed into wines with a Spanish flair. Their Garancha would be their neighbor's Grenache. The d'Art version was a warm welcome that involved the entire mouth. Crisp yet full, a good choice for saying adieu to the setting sun on a summer's day.
Abby Accepts a Head Pat
Next up was their 2012 Barbera. Destined for their Club release next week, we found this wine bright and fruit forward, an immediate hit with our group. Several bottles were purchased to enjoy later.
Abby, the working winery dog, entered the tasting room at this point, welcoming all present, accepting compliments graciously and allowing the occasional head pat. A fun dog who serves as a four-legged ambassador for the winery.
Helen d'Art: Passionate About Wine
We next tasted the 2012 Cabernet Sauvignon. We are not a group that typically goes overboard for Cabs, but this was a notable exception. All of us, without exception, thought this was a great wine. Soft and supple, some of us even detected hints of huckleberry. Quite a nice surprise! Is this the exception that proves the rule?
With a certain amount of excitement, we tasted their 2011 Zinfandel. We were not disappointed. Made from local old vines, this was smokey oak and lively pepper on top of great fruit.
The 2012 Final Cut was up next, and a whole lot of fun. Made from whatever was left in the last 14 barrels from 2012, this wine was soft and quite drinkable. One comment said it all, "Layers of flavor that fit together like a puzzle."
The Dancer That Started It All
Next was their 2012 Dance, a blend of Cabernet Sauvignon, Zinfandel and Barbera. The quintessential image of d'Art Wines is a Spanish dancer, based on a snapshot taken during a trip to Spain. The photo was not that great (at least according to Helen), but Dave took it as a challenge to transform the image into something memorable. The 2012 Dance portrays these emotions of style, art and focus admirably. This was soft on the palate, with balanced fruit and super-low tannins. Perfect for pairing with a steak! We purchased a bottle to enjoy this spring as the BBQ season gets into full swing.
Their Dog Day Red started out as a mistake. Some port was accidentally mixed back into a barrel of red wine. Boom! Dog Day Red was born. Heartier than a red blend, but not as jammy as a port. Our group called it, "light and yummy."
Helen d'Art told us that a tradition has sprung up where they serve their Dog Day Red (on ice, no less) at a special event the day after the Lodi Zin Festival, with all of the proceeds supporting the local Animal Rescue. Abby must be very proud.
We completed our tasting with two ports. The Lodi Port is a blend of Cabernet Sauvignon, Petite  Sirah and Tempranillo. The Tempranillo Port was equally fun, with amazing fruit that refuses to hide behind the alcohol. A smokey nose and just a touch of raisin, a port that JUST MIGHT cure the common cold.
With a happy palate and an armload of wine, we said goodbye and thank you to Helen and her tasting room crew. See you again soon!
---
About the Author
: John grills a mean steak and is always in the market for another wine fridge. Believes that if a winery has more than 10 employees, it's probably too big. Buys wine faster than he drinks it, but who cares?
---
It pays to subscribe!
We will send you a brief email whenever there's a new post, so you'll never miss an article. We promise not to be a pest. Unsubscribe any time you like. And, of course, we won't let ANYONE else use our subscriber list. By subscribing, you agree to our
Privacy Policy
.
So go ahead,
click here to SUBSCRIBE
!