The sun was setting on our Healdsburg wine tasting adventure. We had toured and tasted on Segways, visited the Selby Winery during the frenetic excitement of barrel tasting, and sampled the broad range of Pinot Noirs at the Roadhouse Winery. With barely enough time for one more winery visit, we were thrilled to be welcomed into the C. Donatiello Winery tasting room.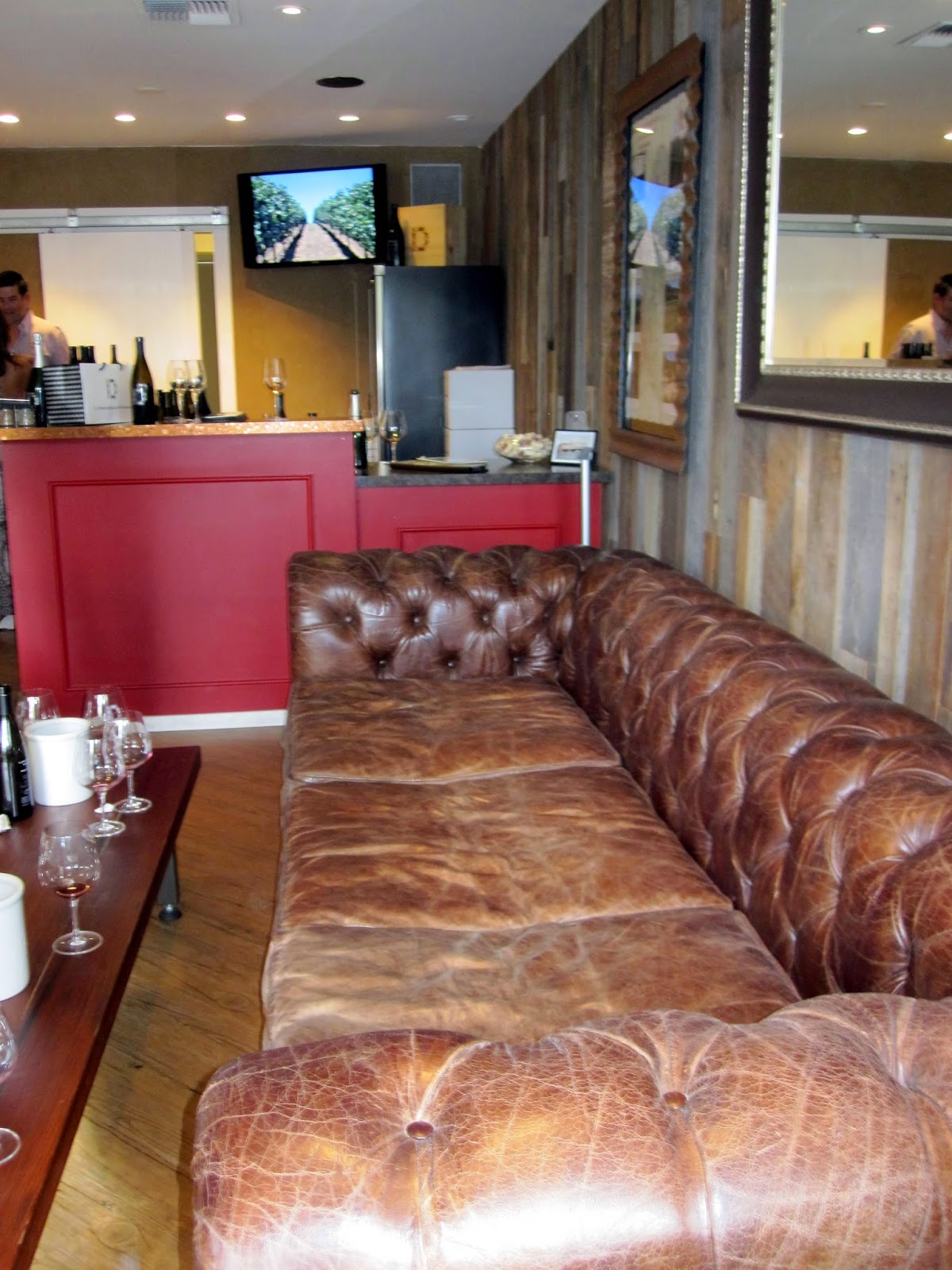 Every tasting room reflects the personality of the wine maker. Some are frenzied and full of energy, others are contemplative and reserved. The tasting room of C. Donatiello was definitely the latter. Warm colors, rich leather and dark woods all gave the feeling of a stately afternoon at a well-heeled relative's lodge house. Our anticipation grew by the minute!
We were invited to a seating area of couches and armchairs, which was a great relief for our aching legs. Wine tasting is not for the timid, but an entire day on our feet was taking a toll. Finally we had a chance to sit down!
Our next decision regarded tasting flights. We were offered either a Chardonnay flight or a Pinot Noir flight. In a flash of strategic insight, we decided that two of us would share the Chardonnay tasting and two of us would share the Pinot Noir tasting. Clearly, we have learned a few things in our years of wine tasting.
With that momentous decision behind us, an array of glasses was delivered to our table for our tasting flights. This is our favorite way to taste! Each wine was poured into a separate glass, each an ample pour to allow us to explore and taste again, moving from wine to wine to compare and contrast the flavors.


Sarah and the Man of Mystery
We were guided through our tastings by a wine guide who told us that he was in the witness protection program and unable to give us his real name. Although he was clearly joking, we referred to him thereafter as "the Man of Mystery". Despite lacking a name, he was not lacking in wine knowledge. He was able to describe the each vineyard, the soil conditions, the wine making process; everything that led up to the wine appearing in our glass. Before our first sip, we felt like each wine was already an old friend.
Our Pinot Noir flight started with a 2012 vintage from vineyards on the Sonoma coast, just west of Occidental. We enjoyed the fresh and bright fruit notes and balanced finish. A great way to start our flight!
Next up was another 2012 from the Russian River. This was a favorite among our group, with aromas of leather and parchment. We loved the complex, yet clear layers of fruit. That was followed by a Pinot from the Riddle vineyard, which our Man of Mystery described as 1,500 feet above the fog. We found some great notes of pitted fruit and pepper.
We completed our flight with a Pinot from the Hervey vineyard, near Petaluma. A robust Pinot Noir, we appreciated notes of tobacco and hay. A great choice for pairing with a hearty meal!
We completed our flights, but the wine kept coming! We next tasted a 2014 Pinot Noir from the Beaufort vineyerd, straight from the barrel. We enjoyed the rosebud nose and the cherries on the palate. Our appreciation must have been obvious, because we were then treated to the 2013 vintage of the same wine. The extra year added nice, dry smoothness and a long, lingering finish. This one will be amazing when it reaches a bottle.
By this time the tasting room was long closed. Still, owner/winemaker Christopher Donatiello had more wine for us to taste. We tasted a 2006 Chardonnay that logic said would be long past its prime. To our delight, we found the wine to be near magical in its aroma and flavor. If only every old wine was this amazing!
Our final taste was a young Sauvignon Blanc, again from a barrel. Each of us reacted with the same big smile and exclamation: I can't believe the fruit! This will be another outstanding vintage once it is available for sale.
With our dinner reservations looming, we said goodbye to Christopher and our Man of Mystery and made our way across the Healdsburg square toward our restaurant. A great day that ended much too soon.
Until we get back: Cheers!
---
About the Author
: John grills a mean steak and is always in the market for another wine fridge. Believes that if a winery has more than 10 employees, it's probably too big. Buys wine faster than he drinks it, but who cares?
---
click here to SUBSCRIBE
!