It has long been a dream of mine to ride on a Segway. It always looked fun, and with apologies to Paul Blart, how hard can it be? Add in the chance to taste some wine in some boutique wineries and it seemed too good to pass up. In a thinly-veiled attempt make it NOT all about me, I packaged the trip as a romantic Valentine's Day gift. Clever? I don't know, but she loves me too much to call me on it.
We scheduled our tour weeks in advance with Segway of Healdburg. Sharp-eyed Judi had spotted a TravelZoo coupon months earlier, so we had a BOGO deal working for us. The four of us (wife and I, plus our son and his wife, Valentine's Day: BOOM!) were so excited that we actually left early for the event. This was way out of character for us, establishing the level of anticipation that had built up.
Sarah Making a Picnic
We had the after-lunch tour booked, so we started our day with a picnic lunch at Seghesio Family Vineyards, on the outskirts of Healdsburg. We were worried upon arrival because the beautiful grounds were in the midst of relandscaping. To our relief, there was one picnic table set outside the work area, as though they were thinking specifically of our visit. What a nice thing to do!
While Judi and Rob went into the tasting room, Sarah and I set up the picnic. OK, that's a bit inaccurate. Sarah set up the picnic and I fussed and got in her way. Nonetheless, shortly we had a beautiful picnic lunch laid out and Judi and Rob returned from the tasting room with an amazing 2013 Barbera. The Seghesio staff even sent out four wine glasses, saving us from drinking really nice wine out of disposable plastic tumblers. The assertive fruit in the Barbera paired beautifully with the sandwiches and crudités.
The thick, ominous clouds could not dampen our enthusiasm. We rushed (a bit, we were VERY excited) through our picnic, returned our glasses to the tasting room and headed off to find our somewhat mysterious meeting point for the Segway tour. Our instructions directed us to a "Park and Ride" just off the freeway. With some trepidation, we sought out this spot. Imagine our relief when we saw the logo van and a stable of Segways in an otherwise unremarkable parking lot. We made it!
As the clouds skittered away to reveal a flawless blue sky, we met Josh, our tour guide. We completed some paperwork allowing the tour company to sue us in the event of our injury (you didn't think that we read it, did you Josh?) and it was finally time for Segway training. Woot! All the waiting and wondering was over. We were going to RIDE.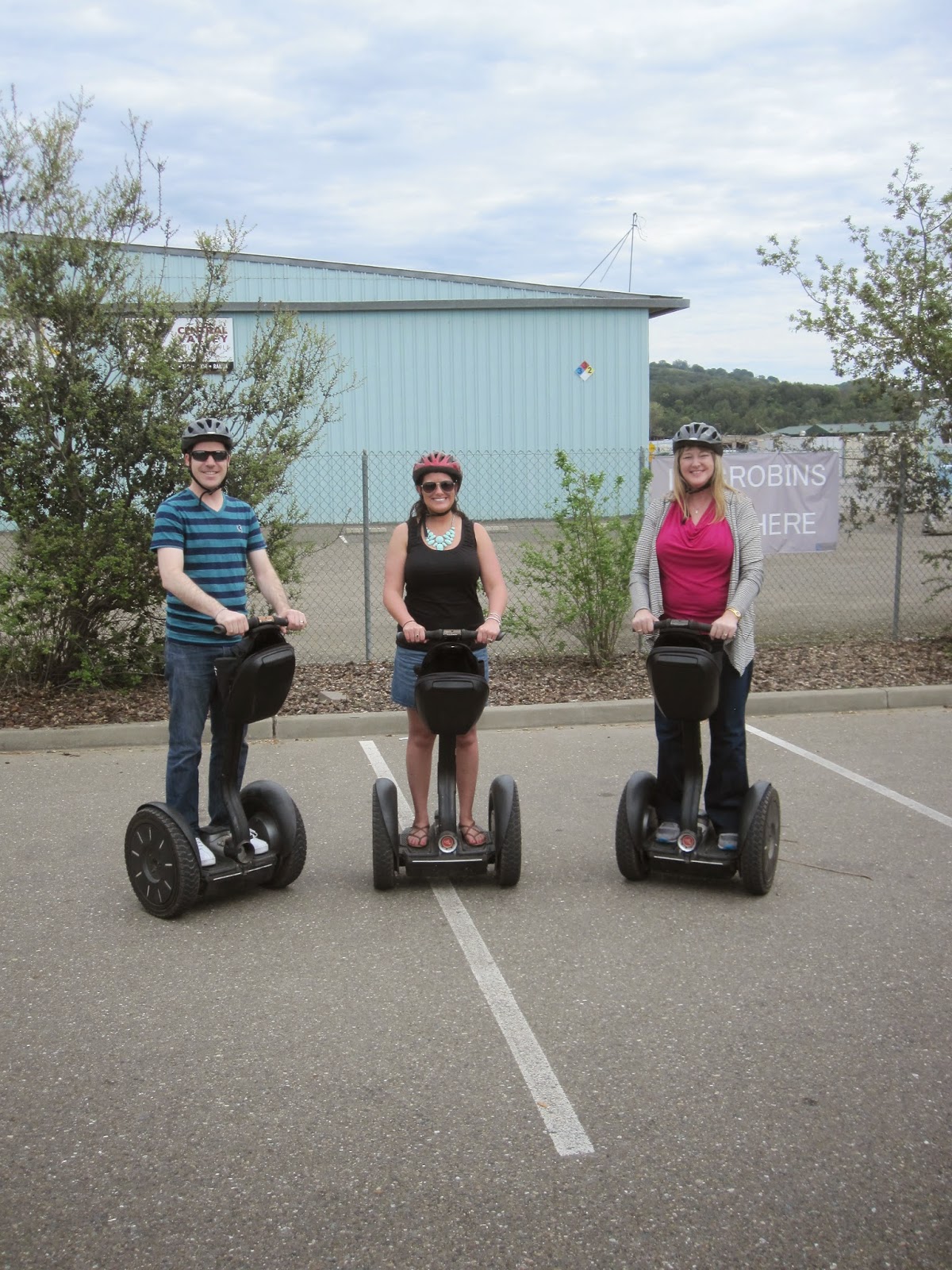 Trained and Ready!
As usual, our worries about learning a new skill were groundless. Between Josh's patient coaching and the incredibly intuitive controls on the Segway, we were all zooming around the parking lot in no time. After getting to feel pretty good about ourselves as professional Segway drivers, Josh admitted that he had our Segways set to "turtle mode." Properly put in our places, he reset our steeds to full speed operation and we set out single-file toward our first winery.
Feeling very proud, our intrepid band of Segway pilots rolled along the road. We smiled supportively toward the tired and sweaty bicyclists that we passed. We waved regally at passing cars. Yes, we really were feeling like we were all that. Luckily everyone just smiled and tried to ignore us.
When a Segway Gang Rolls Up
After about 20 minutes, we arrived at our first winery. Oh, that's right, we weren't just tooling around on Segways, are we? We were tasting wine, too! We arrived at a beautifully manicured winery called Limerick Lane Cellars. Given that we had been riding on Limerick Lane for several miles, the winery's name made a lot of sense. We parked our Segways (which is harder than it sounds) and made our way in. What a nice tasting room!
We enjoyed the 2012 Rocky Knoll Zinfandel and the 2012 Russian River Estate Zinfandel, but the 2011 Estate Pinot Noir really stole the show. The balance and subtlety appealed to all four of us.
All to quickly it was time to go. Well, in this case our reluctance to leave this beautiful tasting room was tempered by our excitement to get back on our Segways! We mounted up and paraded back down the road toward our next stop: the Christopher Creek Winery.
On the way to the winery, we learned a new Segway skill: hill climbing. It turns out the Christopher Creek is at the top of a hill, so ascending the steep driveway required a bit of advanced technique. So here's the secret: rise to the balls of your feet. If that is an advanced technique, the ease of driving a Segway should now be in perspective.
We arrived at the Christopher Creek Winery to find it in full party mode. This was a barrel tasting weekend for all of the Healdburg wineries, and Christopher Creek was really hopping. In addition to some really nice wine, they had live music, BBQ food and a swimming pool! Even though the entire grounds were exploding with party people, our wine guide Tyler made sure that we had a nice place to sit, glasses of water to offset the brilliant sun, and plenty of background information on each wine as he poured. Great job, Tyler!
A favorite at our table was their 2008 Cabernet Sauvignon. Warm and fruit forward, without a tannic bite at the end, this would be a great wine for BBQ chicken and baked potatoes on the picnic table beside the pool. We also liked their light and fresh Viognier and their not-too-buttery Chardonnay. We also enjoyed the band bringing back hits from the '70s and '80s, with special attention to the library of Chicago and other trumpet/trombone/sax bands. Wine guide Tyler, great wine, BBQ smoke in the air, a band with a horn section, it doesn't get much better than this!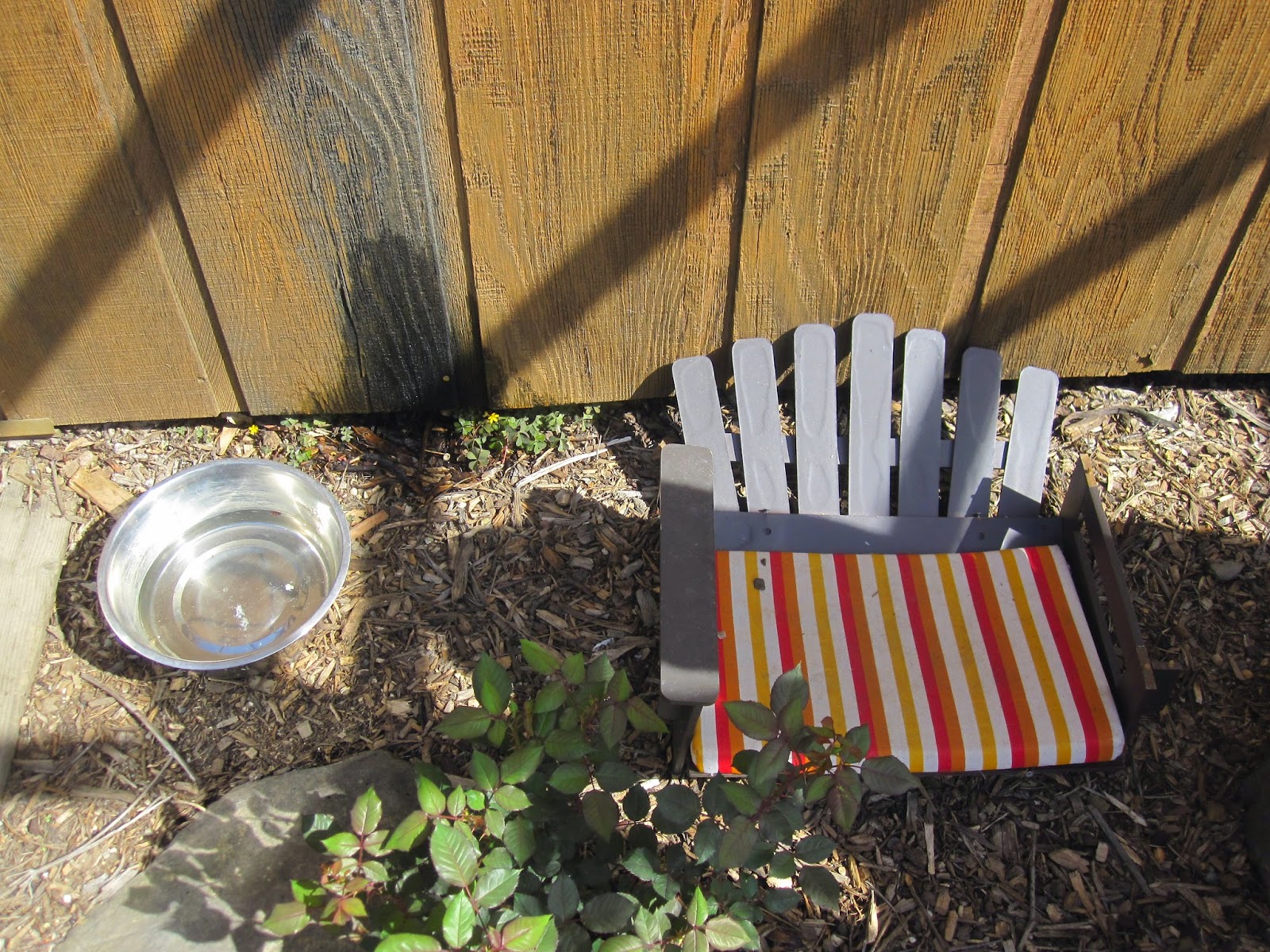 Doggy Recliner
Sadly our tour was coming to an end. We said goodbye to Tyler, complimented them on the super-cute doggy recliner and made our way back to our Segways. We mounted up and rode back to the Park and Ride where, after a few well-deserved victory laps, relinquished our Segways and returned to mere mortal status.
The only things keeping our spirits up were our great memories of this unique tour and the knowledge that we had several more hours Healdsburg wine tasting ahead of us. We were mid-way through a day to remember.
Cheers and tally ho!
---
About the Author
: John grills a mean steak and is always in the market for another wine fridge. Believes that if a winery has more than 10 employees, it's probably too big. Buys wine faster than he drinks it, but who cares?
---
click here to SUBSCRIBE
!