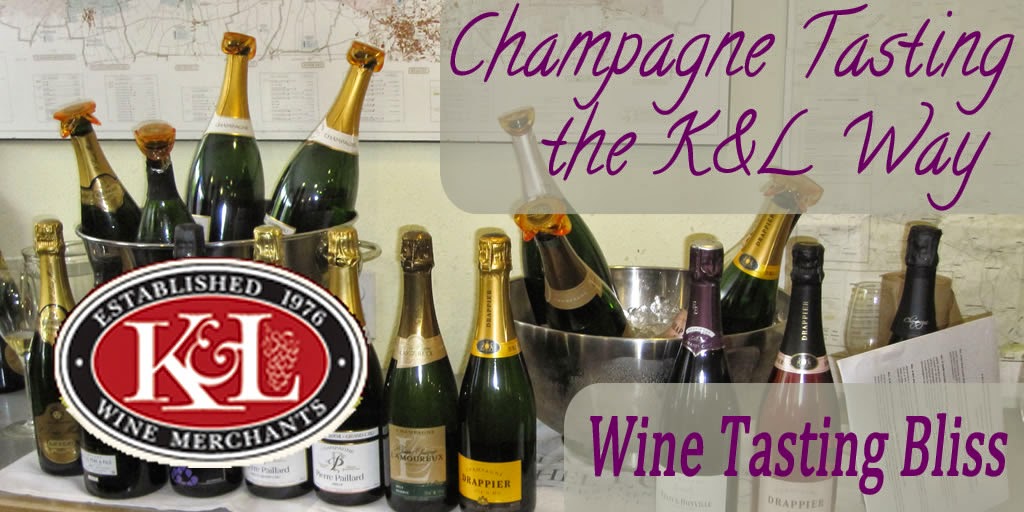 So by now you know that we LOVE wine tasting! We especially enjoy visiting small wineries and meeting the people who actually play a role in producing the wine. For a real change of pace, though, we checked out a champagne tasting at K&L Wines, our favorite wine retailer. There were some similarities and some real differences from our typical experience. Here's how it went!
We were invited to the champagne tasting by our son and daughter-in-law, who are both old hands at this kind of tasting. Given that they live "in the city" and there is only one winery in San Francisco, this form of wine tasting is much more accessible for them. The K&L Wines store is within walking distance of their home, so Julie and Brian were familiar faces in the tasting area.
The tasting "room"
That gets us to the first difference when tasting in a retail store. The tasting experience is embedded within the retail experience. Yes, most tasting rooms do have a strong retail component, but this was a new level of integration. We learned that the store was about to move, and they planned a much larger and more separated tasting area, but for now we were elbow-to-elbow in a space delimited by shelves of wine. Not a deal-breaker at all, just something to look forward to at their new location.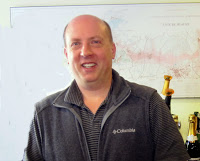 Tasting guide Scott
The tasting was titled "Small estate and Aube Champagne Tasting" so we knew a bit about what to expect. We met our tasting guide for the day, Scott Beckerley, K&L's Assistant Manager. Scott made the experience fun and educational. Not only did he have expert and insightful notes on tasting each champagne, his knowledge of the people (and intrigue that people naturally attract) made each producer fascinating. We were ready to jump on a plane and check each winery out ourselves. Scott's passion for the champagne region was palpable!
We tasted our way through nine champagnes. Each selection was delicious, and no two champagnes were alike. As usual, we found that our palates did not equate price with yumminess (my own technical term). Some of the less expensive champagnes blew us away while some of the more expensive choices left us wondering why. Once group's favorite was the NV Jean-Jacques Lamoureaux "Reserve" Brut Champagne. We love the cherry and lemon notes on the nose and the balanced dance of 100% Pinot Noir fruit across the tongue.
Another happy surprise was the NV Drappier Carte d'Or Bruit Champange. This reasonably-priced champagne had aromas of croissants and light vanilla and melon highlights on the palate. The producer takes great pride in their ultra-low sulfite levels. This is a boon for those with sensitivities to sulfur. A real chance to "taste the terroir", there was some minerality and a delightfully dry finish. At $40 a bottle, this is a great choice for a (moderately) special event that won't break the bank.
Looks like a good time was had!
So what are the pluses and minuses of a K&L tasting? An obvious advantage is the ability to taste many different wineries without moving from tasting room to tasting room. Scott made every champagne come alive for us, so we felt like we knew each producer personally. Scott and his colleagues spent a lot of time selecting the tasting menu and we appreciated their expertise. We found some real winners on the menu, and there is no chance that we would have discovered them on our own.
On the down side, we were in a space that could comfortably host a tasting for a half dozen people. Unfortunately, the great value of this tasting was not our secret alone, so about a dozen people were tasting with us. We made new friends, but elbow room was at a premium. The new facility should put this problem to rest.
On net, we found the K&L Wines approach to a tasting experience to be a great trade-off between variety and intimacy. We can't wait to try this again in their new location.
Cheers!
---
About the Author
: John grills a mean steak and is always in the market for another wine fridge. Believes that if a winery has more than 10 employees, it's probably too big. Buys wine faster than he drinks it, but who cares?
---
It pays to subscribe!
We will send you a brief email whenever there's a new post, so you'll never miss an article. We promise not to be a pest. Unsubscribe any time you like. And, of course, we won't let ANYONE else use our subscriber list. By subscribing, you agree to our
Privacy Policy
.
So go ahead,
click here to SUBSCRIBE
!