It's time to visit Murphys! We were invited to visit the area by our good friends Laura and Bill, who have a vacation home nearby. We had visited Murphys before, and even stayed in the historic Murphys Hotel (hint: the rooms are over the bar, so don't plan on turning in too early. You bought wine for a reason, right?). We were excited to return to explore some new wineries and revisit some previous favorites. Even better, Bill and Laura had invested the time to create a winery list in advance. We climbed into their car and set off for our first winery, Four Winds Cellars.
The Hackberry tree is on the left
First impression? The tasting room has a gorgeous location! Look up the word "bucolic" in the dictionary and you will find a picture of this place. Rolling hills, contented cattle, some picnic tables scattered around the yard. All that was missing was a tire swing hung from the Hackberry tree (not making this up, it had a sign), then call Norman Rockwell.
The engaging David Webster
We entered the tasting room to find that we had it to ourselves, except for a very outgoing wine guide.  We met the tasting room guide, who turned out to be the owner and general manager David Webster. We started with a few minutes discussing the heritage of the Hackberry tree!. David was engaging, to say the least. His love for wine was only outmatched by his love for meeting new people. Within 10 minutes we learned about his personal history and the path that led to his current situation owning and operating a winery. We loved Four Winds Cellars before we tasted a single wine!
Then we tasted the wine. Boom! At that point, we knew what drove David's confidence. He makes some outstanding wines! David explained that his partner and winemaker, John Gibson, deserved all the credit. John Gibson, ex of Stag's Leap, transforms all of the estate-grown grapes into fine wine at a Napa facility. This shipping to and fro is a critical part of David's self-disclosed strategy to keep overhead so high that taxes on their profits will never be a concern!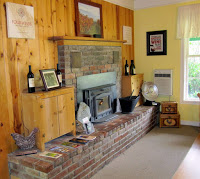 We started with their only non-Estate grown wine, the 2013 Viognier. Nice and light, this is fruity and perfect for a summer afternoon. We next tasted a 2013 Chardonnay, which was a favorite among our group. David explained that he aged this wine for 10 months in 3 year-old French oak, then neutral oak just before bottling to round off the sharp edges without added the buttery notes that we don't appreciate in our Chardonnays. This example of the Chardonnay grape was amazing. Good on its own, but capable of pairing with a cheese plate or most entrees.
Then we got to the reds, and things REALLY got interesting. We can usually identify our favorite wine pretty easily. In this case, though, we came down to a three-way tie: the 2011 Tempest (a blend of Syrah, Sangiovese, Petite Sirah, Cabernet Sauvignon, Merlot and Zinfandel), the 2011 Merlot (with just a splash of Cabernet Sauvignon) and the 2011 Cabernet Sauvignon. David said that he believes that the 2011 Cab is the best that has been produced since 2004. We could not disagree! After some spirited discussion, we settled on bringing home bottles of Merlot and Cab to enjoy later.
Sign of a great tasting!
We finished up with their 2013 Zinfandel, which was labeled "cellar club only". I'm guessing that our winning smiles made David overlook our shocking lack of membership. This Zin gave us spice and fruit without the smack to the side of the head that many Zins seem to feature. All in all, a great way to wrap up our first tasting of the day.
We purchased our wines (David even had a bottle-friendly pen in his pocket to identify who owned each bottle!) and said our goodbyes. We were off to a high-flying start for our Murphys visit. Could the rest of the day possibly keep up this level of wine tasting bliss?
---
About the Author
: John grills a mean steak and is always in the market for another wine fridge. Believes that if a winery has more than 10 employees, it's probably too big. Buys wine faster than he drinks it, but who cares?
---
It pays to subscribe!
We will send you a brief email whenever there's a new post, so you'll never miss an article. We promise not to be a pest. Unsubscribe any time you like. And, of course, we won't let ANYONE else use our subscriber list. By subscribing, you agree to our
Privacy Policy
.
So go ahead,
click here to SUBSCRIBE
!