The road into Murphys is lined with wineries, each trying to distract visitors from their quest for the tasting rooms of downtown Murphys. One winery that should not be passed is Ayrael Vieux. Don't worry, Murphys will still be there when you're done!
Arriving at Ayrael Vieux Winery is alway rewarding. The winery dog, Ollie, has an encyclopedic memory for returning guests. Even if it is your first visit, Ollie will greet you as a long lost friend. He is an incredibly perceptive judge of character, because everyone is immediately his buddy. Only after a respectful amount of time is invested in petting Ollie it is possible to be greeted by owner (and amazing jazz sax player) Bob Eisenman.
The first part of any visit to Ayrael Vieux is a tour of grounds. Every inch of the property shows a balance of artistry and horticulture.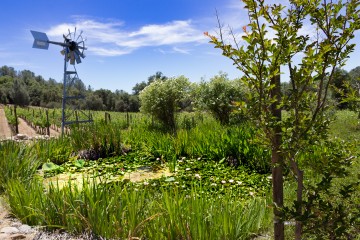 After the tour of the grounds and vineyard was complete, we walked back to the front of the property and entered the tasting room. It was time for our tasting!
Bob set us up with wine glasses and updated us on their wines. We were thrilled to see that some of our favorite AV wines had new vintages to explore. The 2016 Rosé, a Sangiovese blend, was as crisp and refreshing as the 2014 vintage that has been a staple of our summer boccé ball competitions. The 2011 Sangiovese showed a depth and complexity that earned it a slot on our "take home" list.
Next up was their 2014 Montepulciano. Years ago we fell in love with Ayrael Vieux, in no small part because of their Montepulciano. This little-known grape produced a mind-blowing wine that caused us to buy a case load the first time we tasted it. By happenstance, we had just emptied the last bottle a few weeks earlier. A perfect excuse to restock!
We completed our tasting with a barrel tasting of their upcoming 2016 Montebianco High Sierra Port. What a great reason to visit again in the coming months to pick up a couple of bottles of this intriguing dessert wine.
We made our difficult purchasing decisions, thanked Bob for the great tasting, scratched Ollie's ears to ensure a warm welcome upon our next visit, then headed off for our next Murphys adventure.
---
About the Author
: John grills a mean steak and is always in the market for another wine fridge. Believes that if a winery has more than 10 employees, it's probably too big. Buys wine faster than he drinks it, but who cares?
---
It pays to subscribe!
We will send you a brief email whenever there's a new post, so you'll never miss an article. We promise not to be a pest. Unsubscribe any time you like. And, of course, we won't let ANYONE else use our subscriber list. By subscribing, you agree to our
Privacy Policy
.
So go ahead,
click here to SUBSCRIBE
!