It's wedding season, which means it's time to spend way too much money on Nordstorm.com, jockey for the most unique items on the registry, and hit the road. Recently, our friends got married in Chico, CA, where they both attended college. Chico has a bit of a reputation preceding it for partying hard, but we wanted to actually make it to the wedding, so we decided to be real adults and go the wine tasting route instead.
After 3 and a half hours in the car with me, I'm pretty sure my boyfriend would have stopped at an abandoned shack just to get some breathing room, but luckily Almendra Winery & Distillery was right off the road and easily found in Durham, about ten minutes from Chico proper. The building is a renovated marketplace, and the beautiful stucco building glowed in the 110-degree heat. We basically ran for our lives towards the AC, and were immediately impressed by the gorgeous interior.
Chandeliers, an open barrel room, multiple seating areas and a cute shopping area welcomed us, as well as Joel, our awesome wine guide for the day. We had the good luck to be not only the first customers of the day, but the only customers in the place for about an hour. Since Nick and I love nothing more than a hostage to force our friendship upon, we got right into talking and tasting some wine.
Almendra offers wine tasting flights, with generous pours in adorable mini carafes. I love having all my tastes poured at once, as well as the freedom to take my tastes to a comfy chair. The mix-and-match style of tasting also worked well given the huge variety of wines being poured.
Almendra offers both their house wines and Bertagna Wines, and the tasting list was two full pages. Joel gave us some helpful hints, as well as some history on the small, family-run business. There are only about 10 employees at Almendra, which means that everyone wears a variety of hats and truly impacts the brand. We saw this firsthand, as Joel explained his role as a mixologist, wine pourer, spirit taster, and "occasional janitor." Try adding all that onto a business card.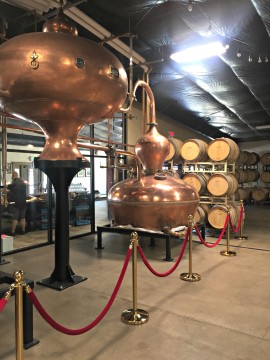 Wine-wise, our favorites included the Celebration sparkling wine (a bottle came with us to the hotel room for some wedding preparations.) It's a sweet sparkling that has serious Moscato vibes without the syrupy aftertaste. We also loved the Luna, their most well-loved varietal combining Zinfandel, Cabernet Sauvignon and Nebbiolo. While we were tasting, a local stopped by to purchase a bottle and let us know that he never attends a dinner party without it! I also grabbed a bottle of the Bertagna Sangiovese for my wine collection, which they call a red for white wine drinkers. While I would never call myself a white wine drinker, its smoothness and drinkability would make anyone fall in love.
The entire time we were tasting, I had my eyes on a pretty little chalkboard sign with the magic word: frosé. For the uninitiated, frosé is a kind of wine slushy, usually made with rosé, crushed ice, and some kind of juice blended together. It's taken over Instagram and every trendy rooftop bar as the staple drink of summer 2017, and it was finally my chance to try it! The verdict: sweet, refreshing, and capable of making you forget the 100+ temps outside. I am a fan.
If wine isn't your thing, you can also taste liquor at Almendra! Right now, they have four flavors of brandy, and are working on expanding into vodka, gin and tequila. The space is also available for private events.
We loved our pit stop at Almendra, and left in a festive mood ready to watch some vows and request some cliché songs. We can't wait to return to Chico, hopefully when it isn't 110 degrees!
It pays to subscribe!
We will send you a brief email whenever there's a new post, so you'll never miss an article. We promise not to be a pest. Unsubscribe any time you like. And, of course, we won't let ANYONE else use our subscriber list. By subscribing, you agree to our
Privacy Policy
.
So go ahead,
click here to SUBSCRIBE
!