Summer in Murphys is not for the faint of heart. Some days bring a new meaning to the chestnut, "It's a dry heat." With the temperature passing 100 degrees before lunch, we knew that we needed to be very focused with our wine tour. With only a few hours before it would be too hot even for wine tasting, we went to some favorites, like Gossamer Cellars.
We have followed the birth and growth of Gossamer Cellars with joy. Owner/winemaker Gary Grant makes both wine and winery fans with taste and style. As we entered on this sweltering morning, Gary was talking with two wine club members. Although we had not visited in a year, Gary immediately recognized us and welcomed us back! That is why Gary and Gossamer Cellars is a favorite. Oh, and the wine. Probably mostly the wine. But an encyclopedic memory for customers goes a long way, too. Anyway, we were touched.
The tasting room was bright and cheerful, with something interesting (or silly) to look at in every direction. The chalk board that dominates one wall was covered with useful wine information, enticements for a wine club, a few recently-won award ribbons and some clever slogans around the edges to keep the mode right. The rest of the walls were equally well decorated, giving an impression of an eclectic collection, well short of a jumble.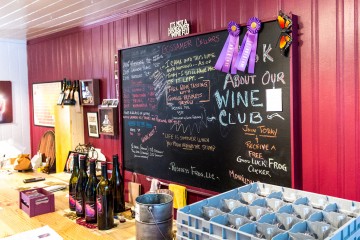 Tasting at Gossamer Cellars is more of a marathon than a sprint. We have learned to share tastes to cut our wine intake in half. Even so, we take our time and drink plenty of water. Our "one bottle purchase per winery" guideline is absurd on its face in this winery. Buying less than a case of wine is a moral victory. So, let's talk about the wine!
We started with the 2015 Riesling. With its champagne nose and fresh lemon notes, we couldn't resist putting a bottle on our take home list. One taste, one purchase. We were going to be in real trouble fitting everything into our wine cooler! We next tasted a 2014 Grenache Blanc, which showed a ghost of Grenache fruit with hints of green apple and nutmeg, resolving to a pleasant, lingering finish. A 2014 Verdelho was next, all mellow and lovely, perfect for a summer afternoon, yearning for our take home list. We tasted an as-yet unreleased Torrontes wine named "Isabella" after Gary's granddaughter. Slightly sweet, with notes of grapefruit and rosewater, we can't wait for this fun wine to make its retail debut.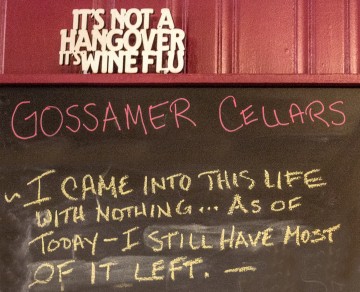 Moving onto Gary's reds, the 2012 Nebbiolo was delicious, with plum, raspberries and bing cherries dancing across the tongue. Walking on the spicy side was the 2013 Teroldego, with intriguing curry notes leading to a dark fruit finish. We then tasted a blend called "Rascal" in honor of Gary's dog, also a blend. This 50/50 Cab/Syrah blend was balanced and bright, with a slightly sweet start leading to a fruit symphony. Another bottle on the take home list. We were looking at a mixed case at this point!
We finished our tasting with "Grenashly" a Grenache and Petite Sirah blend named after a family friend Ashley. This wine was Thanksgiving in a bottle, with the balance and nuance to handle a family table laden with food. A great way to complete an amazing tasting!
With an embarrassing number of bottles on our take home list, we thanked Gary and arranged to pick up all of our wine on the way home. We were far beyond any hope of holding these bottles in our trunk cooler, so this was our best strategy. Gary graciously agreed and wished us luck as we headed off, into the triple-digit temperatures outside.
---
About the Author
: John grills a mean steak and is always in the market for another wine fridge. Believes that if a winery has more than 10 employees, it's probably too big. Buys wine faster than he drinks it, but who cares?
---
It pays to subscribe!
We will send you a brief email whenever there's a new post, so you'll never miss an article. We promise not to be a pest. Unsubscribe any time you like. And, of course, we won't let ANYONE else use our subscriber list. By subscribing, you agree to our
Privacy Policy
.
So go ahead,
click here to SUBSCRIBE
!