Wineries and their tasting rooms vary widely. That is part of the joy of wine tasting; experiencing the range and diversity of styles and approaches. The picturesque town of Murphys is a microcosm of this diversity. The new Vina Moda tasting room aims at the high end, and delivers a rich and refined sensory experience.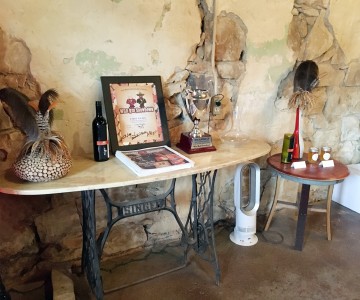 Fresh from an amazing lunch at The Lucky Penny Public House, we dashed across the street, fighting a growing rainstorm, to the Vina Moda winery. The building would look natural with a stagecoach parked in front, but had a new awning and festive cloth banners out front. We entered through large wooden front doors to discover a tasting room that was a feast for the eyes. This tasting was off to a good start and we hadn't yet tasted a drop of wine.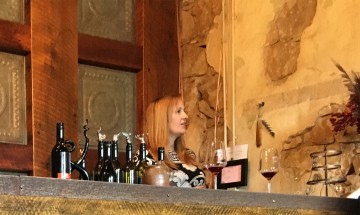 We chose our spot at the tasting bar and met our wine guide Suzy. She welcomed us, displaying a most engaging accent. We learned that she grew up first in England and later in South Africa and now resides in Calaveras County. She started as a fan of Vina Moda wine, and soon found herself on the other side of the tasting bar.
We started our tasting with their 2014 Sierra Rosé, a blend of 52% Barbera, 26% Petite Sirah, and 22% Grenache. A very on-trend rosé, we enjoyed the spice and ruby fruit notes. Next up was their 2012 Aniv. Another blend, this time 46% Mourvedre, 23% Cabernet Franc, 29% Syrah, and 12% Petite Verdot, it showed great plum notes and a ghost of a finish. Their 2013 Barbera won a Gold Medal at the San Francisco Chronicle wine competition. We found it punchy and fun! From there we tasted their 2013 Cabernet Sauvignon. A Double Gold winner at the S.F. Chronicle competition, this wine was powerful and tannic. It was also no longer for sale. Sigh.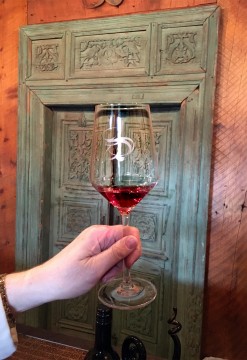 As we tasted their 2013 Vinas, their flagship blend of 71% Petite Sirah, 16% Primitivo, and 13% Grenache, we learned that the winemaker, Nathan Vader, insisted on hand picked and hand sorted grapes. Although these high standards can hvae a negative impact on cost and yields, it seemed to have had a very positive impact on the wine. We loved the dark fruit and smoky notes in this very drinkable wine. We finished our tasting with their 2007 Late Harvest Syrah, a dessert-style wine which was very smooth and full of cherry notes.
Although the rain was really building, it was time to move on. We purchased some wine and set off toward our next tasting. It turned out that they two wineries shared a winemaker: Nathan Vader.
---
About the Author
: John grills a mean steak and is always in the market for another wine fridge. Believes that if a winery has more than 10 employees, it's probably too big. Buys wine faster than he drinks it, but who cares?
---
It pays to subscribe!
We will send you a brief email whenever there's a new post, so you'll never miss an article. We promise not to be a pest. Unsubscribe any time you like. And, of course, we won't let ANYONE else use our subscriber list. By subscribing, you agree to our
Privacy Policy
.
So go ahead,
click here to SUBSCRIBE
!