Are you twisted? That is the challenge question at a popular winery in Murphys. If you are adequately twisted, a visit to Twisted Oak Winery is definitely the thing to do!
Tasting rooms in Murphys range from small, humble rooms tacked onto the side of a building, all the way up to entire houses. We like them all, but the tasting room for Twisted Oak in Murphys delivers not only an entire house, but adds in a lovely back garden for additional sipping and contemplation. That also provides lots of room for displaying their trademark rubber chickens!
We entered the bright and cheerful tasting room and soaked in the irreverent vibe. Everywhere we looked there was a silly silkscreened tee-shirt or a slightly naughty wooden sign for sale. After a bit of shopping, we found our spot at the shiny wooden bar and settled in for a tasting. We met our wine guide Breeanna and got started with their 2014 Albarino. A great palate tuner, we loved the crisp citrus and pear notes.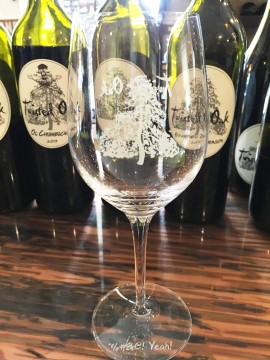 Their 2013 Viognier was a delicious lemon drop and honey elixir, perfect for a summer afternoon, swimming pool optional. Their 2012 Mourvedre, called River of Skulls was a hit with us, featuring smoky leather and plum notes. Another crowd pleaser was their 2013 Carignane, with aromas straight out of a library and lovely layers of fruit. We all said "tri-tip" at the same time! Their 2013 Rolleri Tempranillo was interesting, with a balance of acid and fruit, with tart cherry notes on the finish. Sourced from the oldest tempranillo vineyard in Calaveras County, this wine is unforgettable.
Our favorite wine for this visit was their 2013 Chumbucket. This is described as a "mystery blend" and we can see why they want to keep the formula to themselves. We adored the balanced fun and party of fruit on the tongue. This is a lovely table wine that can be sipped on a Thursday night or paired with a special meal. A bottle of ol' Chumbucket went on the "bring home" list.
We purchased our wines and spent some time strolling in the gardens behind the house. With fun walking paths and sparkling mobiles in every direction, we enjoyed the scene, even with the threatening weather. We came within inches of buying another wind chime and only a drops of rain tipped the balance. We hurriedly collected our wine and hustled off in search of lunch. It was time to take a break from wine tasting and recharge our bodies so that we could remain strong and finish the day with a few more wineries.
---
About the Author
: John grills a mean steak and is always in the market for another wine fridge. Believes that if a winery has more than 10 employees, it's probably too big. Buys wine faster than he drinks it, but who cares?
---
It pays to subscribe!
We will send you a brief email whenever there's a new post, so you'll never miss an article. We promise not to be a pest. Unsubscribe any time you like. And, of course, we won't let ANYONE else use our subscriber list. By subscribing, you agree to our
Privacy Policy
.
So go ahead,
click here to SUBSCRIBE
!