Main Street in Murphys is a celebration of wine tasting! It seems that every doorway leads to either a restaurant or a tasting room. Add in the stagecoach-era Murphys Hotel, and you have pretty much everything you need for a great outing. One "can't miss" stop along the wine stroll is the Hatcher Winery.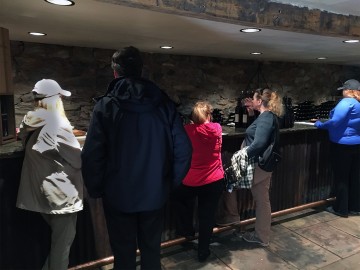 The Hatcher Winery has been around since 2002, which in Murphys terms is a very long time. That pays dividends in many ways. Certainly the decade and a half of experience has allowed owner/winemaker Matt Hatcher time to refine his craft. It has also allowed Matt to refine the tasting experience, combining rich woods and raw stone in the tasting room to deliver an inviting visual experience.
The tasting room is a bit of a challenge for tall people. The ceiling is lower than average, causing some visitors a bit of an "oh, wow" moment as they transition from the bright daylight to the muted lighting in the tasting room. Since none of us were NBA prospects, this was only a momentary pause. While we were tasting, a group of college friends arrived, with one of the guys getting remarkably close to the ceiling. Forewarned is forearmed, certainly. Consider a hard hat if you're really that tall. You know who you are.
Wine guide Todd got us started with their 2013 Sauvignon Blanc, which we found a delicious treat of butter and flowers. Their 2012 Viognier showed lots of oaky notes with some orange peel on the finish. The 2011 Parcel 17, a blend of three Italian grapes: Mazuela, Monastrell and Graciano, had fun layers of balanced fruit. This was the favorite taste at Hatcher, and a bottle followed us home.
Their 2011 Barbera was fruity and fun, with some smoke on the nose and the finish. Their 2011 Zinfandel also showed some smoke, especially on the nose, along with dense layers of dark pitted fruit. Another favorite with our group was their 2012 Estate Zinfandel, which we labeled "Happy Zin" because that is exactly how this Zin made us feel.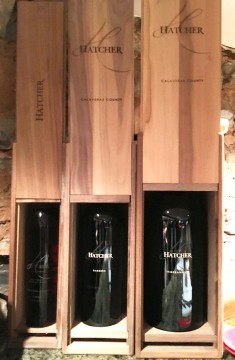 At that point, we rediscovered something that is quite important when tasting wine. By happenstance, half of us received a pour from the end of a bottle while the other half of us received the first pour from the next, identical, bottle. Our impressions of the wine were drastically different, with those of us with the "old" wine loving it while those with the "new" wine not at all fans. By decanting or aerating wine, the flavors have a chance to open up and reach the full potential that the winemaker was after. That "compare and contrast" between two bottles reinforced the importance of swirling the wine in the glass before tasting each pour, especially from a newly-opened bottle.
Our tasting continued with their 2011 Sewell Rhone Blend. This contained Syrah, Grenache, Cinsault, Mourvedre, and Petite Sirah. We found it fruit forward and delicious, with a slightly jammy finish. Next was another favorite, their 2011 Cabernet Sauvignon. This had interesting dusty, oaky notes with a somewhat tannic finish that would pair well with beef. Their 2010 Meritage had nicely layered fruit, sliding smoothly to a rounded, acid finish. Their 2010 Malbec showed nice blackberry notes, with tannin and acid levels that encouraged us to lay this one down for a year or two. Judi's favorite was next, their 2009 Viognier Ice Wine. A great dessert wine, this was not too sweet and not too raisiny, so just perfect beside some vanilla ice cream. I preferred the final taste, their 2008 Port, a classic presentation that might just cure the common cold.
With the tasting flight completed, we purchased our wine and set off again. Our next stop? It involves rubber chickens!
---
About the Author
: John grills a mean steak and is always in the market for another wine fridge. Believes that if a winery has more than 10 employees, it's probably too big. Buys wine faster than he drinks it, but who cares?
---
It pays to subscribe!
We will send you a brief email whenever there's a new post, so you'll never miss an article. We promise not to be a pest. Unsubscribe any time you like. And, of course, we won't let ANYONE else use our subscriber list. By subscribing, you agree to our
Privacy Policy
.
So go ahead,
click here to SUBSCRIBE
!