Their motto is "For a good time, call Twisted Oak Winery" so you know that they don't take themselves too seriously. Oh, and their mascot is a giant yellow frog. When winetasting in the Murphys area, we ALWAYS try to include Twisted Oak in our plans.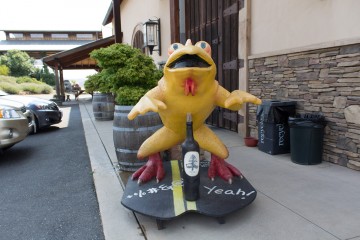 Twisted Oak Winery offers two chances to taste their wine. They have a fun tasting room in downtown Murphys, and a tasting room attached to their actual winery, just a few miles out of town. Both are fun, but the extra room (and extra sass) of the winery tasting room lured us back recently with our fond memories of twisted behavior of previous visits.
Stepping into the tasting room invites an immediate jolt to your senses. There is something funny/cute/collectable in every nook and cranny, nostalgic (for us, retro for others) music piping from the ceiling, and aromas of wine wafting gently. We knew we in for a fun time before we even sidled up to the bar.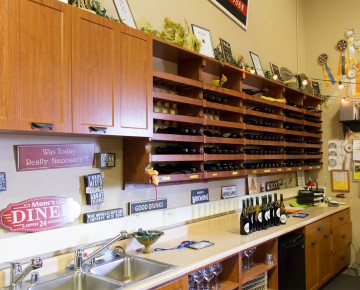 We settled in as wine guide Lori got us started with their 2013 Viognier. We enjoyed the pear and tropical fruit notes in this fun summer wine. Next was their 2014 *%#&@!, which they thankfully call "potty mouth" in the tasting room. This blend of 56% Mourvedre, 22% Syrahh, 22% Grenach and 37% unmentionables (yes, the math doesn't work but the joke does) is a perennial favorite, with a fun plum to cherry transition, with smoke and leather and a long, long finish. Someone observed some gummy bear notes, too, but didn't want to be identified (it's me).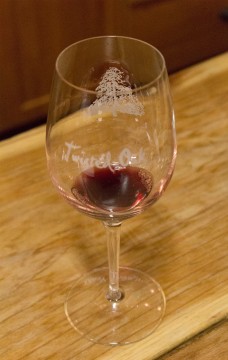 We then tasted a classic 2014 Tempranillo (a standard-bearer among Tempranillos) and their 2013 Zilch Tempranillo, which showed the effects of a lower elevation through bright cherry notes and a bit more edge that should age off nicely. The blend 2012 The Spaniard was a big favorite with us. Made from 54% Tempranillo, 23% Graciano and 23% Garnacha, we loved the Bing cherry notes and subtle layering on the finish. The 2013 Syrah showed an intriguing nose and grass and berry notes. Their 2013 Carignane was another big hit with our group, super smooth with layers of currants and plums. Their 2013 Torcido, a 100% Grenache wine, delivered a festival of pitted fruit flavors with a surprising bit of pepper on the finish. This will knock 'em dead in two years!
We then faced our most difficult task: selecting wine to purchase. Given our overstocked situation at home, we had solemnly promised ourselves that we would limit ourselves to one bottle per winery. Through some difficult mental gymnastics, we convinced ourselves that this rubric meant that we could buy three bottles here! Something to do with the yellow frog, daylight savings time and pi. I didn't follow a lot of it, but is did result in a number of purchases.
I guess we will just have to come by more often!
---
About the Author
: John grills a mean steak and is always in the market for another wine fridge. Believes that if a winery has more than 10 employees, it's probably too big. Buys wine faster than he drinks it, but who cares?
---
It pays to subscribe!
We will send you a brief email whenever there's a new post, so you'll never miss an article. We promise not to be a pest. Unsubscribe any time you like. And, of course, we won't let ANYONE else use our subscriber list. By subscribing, you agree to our
Privacy Policy
.
So go ahead,
click here to SUBSCRIBE
!