We have tasted wine in nearly every geography in California. We've spent a lot of time in the obvious wine regions: Napa, Sonoma, Paso Robles, Livermore, Lodi, Calavaras, but we branch out, too. Locating a winery outside of the typical wine areas is certainly not a deal breaker. The Bluxome Street Winery in downtown San Francisco is amazing, for example. Another case in point: today's visit to the Rock Wall Wine Company in Alameda. Sometimes different IS better!
The tasting menu
Rob and Sarah were the first in our family to discover Rock Wall. They fell in love with everything about the place and became club members during their second visit. After hearing about this amazing new winery for weeks, we finally put together a visit for the rest of us.
The Rock Wall Wine Company is located on the grounds of the now-shuttered Naval Air Station Alameda. When the Air Station was closed in 1997, the government and the community had high hopes for building a "Hollywood North" on the grounds. That idea didn't work out too well, but over time a number of diverse businesses started and thrived. One section of the Air Station earned the name "Spirit Alley" because of the gaggle of alcoholic beverage companies that popped up. Monarch Street is the home to St. George Spirits, Faction Brewing, Building 43 Winery, and our goal for the day: Rock Wall Wine Company.
The Rock Wall Wine Company is ideally positioned on Spirit Alley, because it has an unobstructed view of the bay, the bay bridge and the San Francisco shoreline. A truly million dollar view once you enter the tasting room!
The view is a secret from the steet
The tasting room is a trim single story building, tucked between a fun looking canvas domed building (apparently used for events), a small building housing Scolari's takeout, and a two story warehouse-looking facility for the actual making of the wine. We parked and made our way to the tasting room entrance, walking past an urban garden full of tomatoes, peppers, herbs, and succulents. Word was that these vegetables ended up on plates of Scolari's food. Yum!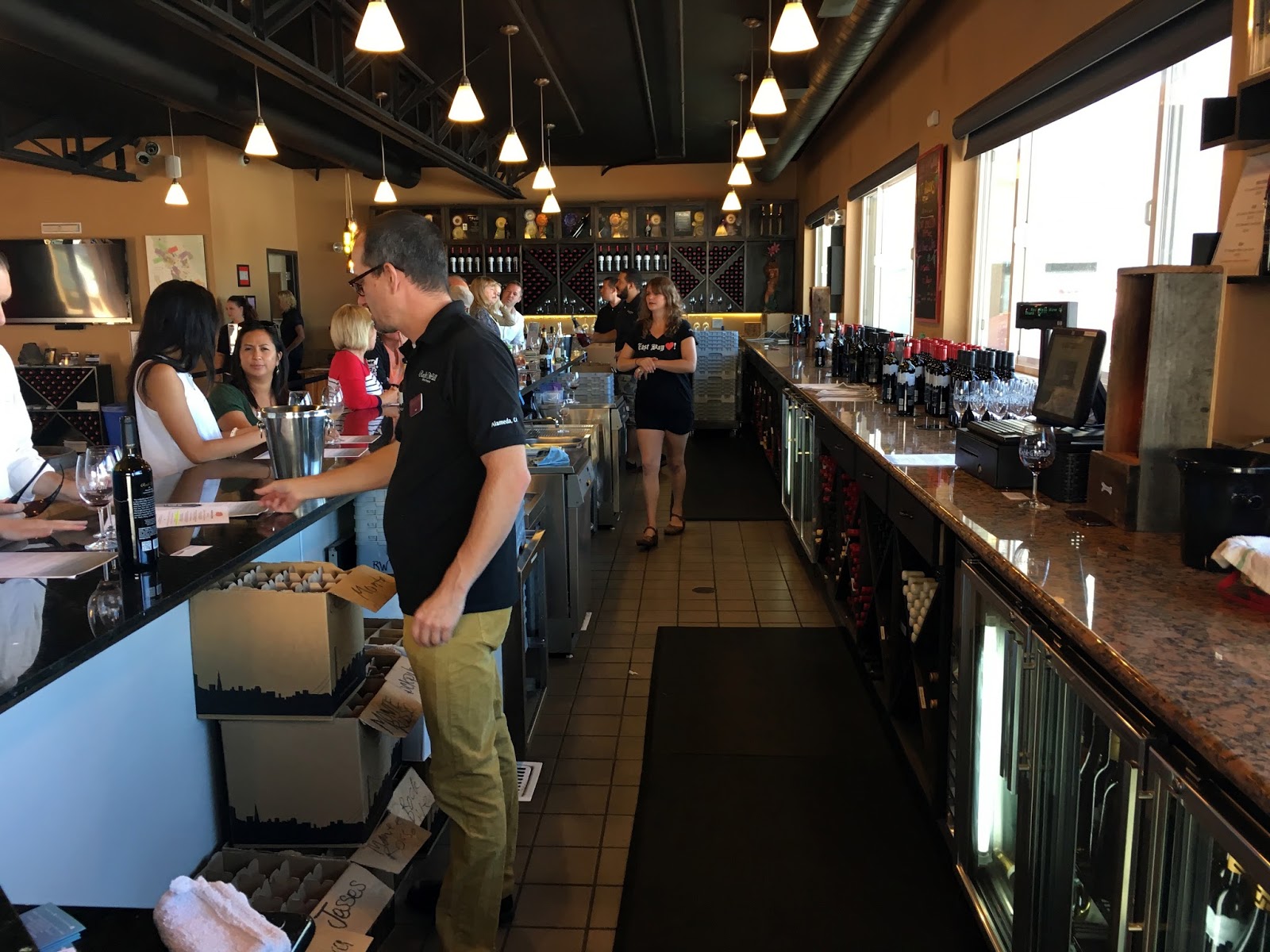 As we entered the tasting room, we were greeted at a reception desk and introduced to our wine guide for the day, Mike. Wine guides are easy to like, because they bring us wine, which puts them in a very positive light. Mike took likable to an entirely new level, though. Between his genuine affability and his knowledge of Rock Wall wines, we all became fast friends.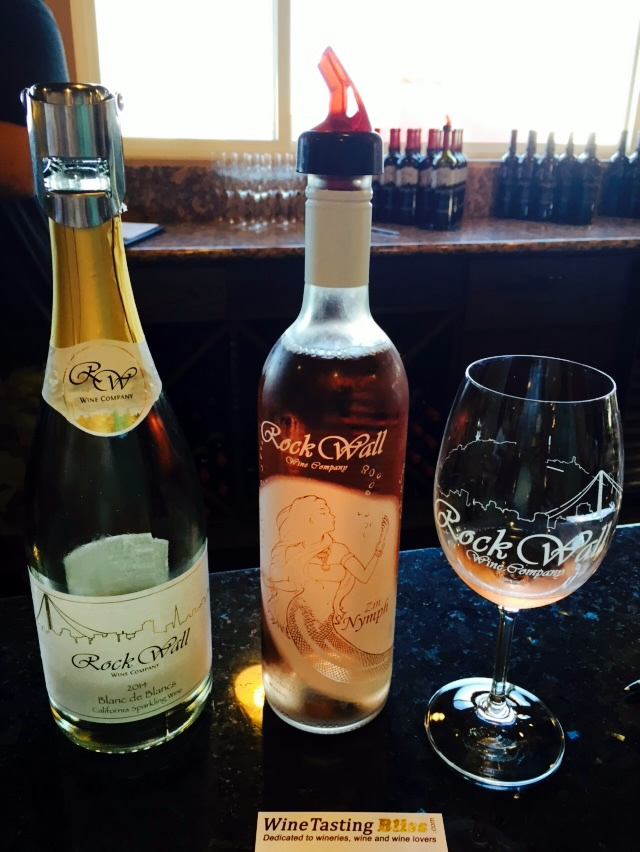 As Mike poured their 2014 Sparkling Blanc de Blancs (98% Chardonnay, 2% Muscat, nice fruit and zest notes), he told us about the genesis of the Rock Wall Wine Company. Kent Rosenblum and his daughter Shauna are the principals of Rock Wall; Kent as CEO and Shauna as winemaker. Kent had previously founded and operated the Rosenblum Winery, until selling it in 2008. Not quite starting over for Kent, going from 250,000 cases a year to 25,000, plus a chance to work with his daughter.  Sounds like a great deal.
We next tasted their 2014 Sparkling Grenache Rosé. A trendy dry rosé, we appreciated the balance of sweet and dry, with strawberry notes at the end. Perfect for a hot summer's day. If this were the beginning of summer instead of the end, this would have come home with us in case quantities. We also enjoyed the 2014 Zin Nymph, a white Zinfandel. Bearing a faint blush tone, we loved the strawberry and rose notes. Quite a unique taste!
The tasting room view!
Our first red was their 2012 Teroldego. The Teroldego grape is grown primarily in North-east Italy, and is genetically a parent of the Syrah grape. We thought that the wine was similar to a new favorite of ours, the Montepulciano, with the same complex layers of fruit and a slide from sweet up front to a very dry finish.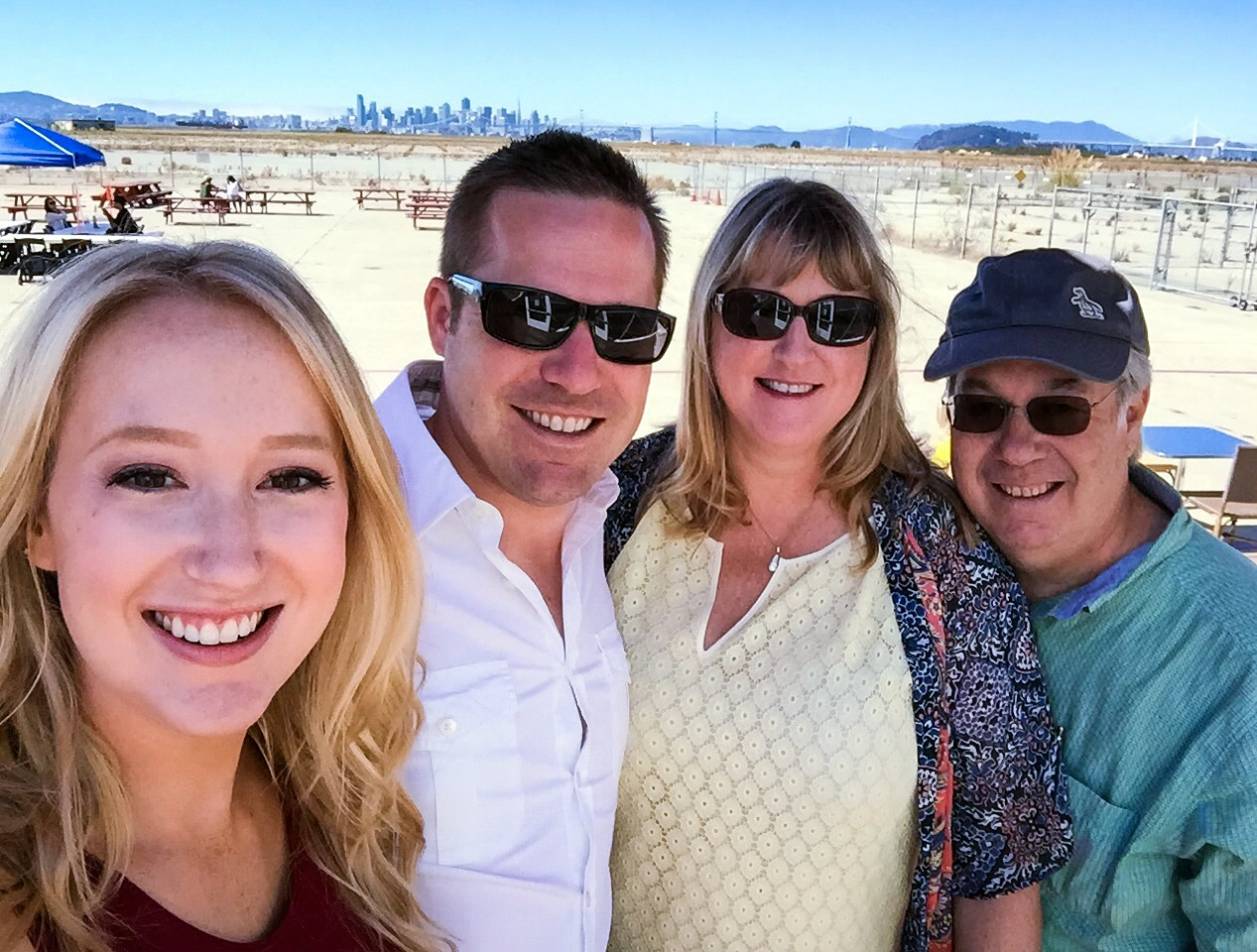 Enjoying our day in Alameda!
We then moved into Zin heaven: five different Zins, each with its own unique personality. We tasted our way through the entire Zin menu (and a few more) by dividing and conquering. With four tasters covering the field, we could search out the ones that best fit our palates. Think of it as the intersection of science and art. Or not. Either way, its a lot of fun!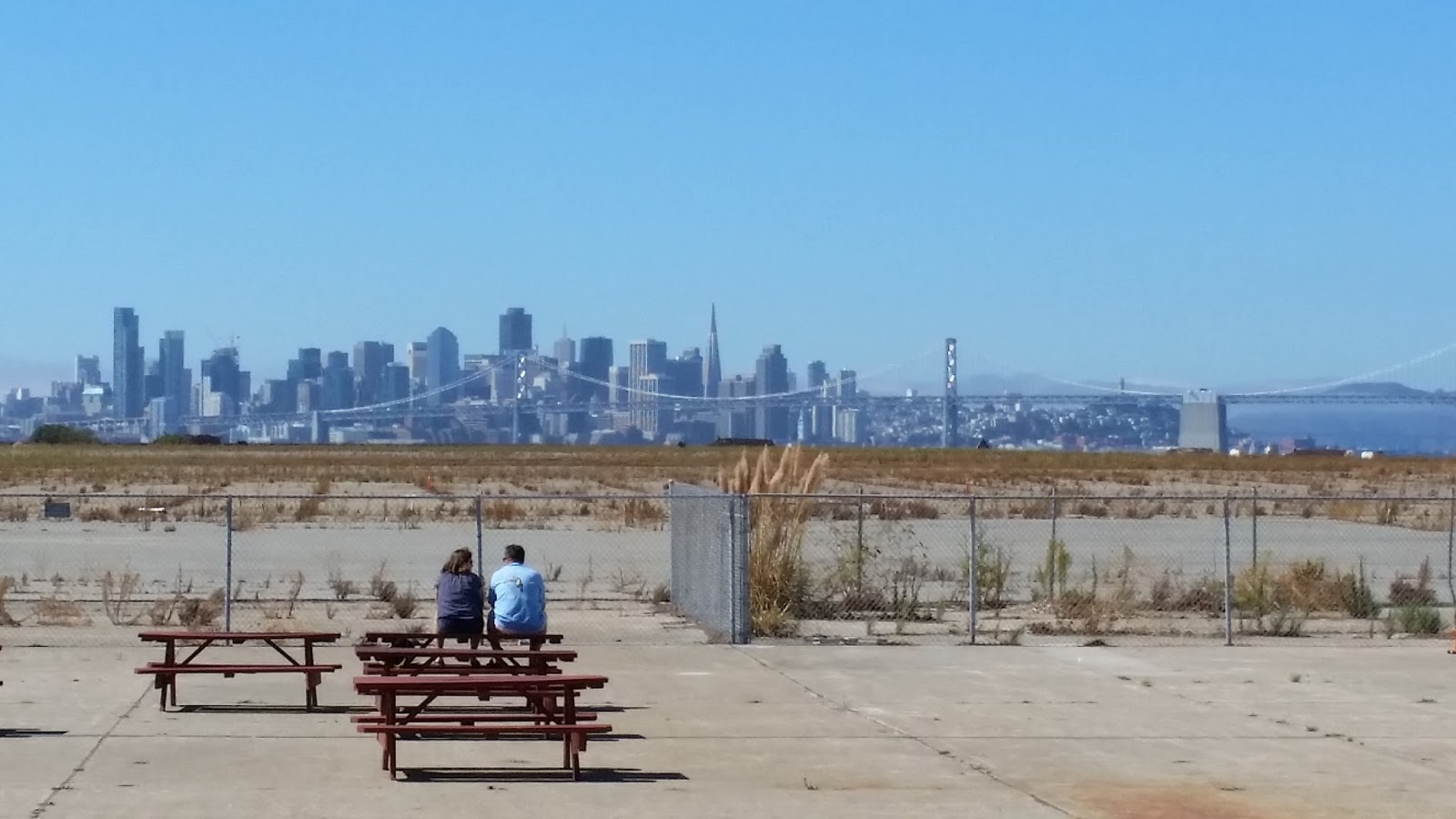 Sip and gaze at the city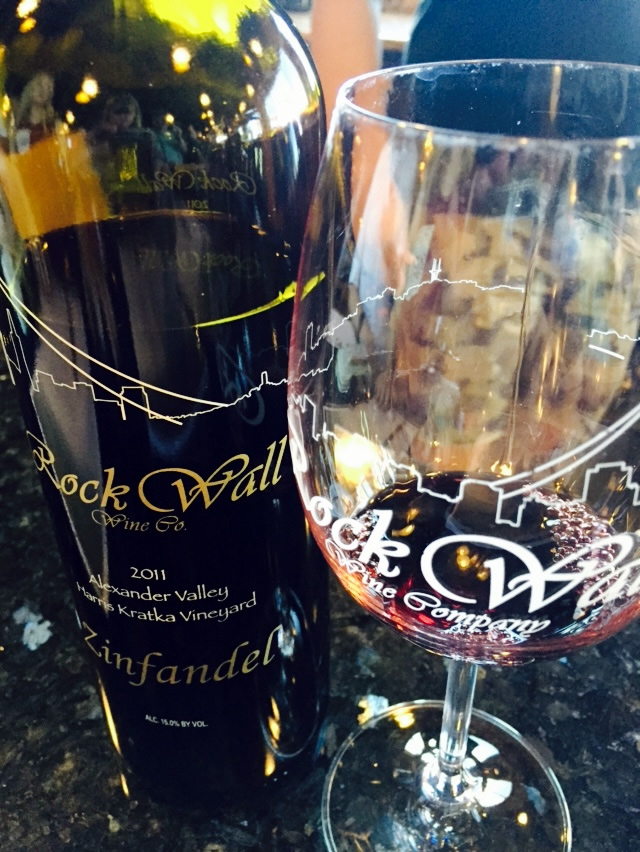 We made an earnest effort to pick out our favorites, we really did. We did a lot of tasting and comparing, some side-by-side work, note comparisons, even revisiting some tastes. We spared no effort in this quest. The end result? We winnowed the field from seven Zins to a paltry four. With a few of the finalists selected to participate in our Tritip dinner which was planned at the conclusion of the day. Mission accomplished? You be the judge, we were just happy to keep our purchases below a dozen bottles.
Scolari's dining area
We purchased our half-case of wine (oh,my aching wine rack!), said goodbye to Mike and made our way outside for lunch. Yes, lunch! Scolari's was just outside the door, and Rob reported that the food was not to be missed. Plus, the seating area offered the same view as the tasting room! That was enough for us, we jumped in line and ordered ourselves some lunch. In no time at all we were sipping more Rock Wall wine and eating some amazing Scolari's lunch.
The Rock Wall Wine Company may not be in the heart of a traditional wine region, but this unique experience was well worth the trip! Thanks, Mike and the Rock Wall team, we had an amazing experience!
One last look before we leave
---
About the Author
: John grills a mean steak and is always in the market for another wine fridge. Believes that if a winery has more than 10 employees, it's probably too big. Buys wine faster than he drinks it, but who cares?
---
It pays to subscribe!
We will send you a brief email whenever there's a new post, so you'll never miss an article. We promise not to be a pest. Unsubscribe any time you like. And, of course, we won't let ANYONE else use our subscriber list. By subscribing, you agree to our
Privacy Policy
.
So go ahead,
click here to SUBSCRIBE
!