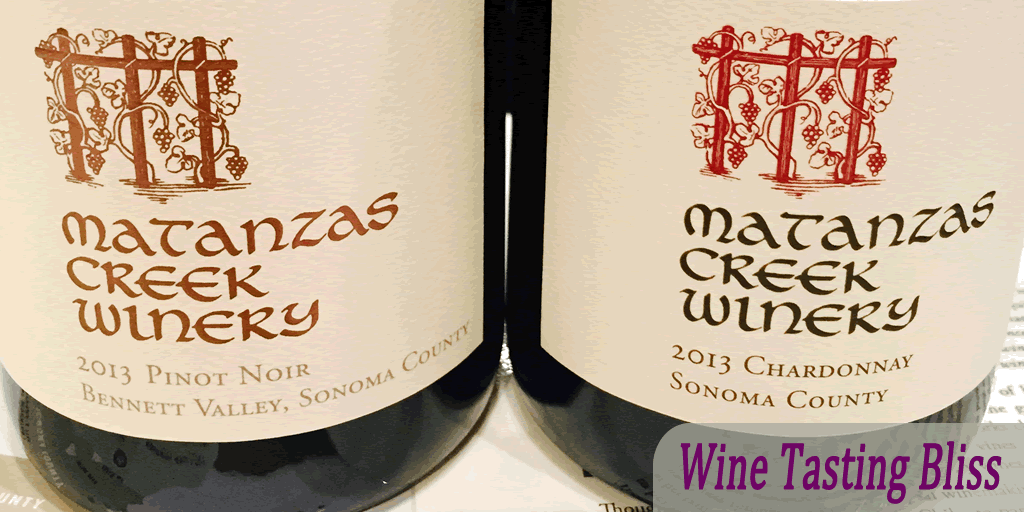 Quick: you have just enough time to visit one more winery before your dinner reservation! What do you do? Our go-to move? Ask another winery. Great things can happen. This time was no exception, because we ended up at Matanzas Creek Winery.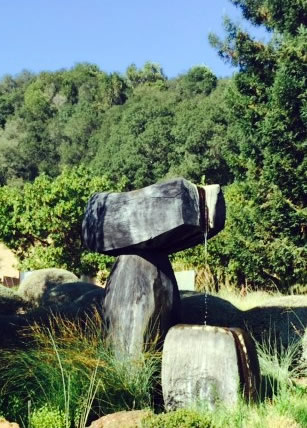 The sun was setting, literally, on our Ballooning Over Sonoma tour. We had already enjoyed tastings at the Martin Ray Winery and Balletto Vineyards and were just finishing up at the Paradise Ridge Winery. We had about one winery worth of time remaining before we needed to be in downtown Santa Rosa for dinner at Riviera Ristorante. Our Sarah and Paradise Ridge's Sarah put their heads together and decided that our final tasting should be at Matanzas Creek Winery. What a great way to end our day!
The driveway to the winery was long, narrow and gorgeous! We climbed a hill, past amazing fields of lavender, and entered a park-like environment with tasteful landscaping, fun seating and playing areas, and architecture that thoughtfully blended the man-made with nature. We could have spent several hours exploring the outdoor spaces, but we were on a tight timeline, so we quick-marched our way up to the tasting room.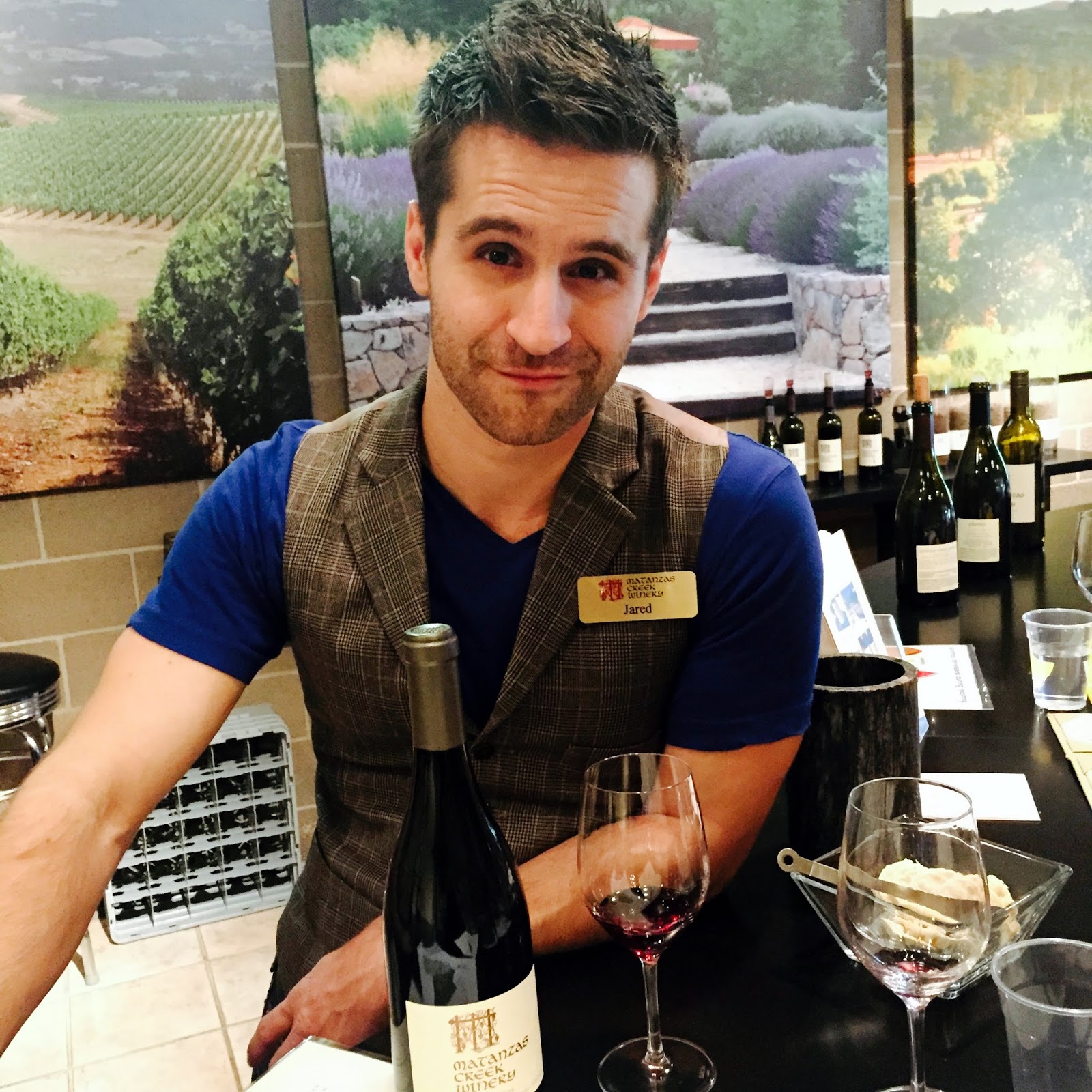 Jared demonstrates "Blue Steel"
We discovered that we had visited on a special day, complete with live music and extended hours. We reluctantly walked past the musician setting up on the patio and entered the tasting room. We met wine guide Jared and settled in for a tasting. We got to know Jared a bit and learned more about the winery. We learned that Matanzas Creek Winery was founded in 1977, which was a very good year for foundings. Their current winemaker, Marcie Monahan-Lopez, joined Matanzas Creen in 2010. As our tasting progressed, our appreciation for her palate and talent grew by leaps and bounds.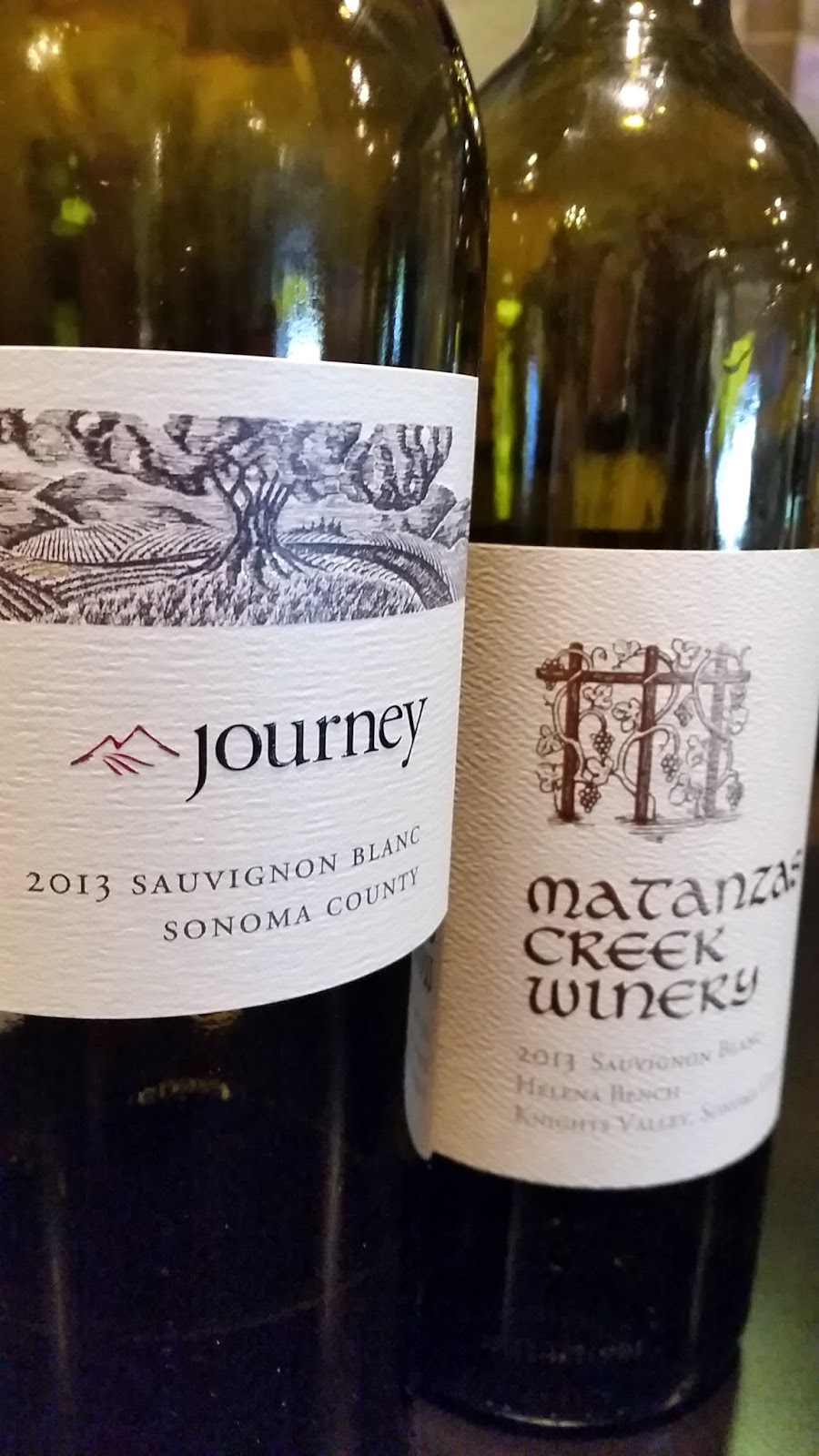 Jarad next gave us the key to decoding Matanzass Creek wine bottle labels. It turns out that labels with black ink are distributed through Safeway, Alberson's and other volume merchants. Labels with gold text are limited production and limited distribution. Most gold-label releases are a few hundred cases. Some of them even have purchase limits, just to let more people enjoy them. But wait, there's more! Labels that include the "Journey" moniker are their ultra-premium releases. Anything is simple, once you know the secret!
Well, on to the wine. We started with a generous splash of their 2014 Sauvignon Blanc from Sonoma County grapes. A black-ink label, which told us that it was available at Safeway. Fresh and fruity with nice hints of grapefruit, with the lemon zest notes that we've come to associate with the region, this was a good introduction to the winery. Their 2013 Sauvignon Blanc from Knights Valley (gold text) was distinctly different from the Sonoma County release. We found herbaceous and mint notes with an acidic finish. Perfect pairing for a strong-willed cheese.
We moved on to their 2013 Chardonnay (black text) from Sonoma County. This was a favorite for our whole group, with lemon and caramelized sugar notes and a long finish. We directly compared it with their 2013 Chardonnay (gold text) from Bennet Valley and the 2012 Journey Chardonnay from Sonoma County. The Bennet Valley Chard had nutty notes that several of us loved, while the Journey Chard featured apple and ginger elements. Uncharacteristically, we preferred the Sonoma County release, the least expensive of the trio.
After a quick break to listen to some of the live music, it was time for the reds! We started with their 2013 Pinot Noir from Bennet Valley. Smokey, with a hint of pepper, Judi thought this was a "skip supper and pour another glass" kind of wine. This one made to our "take home" list after the first sip!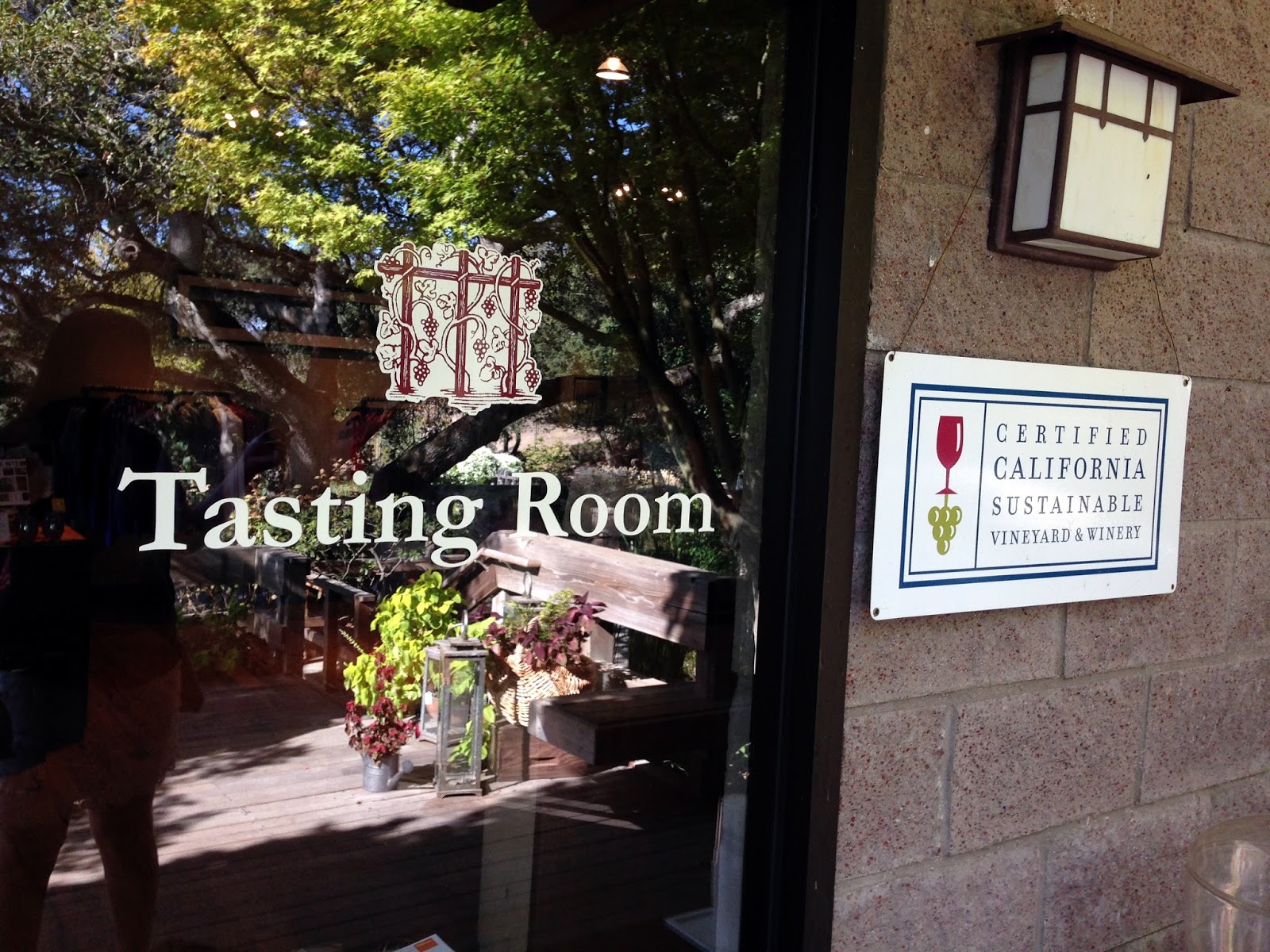 We next compared their 2012 Merlot from Sonoma County and their 2012 Merlot from Alexander Valley. The two Merlot fans in our group (Rob and I) sagely weighed in on the similarities and differences. That said, we split on which wine we preferred, with Rob giving the nod to the Sonoma County release while I preferred the Alexander Valley version. That's why it's called a matter of taste!
We finished our tasting flight, enjoying their 2012 Cabernet Sauvignon from Knights Valley (yet another favorite), and some new releases. So many favorites, and so little room in our wine rack! We made some really difficult decisions on which wines to purchase, with a few changes to our list before it was finally final. It took all of our discipline to limit ourselves to less than a case of wine. We said goodbye to Jared and made our way back to the car. The outdoors were so beautiful that we promised ourselves that we would soon return to give the grounds some appreciation. The only thing that kept us moving was the anticipation of a lovely meal.
Cheers to Jared and the Matanzas Creek team!
---
About the Author
: John grills a mean steak and is always in the market for another wine fridge. Believes that if a winery has more than 10 employees, it's probably too big. Buys wine faster than he drinks it, but who cares?
---
It pays to subscribe!
We will send you a brief email whenever there's a new post, so you'll never miss an article. We promise not to be a pest. Unsubscribe any time you like. And, of course, we won't let ANYONE else use our subscriber list. By subscribing, you agree to our
Privacy Policy
.
So go ahead,
click here to SUBSCRIBE
!