A favorite Russian River Valley winery was participating in a favorite annual event, the Taste of Route 116. That made it an easy decision: let's visit Taft Street Winery next!
The Taste of Route 116 was off to a great start with a tasting at our "home" winery, Balletto Vineyards. We have been wine club members there for more than a decade, and they never disappoint. Our tasting there was wonderful! Although the Covid restrictions were already eased a bit, the event did require advance reservations for the day's tasting tour, so we had preplanned our day pretty precisely. Our next stop was Taft Street Winery a mere hour after check-in at Balletto, so we did not dawdle. Happily, Taft was just a few minutes down the street. Their parking lot had a lot of free spaces so we quickly made our way into the tasting room (which always looked to me like a country school house) for our tasting.
Taft Street Winery has three distinct areas for winetasting. The indoor tasting bar is warm and welcoming, featuring a huge hand-chalked map of local vineyards. Just outside the side door is a patio with a number of tables. Past that patio, just down a few steps is a large outdoor area with a small stage at the far end and tables scattered thoughtfully. We were warmly welcomed and shown to our own wooden table in the back patio area that was nicely shaded and comfortable. It looked like a typical slat-topped table, but we noticed that the blonde wooden slats had dark wood fillers between each so that wine glasses had no risk of tipping. Taft Street Winery had a generous approach to their Taste offer: pick any wine flight on their tasting menu and taste away! Since there were three of us, this gave us great coverage of their wine list. They had an equally simple approach to the delivery of their tastings: the three glasses full of wine had the wine's initials written on the base of the glass in grease pen. Keeping things simple and easy so that everyone could focus on the joy of tasting wine. We chose their "Garagistes Classics," "Single Vineyards," and "Reds Only" flights which meant that we overlapped on some wines and branched out nicely, too.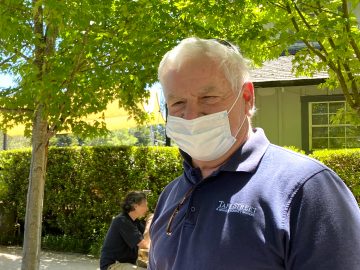 Their 2018 Hopkins Vineyard Chardonnay was a big hit, with delightful lemon chiffon notes that danced across our palates. Other favorites included their 2018 Skikos Vineyard Pinot Noir, because of their clear fruit layers and gentle tannins, and their beautifully light 2018 Los Amigos Vineyard Merlot. Filling our "Take Home" list easy, pruning it down to a manageable size was not. As we were wrestling with these weighty issues, co-owner/winemaker Mike Martini visited our table. Among other fun topics, he addressed the "Garagistes" label used with some of their wines. He said that the term was originally used in reference to French wines which were made in garages or other humble structures instead of massive chateaus. The term applied equally well to their initial endeavor, which took place in a garage in Berkeley. He said that the group of winemakers struggled to come up with a name for their winery without success. In near desperation, they settled on the location where they spent most of their time thinking of names: Taft Street. Only later did they discover that the location was actually Taft Road. Nonetheless, Taft Street Winery was licensed, and the rest was history!
We were on a strict time schedule, so we purchased our wines and off. Time to discover a brand new winery!
---
About the Author
: John grills a mean steak and is always in the market for another wine fridge. Believes that if a winery has more than 10 employees, it's probably too big. Buys wine faster than he drinks it, but who cares?
---
It pays to subscribe!
We will send you a brief email whenever there's a new post, so you'll never miss an article. We promise not to be a pest. Unsubscribe any time you like. And, of course, we won't let ANYONE else use our subscriber list. By subscribing, you agree to our
Privacy Policy
.
So go ahead,
click here to SUBSCRIBE
!