At long last, we made it back up to the Russian River area to visit one of our favorites, Balletto Vineyards!
It was a beautiful summer day and we had nothing on our calendar. What could be better than combining a lovely outdoor wine tasting and a wine club pickup? Tasting reservation in hand, we set off toward the Russian River. After a frustrating argument with Google Maps (which was insisting on routing us through Emeryville instead of through Walnut Creek) we had a smooth and uneventful trip up to Balletto Vineyards. Their long driveway was lined with the lush growth of their vineyards, getting us mentally prepared for tasting some vineyard produce of years past. A quick check-in at the reservation podium and we were seated at our table, perfectly positioned under the shade structure with a commanding view of the vineyards in every direction.
We settled into our private 2-top table and soaked in the scenery and ambiance. Although it was about 95 degrees, the gazebo structure overhead and lovely breeze blowing through made it quite comfortable. There were a number of other tables already hosting groups of happy tasters. It seemed that a pre-wedding celebration was taking place at one of the larger tables, while a number of other tables had couples enjoying each other as well as the wine. There were several wine guides shuttling back and forth, pouring wine, answering questions, and generally making sure that everyone was having a good time. Our wine guide Cole welcomed us and set us up with wine glasses and confirmed that we had a wine club pickup waiting. He was being kind, we actually were several releases behind. This is a continuing problem for us; so many wine club pickups and so little time!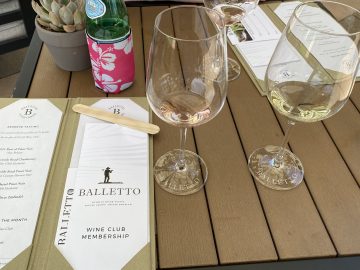 Cole got us started with their 2021 Rosé of Pinot Noir, casting a lovely pale blush to the glass. We quickly decided that this wine's aroma of lemon chiffon and roses was so amazing that it should be made into decorative candles. The layers of Rainier cherries and apricots danced gently across the tongue, finishing with a tart "gummy bear" finish. A perfect start to a summer tasting! While we sipping on the rosé we also enjoyed their 2018 Burnside Road Chardonnay, another of our white wine favorites. From the toast and peach coffeecake aromas to the flavors of sweet plums and zesty lemons, this wine kept luring us back for another sip. If you have friends who don't think that they like Chardonnay wine, invite them to try this one.
Cole told us that Balletto had been transitioning parts of the Burnside Road vineyard from Pinot Noir to Chardonnay grapes. Based on the consistently positive vintages of this Chardonnay that we have tasted, we strongly support this transition. Just don't remove ALL of the Pinot Noir, those are pretty wonderful grapes, too! We next tasted their 2019 Burnside Road Pinot Noir (probably not a coincidence). We smelled leather, tobacco, and plums wafting from the glass. The first sip revealed bountiful fruit frolicking with zesty sparkles, with every variety of plum represented, with just a hint of smoke and white pepper. The finish of spice and preserved plum made us yearn for a shady spot beside a large body of water to pair with this lovely wine!
We compared the Burnside Road Pinot with their 2018 "18 Barrel" Pinot Noir. Cole mentioned that the "18 Barrel" name reflects the wine's aging in oak barrels for 18 months instead of the 10 months that most of their Pinots receive. We loved the gentle aromas and flavors, probably a result of the extended time on oak. Warm and spicy, this wine made friends with the entire tongue and had a finish that was mysterious and a bit dusty. Please preserve these vines! The final taste of the flight was their 2019 Russian River Zinfandel. Cole called it their "Zino Noir" because of its unique Pinot influences and lack of Lodi-style blast of pepper on the finish. This Zinfandel showed great bones, with ample dark pitted fruit notes and restrained black pepper. We will probably lay this one down a few years to bring out all of its potential.
Cole then took us "off the menu" with a few extra tastes. For Judi, a true white wine lover, he poured their 2021 Teresa's Unoaked Russian River Chardonnay. Cole told us that Teresa, a co-owner, suggested to her husband that an unoaked Chardonnay would be nice. Being a wise husband, this wine was born! While Judi enjoyed the Chard, I tasted their 2019 Russian River Pinot Noir. We learned that this wine was a significant percentage of Balletto's annual production. I found classic Pinot aromas, a quick torrent of fruit and a brief finish; perfect for food pairing. Cole told us that this wine was very popular with restaurants, and that made perfect sense. Speaking of restaurants, Cole next poured their "restaurant white" for Judi: their 2019 Russian River Chardonnay. She enjoyed the mushroom and slate nose and the layers of honeycrisp apple transitioning to complex citrus. Another great wine for food! I next enjoyed their 2017 Syrah, a personal favorite. This wine should be in every wine collection! Great aromas reminiscent of library and dark chocolate, with so many layers on the palate that continued sips were required just to study them. A great finish to a wonderful flight for both of us!
Our tasting reservation was drawing to a close and we were already thinking about dinner. We chose a few more bottles to add to our already ample club releases, which Cole quickly rounded up for us. We set our sights on dinner, which we very much recommend: Flavor Bistro in Sebastopol. If you are ever in the area, check them out; amazing food in a fun and unpretentious atmosphere!
---
About the Author
: John grills a mean steak and is always in the market for another wine fridge. Believes that if a winery has more than 10 employees, it's probably too big. Buys wine faster than he drinks it, but who cares?
---
It pays to subscribe!
We will send you a brief email whenever there's a new post, so you'll never miss an article. We promise not to be a pest. Unsubscribe any time you like. And, of course, we won't let ANYONE else use our subscriber list. By subscribing, you agree to our
Privacy Policy
.
So go ahead,
click here to SUBSCRIBE
!