Wine tasting in a wine store is a very different experience from a winery. Typically, a wine store trades ambiance for diversity. Many times, the wine guide is pleasant, and has memorized a few key facts about each wine, but otherwise is more comfortable stocking shelves. K & L Wine Merchants is the exception to this rule. The tastings are carefully crafted to present that day's specialty in its full range, coupled with extremely knowledgeable staff to deliver background and insights behind each pour. The store in San Francisco was offering a Bordeaux tasting and we couldn't wait to see their new facility.
We had enjoyed a champagne tasting in the "old" San Francisco location and found that the commentary delivered with each pour was well worth packing ourselves shoulder-to-shoulder in a tiny tasting area. The tasting was led by Scott Beckerley, who not only described the champagne, the vineyard and chateau that produced it, but also gave us a peek into the personalities and family ties of each wine makers. It was a great tasting, but the physical constraints of the store were apparent. When we learned that the store was moving to a new, larger location, we couldn't be happier. We just had to wait until the new year. Sigh. Waiting is not our strong suit.
Finally, it was 2016 and the new store location was open! Our son Brian identified a Bordeaux tasting on the K&L schedule and we all adjusted our calendars to make room. The waiting was finally over!
We arrived early so that we could check out the new store. Ten years of designing, opening and operating retail stores gave me some perspective on what makes for a good retail layout. As soon as we arrived, I was able to check one critical item off of the list: ample parking! Finding a place to park in San Francisco is critical for retailers who deal in heavy/bulky products. The new parking lot is easy to find and had plenty of empty spaces, even on a busy Saturday afternoon. We were off to a good start!
We entered the store to find an inviting and understandable layout. The various product categories were easily identified, with "neighborhoods" established to make the large space less overwhelming. The signage was clear and unobtrusive, providing guidance without getting the way visually. The wine was definitely the star of the show.
After a bit of wandering around, we were greeted by Scott Beckerley. Scott must meet hundreds of customers every week, but he treated us as though we were the only customers in the store. He remembered our champagne tasting and a surprising amount of our backstory. He immediately shifted into "tour guide" mode, taking us around the store and even behind the scenes. His pride in the new location was contagious. As we toured the store, we discovered that the "Employees Only" portal led to a well designed order fulfillment operation that took me back to my days operating a warehouse.
We toured their telephone and online customer service area (where the real magic happens), the packing and shipping area (where dreams come true), and the customer will-call shelves (full of dreams yet to be). Every area showed careful thought in design and organization, with an eye toward future growth. They will not soon outgrow this space!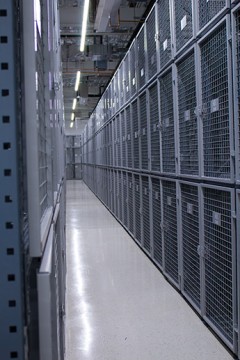 Scott next took us to a fascinating area which was on the verge of opening. I called it "customer cages" because it creatively misrepresented the usage just a bit to imply that unruly customers were caged here. In reality, this room will store customer-owned wine. A smart offering in a market where in-home storage space is at premium. Each customer storage unit is about 4 feet by 4 feet by 4 feet, with pricing on a sliding scale depending on the particular location of the cage (the really convenient cages naturally cost a bit more). The entire room will be humidity and temperature controlled, with access controls to keep evil-doers out of the area and padlocks on each cage to keep the browsing to a "look but don't touch" level. This seems like a great offering for the clientele. A bit too far away from us to help with my wine storage issues, but great for the local city dwellers.
Tour complete, we made our way to the spacious and comfortable wine tasting area. Wow! What an improvement! A wide tasting bar, with some satellite tasting tables and a half wall setting off the entire space. The tasting was overseen by Steve Bearden, and we quickly learned that Steve's command of the Bordeaux wine region was on par with Scott's understanding of the Champagne region. This was going to be fun!
The tasting flight consisted of 10 wines, ranging in price from $14.99 to $99.99. This was a daunting range of prices! One of the things that we appreciate about K&L is that they do not exclusively promote expensive wines, but instead cover every budget level. We had experience with their "Wine of the Month Club" at the Value level, thanks to our loving son and daughter-in-law. Every month we received two bottles of wine and were constantly surprised by the amazing flavors delivered by reasonably-priced wine. The word "value" has a real meaning here, so we were ready to enjoy wine covering a broad price range.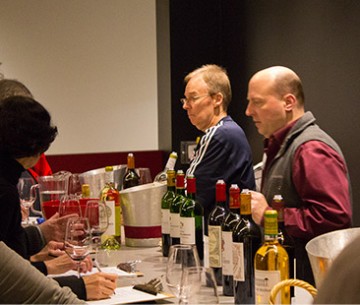 We started somewhat mid-range, price wise, with a 2013 Carbonnieux Blanc, priced at $34.99. This blend of 65% Sauvignon Blanc, 34% Semillion and 1% Muscadelle (which sounded like an obscure shellfish to one of our tasters) was crisp and full of pear and exuberance. The acid gave it a clean finish that would pair nicely with nearly any kind of food. A great palate calibrator for the rest of the tasting before us!
Our next taste was the value entry of the day, a 2010 St. Paul from Haut Medoc priced at a very reasonable $14.99. This was a blend of Cabernet Sauvignon, Merlot, Petit Verdot and Malbec. We found it to be very mellow, with nice fruit and just enough tannins to balance everything out.
About then, Steve used the term "third growth" to describe a wine. He explained that this was a result of a classification system created in 1855. The very best vines were awarded the label "first growth" with the next best vines "second growth" and so on down to "fifth growth". There did not seem to be a "participant growth", so millennials everywhere will be offended.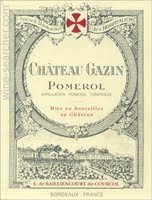 We tasted our way through some remarkable Bordeaux wines in the $20-$30 range, and then we reached what proved to be the favorite taste for our group: a 2012 Gazin from Pomerol. Priced at $79.99, this was a blend of 90% Merlot, 7% Cabernet Sauvignon and 3% Cabernet Franc. We all found it vibrant and lively, smooth with great mouth feel. Although very drinkable now, we thought that it would continue to be amazing for another 10 years. We even preferred it to the highest priced taste, the 2012 Pichon Baron from Pauillac going for $99.99.
The K&L staff thoughtfully concluded our tasting with a 2009 Nairac Sauternes to give us a bit of dessert for our drive home. We loved the tempered sweetness, with tea, apricot and honey notes that made me yearn for a lemon meringue pie.
Tasting complete, we thanked Steve and Scott for another amazing experience and set off in search of a late lunch. We look forward to a long relationship with the new K&L location.
Cheers!
---
About the Author
: John grills a mean steak and is always in the market for another wine fridge. Believes that if a winery has more than 10 employees, it's probably too big. Buys wine faster than he drinks it, but who cares?
---
It pays to subscribe!
We will send you a brief email whenever there's a new post, so you'll never miss an article. We promise not to be a pest. Unsubscribe any time you like. And, of course, we won't let ANYONE else use our subscriber list. By subscribing, you agree to our
Privacy Policy
.
So go ahead,
click here to SUBSCRIBE
!