The Rock Wall Wine Company pairs great wine with amazing views of San Francisco. This is amazing on a sunny afternoon, but can this pairing work on a rainy day? It was time to pick up December's wine club pack and El Niño was in full force, so this question was about to be answered.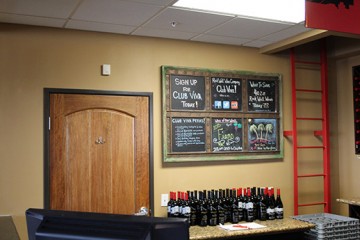 After postponing the club pickup for several weekends, waiting for a sunny day, it was time to admit meteorological defeat and suffer through the rain and find our way to Alameda. Between weather only suited to ducks and NFL playoffs on television Rob and I were anticipating an empty tasting room. One step into the tasting room and it was apparent that we were wrong. The place was jumping!
The Rock Wall Wine Company operates their tasting bar in a somewhat unusual way. There are a set number of tasting slots available at the bar, and once those slots are filled by tasters, everyone else waits for an opening. We arrived to find the bar full and a waiting list in play. After we checked in with the registration person, we were handed a glass of sparkling wine and invited to take a look around and wait to be called. What a very civilized way to ask us to wait! While we waited, we soaked in the city views, amazing even through the rain, fog and clouds. So our fundamental question was answered: the rainy weather took nothing away from the amazing cityscape. While we soaked in the distant scenery, we also enjoyed seeing the small children racing around in random circles on the concrete expanse behind the tasting room, celebrating their freedom from car seats.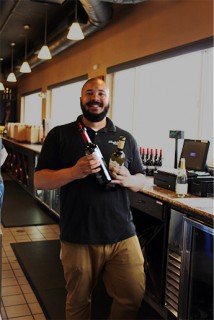 After a few minutes of walking around sipping bubbly, we were invited to take a place by the bar. We met our wine guide for the day, Mike, who immediately set us up with our first taste. Rock Wall has a substantial tasting menu, so tasters select five wines from the list to sample. I started with their 2012 Teroldego. I found it woodsy, with dark cherry and blackberry notes, and an interesting viscous mouth feel. A good way to start a flight!
I next tasted their 2012 Julie's Zinfandel, with cherry aromas and uplifting hints of strawberry and caramel. The faint spice finish would make it a good pairing with most appetizers or by itself. The next Zin was their 2012 Harris Kratka, with great smoke and pepper notes. We had fond memories of this wine because of the bottles that followed us home after our last visit. This continues to be on our favorites list.
My last Zin was their 2013 Hendry. I found hints of maple and vanilla, with a finish that danced across the roof of my mouth.  I then jumped to their 2013 Papa's Syrah. I enjoyed the bing cherry and blueberry elements and its clean finish. Another wine for our wish list.
At this point, I thought that the tasting flight was over. Mike surprised us with a 2014 Grenache, from Abba Vineyard in Lodi. A 100% Grenache wine, we were very impressed by the balanced layers of fruit, led by plum and apricot. Rob observed "thyme and sagebrush" notes but he may have read that somewhere.
Our second bonus taste was their 2012 Baydeux Blend, with 65% Tannat and 35% Cabernet Sauvignon. Smooth and fruit forward, we immediately thought of pairing it with steak and Bearnaise sauce, but Mike easily trumped that idea by suggesting herb-roasted pork loin. Well played, Mike!
We had a schedule to keep, and wives enjoying bottomless mimosas back in Livermore, so we said goodbye to Mike, picked up the club pack, and journeyed back home through the rain.
---
About the Author
: John grills a mean steak and is always in the market for another wine fridge. Believes that if a winery has more than 10 employees, it's probably too big. Buys wine faster than he drinks it, but who cares?
---
It pays to subscribe!
We will send you a brief email whenever there's a new post, so you'll never miss an article. We promise not to be a pest. Unsubscribe any time you like. And, of course, we won't let ANYONE else use our subscriber list. By subscribing, you agree to our
Privacy Policy
.
So go ahead,
click here to SUBSCRIBE
!