A beautifully clear, sunny day brought us to Dashe Cellars to sip their wine and take in the amazing views of San Francisco. What a great way to spend an afternoon!
Without question, Dashe Cellars has a great combination of wonderful wine and an amazing location. With an outdoor tasting area with an unobstructed view of the San Francisco skyline across the bay from Alameda Island, just sitting there is pretty great. Add a strong menu of wonderful wines and you have all the ingredients for great afternoon. We were shown to a nice table under a canopy, where we met wine guide Justin. He quickly got us set up with a carafe of water, glasses and wine menus. We usually go with one of their tasting flights, but after some thought we decided to go a different way today. We chose two wines and decided to spend some time getting to know them and enjoying the ambiance of this perfect day.
Our decision was not an easy one! Dashe Cellars has quite a few wines on our "favorites" list, so we spent some time discussing our options and trying to select two wines that were not only great on their own but also delicious when tasted along side the other. The wine list is full of favorites and has a notable lack of clunkers. After some discussion back and forth, we settled on their 2019 Petite Sirah and their 2018 Cabernet Sauvignon. Whew! The tough part of the day was behind us and now everything was going to be easy. Justin brought us the wines and wine glasses. We adjusted our chairs to optimize our view of the city and took our first sips.
The Petite Sirah was tart and lively, with delicious blackberry notes atop a tight structure. The Cabernet Sauvignon led with a rich nose and paid off with powerful fruit layers and fun glimpses of mushrooms and lemon zest. The finish was truly memorable. Which one did we prefer? That answer changed constantly, depending on which glass we had most recently sipped. That is a good kind of indecision to have. Did we prefer the bright and festive Petite Sirah or the rich and luxurious Cabernet Sauvignon? That was a bit like our other conundrum: did we prefer looking at the spikey skyline of downtown San Francisco or the gentle hills bathed in fluffy clouds further down the peninsula?
Happily, neither of these great questions really required an answer! We gazed and sipped, sipped and gazed, until all too soon it was time to go. We collected the wine club releases that had built up (another good problem to have), thanked Justin for his help, and set off toward the Alameda tunnel. Another great day enjoying all the benefits that come from living in Northern California!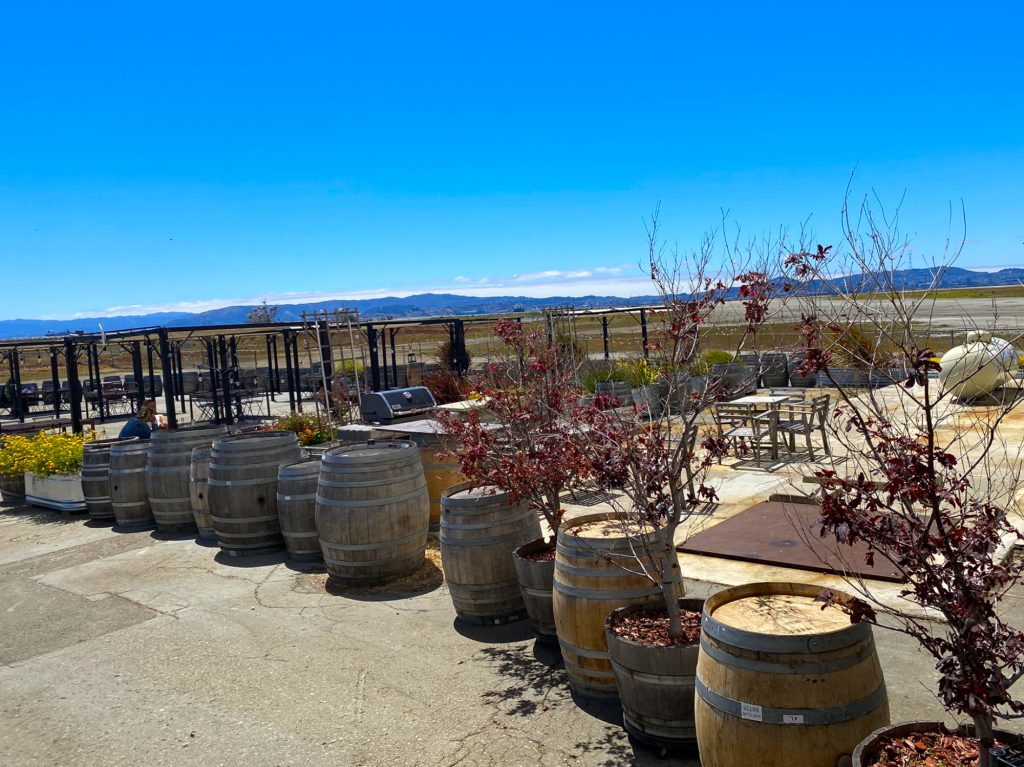 ---
About the Author
: John grills a mean steak and is always in the market for another wine fridge. Believes that if a winery has more than 10 employees, it's probably too big. Buys wine faster than he drinks it, but who cares?
---
It pays to subscribe!
We will send you a brief email whenever there's a new post, so you'll never miss an article. We promise not to be a pest. Unsubscribe any time you like. And, of course, we won't let ANYONE else use our subscriber list. By subscribing, you agree to our
Privacy Policy
.
So go ahead,
click here to SUBSCRIBE
!