We love winery parties, and there is one winery's party that can make us change our calendar: Ruby Hill Winery. When they announce a member appreciation party, we clear our calendar!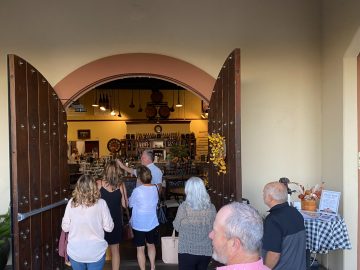 These parties are developing a reputation for greatness, so we pounced on the reservation button the instant we received the announcement email. We did not want to delay and risk getting shut out! Oh, the ignominy. With our reservation for a four-top in hand, we counted down the days until the party. When the day finally arrived, the weather was postcard-worthy: sunny and mild with just a hint of breeze. The kind of day that keeps the other states jealous of California. We arrived a few minutes before opening to join the happy throng of wine club members milling around in front of the imposing wooden doors.
We stepped through the doors and were warmly greeted and directed to the check-in table, given a glass of their sparkling wine, and then guided to our pre-assigned table. It was a wonderfully well planned and executed system for getting people distributed to their assigned tables scattered around the tasting room. A large crowd of club members was efficiently registered, seated and welcomed with a glass of wine in mere minutes! A lot of wineries have tried and failed to produce this result. The deli cooler was open, so we picked up some cheese and cured meats to snack on, taking advantage of their special pricing for the night. We had not been to Ruby Hill for quite some time, so there was a lot to see in the tasting room. By happy happenstance, we were seated by a sale table displaying Halloween décor. In no time at all it was determined that a small blown-glass pumpkin really needed to come home with us. Even better, our club member discount applied to this acquisition! The person who buys the beautiful, varied, and many times funny items for purchase at Ruby Hill Winery has a fantastic eye. As a result, we have quite a few of their items decorating our home.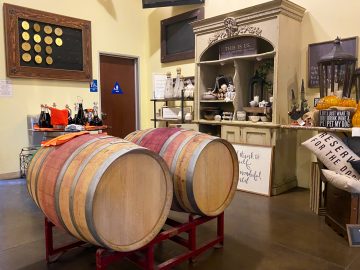 Just as we finished our sparkling wine, we were presented with the opportunity to taste some "baby" wines, fresh from the barrels. We first tasted a 2021 Sangiovese that was years away from its bottling date. We loved it! It still had a lot of grape character, with the beginning of lovely structure and body. We appreciated the cherry, raspberry, and sweet plum notes with a hint of citrus zest on top. The gentle finish showed some tobacco and leather. All in all, a great start to what should be a great wine when it is released in 2024 or 2025. The second barrel taste was a 2021 Barbera. This wine was fun, yet youthful. It already had a lovely aroma that led to a somewhat chaotic palate. Time will tell, but we are really looking forward to tasting how this baby grows up.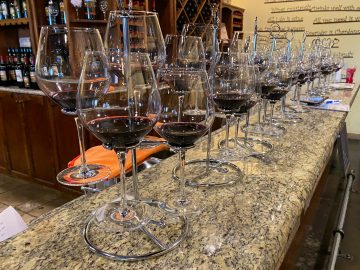 Now it was time for the tasting flight! Ruby Hill uses a spiral tower of glasses for their flights. We love this approach because it is efficient for everyone and it gives us a chance to taste up and down the flight without having to finish one glass of wine before moving to the next. The only danger is accidentally mixing up the glasses. Taster beware! Hopefully, this Covid-driven innovation will remain long after the pandemic is just a daunting memory. First up was their 2019 Jewel Zinfandel. Ruby Hill Zins are legendary and this vintage is no exception. From the dusty nose to the smooth layers of blackberry and earth across the palate to the pleasant cherry finish, this wine has a lot going for it! Wine Enthusiast gave it 92 points, and to us, that could be a bit conservative. A great start to tonight's tasting flight.
We next tasted their 2018 Reserve Petite Sirah. This wine had essentially no aroma for us, but offered a lovely, tongue-hugging flavor of blueberries and black tea. A unique presentation of Petite Sirah, earning 93 points from Wine Enthusiast. We enjoyed tasting it and look forward to cellaring this for a few more years to get the most out of its personality. The 2019 Riverbed Red was next on the spiral. This was a new wine for us, and we were happy to meet it. A lovely blend of 48% Cabernet Sauvignon, 30% Syrah, and 22% Petite Sirah, we enjoyed the library and berry layers that ended with lemon zest and smoke on the finish. Our final taste was their 2020 Jewel Petit Verdot. Petit Verdot is typically used as a supporting player in a red blend, rarely taking the spotlight in a leading role. In this case, it has support from 14% Cabernet Sauvignon. This wine split our table evenly, with half of us loving it and half not. I enjoyed the aromas reminiscent of cherry pie, the fun fruit party on the tongue, and the gentle tannins on the finish.
We were having a wonderful time, but we suddenly noticed that most of the tables were empty now. Sheepishly, we collected our (several) club packs, thanked the staff, and set off into the night, so happy to have attended Ruby Hill Winery's Member Appreciation Night!
---
About the Author
: John grills a mean steak and is always in the market for another wine fridge. Believes that if a winery has more than 10 employees, it's probably too big. Buys wine faster than he drinks it, but who cares?
---
It pays to subscribe!
We will send you a brief email whenever there's a new post, so you'll never miss an article. We promise not to be a pest. Unsubscribe any time you like. And, of course, we won't let ANYONE else use our subscriber list. By subscribing, you agree to our
Privacy Policy
.
So go ahead,
click here to SUBSCRIBE
!