Nothing lasts forever, and that certainly true with tasting rooms. We visited a familiar tasting room to have our first tasting of a new winery: Favalora Vineyards Winery.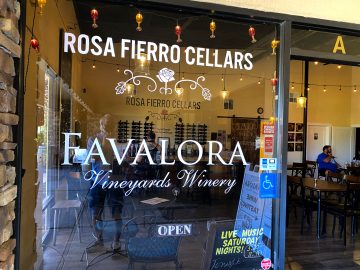 So it was Labor Day weekend, and we had just completed an amazing Bacon and Cab pairing at Las Positas Vineyards. We had enough daylight left to explore one more winery, so we decided to check one of the newer arrivals on the Livermore wine scene, Favalora Vineyards Winery. The tasting room is in the space previously held by McKahn Family Cellars, sharing with Rosa Fierro Cellars. Twice the fun fitted nicely into a single space, in the same pod on Vasco Road as other favorites Occasio Winery and Nottingham Cellars. We were able to park directly in front of the tasting room and took up residence at one of the small, round wrought-iron tables on the covered patio. A perfect vantage point for enjoying the lovely Livermore afternoon, taste some wine, and affording ourselves the relative Covid protection of outdoor seating.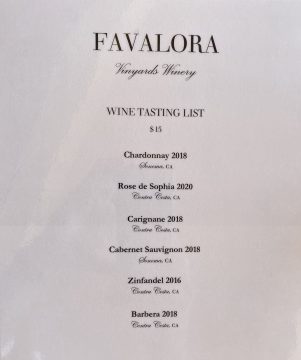 We were greeted by owner/winemaker Frank Favalora, and instantly felt like life-long friends. This is a man who loves his wine and loves telling people about his wine. His excitement and passion seemed to have no bounds, in the best way possible. He quickly set us up with wine glasses and a tasting menu while telling us about the fantastic wines that he had just bottled in the past few weeks that weren't even on the menu yet. We felt that we should have set aside far more time to enjoy Favalora Vineyards Winery and Frank, and promised ourselves to schedule a return visit in the near future. We started our flight with his 2018 Chardonnay, which Frank described as, "a little old school, a little new school." One sip and we agreed. A little oak up front and a little butter on the finish, with lots of amazing fruit notes in between. The clear purity of the fruit shining through was to become a recurring theme of our tasting. Okay, fascinating winemaker AND good wine? This was going to be a great visit. Next up was Frank's 2020 Rosé de Sophia. Frank told us that it was named after his daughter and made from grapes grown in his vineyard, also named after his daughter. We loved the crisp raspberry notes and the ghost finish. A perfect wine to pair with mild cheese and butter crackers.
About then we asked one of our favorite questions, "How did you get into the wine business?" Frank had a great story that started when he was a young man, dating a woman who wanted him to meet her parents. How intimidating! It turns out that her father owned a vineyard. Like all vineyard owners, he needed all the help he could get, so soon Frank was spending his free time learning to tend vines and harvest grapes. That led to trying his hand at making wine (it is a slippery slope). One day, Kent Rosenblum, founder of Rosenblum Cellars and co-founder of Rock Wall Wine Company, visited the vineyard looking for some Zinfandel grapes. Kent took one sniff of some wine from Frank's barrel and ordered the Zin grapes. That experience gave Frank a sense that he might have a future in the winemaking business. Fast forward to today, and we were enjoying the results of all that hard work and study.
We next tasted a favorite varietal, a 2018 Carignane. This really showed the best of the Carignane grape: pomegranate aromas, crisp and punchy fruit shining through, and a clean, slate finish. This leapt immediately onto our Take Home list. When Frank learned that Carignane was a favorite of ours, he quickly returned with  his 2019 Carignane, which he had very recently bottled. Our fears about bottle shock were unfounded. Instead we tasted a lovely young wine with soft fruit and a gentle finish; a dangerously drinkable wine already. This is going to be a great wine. We next tasted Frank's 2019 Zinfandel, also recently bottled. A restrained and not too peppery wine, just perfect to pour beside a BBQ pork chop, we decided. We next tasted a 2018 Cabernet Sauvignon. A lovely example of a Cab, this showed a classic nose, good fruit, and nice balance instead of a fruit bomb explosion at the end. Again, the purity of the fruit was the star. Our final taste was his 2018 Barbera, made with estate grapes. We loved the sweet/tart fruit layers and the medium tannic finish with a bit zest, making us hungry for some ribs at dinner.
With that thought, plus the advancing hour, we purchased some wine, thanked Frank for the incredible first experience, and set off toward our BBQ. Dinner time!
---
About the Author
: John grills a mean steak and is always in the market for another wine fridge. Believes that if a winery has more than 10 employees, it's probably too big. Buys wine faster than he drinks it, but who cares?
---
It pays to subscribe!
We will send you a brief email whenever there's a new post, so you'll never miss an article. We promise not to be a pest. Unsubscribe any time you like. And, of course, we won't let ANYONE else use our subscriber list. By subscribing, you agree to our
Privacy Policy
.
So go ahead,
click here to SUBSCRIBE
!