It was the depths of winter in Livermore and we were feeling sorry for ourselves. There were clouds in the sky and the temperature was barely breaking into the 60s. Then we remembered our friends and family back east, struggling through snowbanks and sub-zero temperatures. To salve our bruised emotions we decided to further celebrate our wise decision to move to California and do some wine tasting at Concannon Vineyard.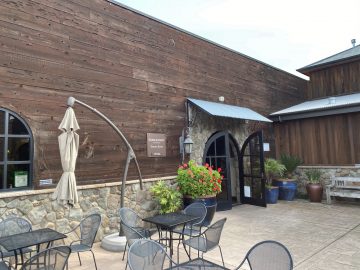 It was mid-week, so we knew that the Members Only tasting room would not be open, but the main tasting room was going to be more than adequate for us. We found a parking spot in the first row of the very large parking lot and walked the short distance to the tasting room building. Given the frigid temperatures (for us wimpy locals, at least) the outdoor tables were all vacant. We could hear a happy buzz from tasters already indoors, so we were already smiling as we opened the tasting room door. The tasting room is thoughtfully arranged to handle groups of all sizes. There is a long tasting bar that can serve at least 20 people, a shorter bar for small groups, and a number of tall wine barrel tables for groups of 2-4 people. The room is ringed with interesting things to look at, ranging from a display describing the Livermore's history of Petite Sirah, to the obligatory winery merchandise, to a large blackboard listing upcoming winery events.

---
Other wineries near Concannon Vineyard:
---
Wine guide Barbara welcomed us and set us up for our tasting at a wine barrel turned table. As we looked around, we could see numerous clusters of tasters, including a bachelorette party and several groupings of experienced club members. We started our tasting flight with their
2017 Reserve Assemblage Blanc
, a blend of 53% Semillon and 47% Sauvignon Blanc. As we enjoyed the crisp minerality and melon notes, we settled in and soaked in some of the relaxed and refined vibe of the tasting room. Thoughts of our gloomy, overcast day were swept away!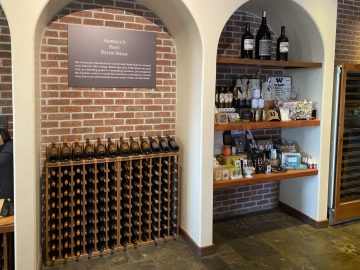 Their 2017 Reserve Chardonnay was next. We enjoyed the creamy mouth feel and refreshing pear notes. Their 2016 Reserve Zinfandel (with a 9% splash of Petit Verdot) was a hit with us, with an attractive leather and tea aroma leading to assertive plum flavors, finishing up with lingering tannins. This would be a great wine to serve with a spicy pasta bolognaise and some salad.
As the bachelorette party moved on to their next tasting room appointment, Barbara next poured us their 2016 Reserve Assemblage Red, a Bordeaux blend of 38% Malbec, 31% Cabernet Sauvignon, and 31% Petit Verdot. This was a wine that made friends with every nook and cranny in our mouths, we loved the plum and cocoa notes and luxurious finish.
Next up was their 2016 Reserve Cabernet Sauvignon. Spending 20 months in American and French oak barrels, the fruit came through, but without any of the sharp edges that can sometimes haunt Cabs. Another hit with our group! Just when we thought that our tasting flight was over, Barbara came to us with a bonus: their 2015 Reserve Petite Sirah! And chocolate, hooray! She repeated the pairing mantra, "wine, chocolate, wine" and turned us loose. What a great pairing! The chocolate highlighted the plum and earthy notes of the Petite Sirah while the wine made the chocolate taste like it was smuggled in from an exclusive Swiss chocolatier. Another case where the whole is greater than the sum of the parts!
With our tasting flight at an end, our friends collected their overdue wine club releases (see, we're not the only ones to leave club packs vacationing at the winery). We thanked Barbara for all of her help and went back out into the frigid Livermore afternoon. Spring is just around the corner!
---
About the Author
: John grills a mean steak and is always in the market for another wine fridge. Believes that if a winery has more than 10 employees, it's probably too big. Buys wine faster than he drinks it, but who cares?
---
It pays to subscribe!
We will send you a brief email whenever there's a new post, so you'll never miss an article. We promise not to be a pest. Unsubscribe any time you like. And, of course, we won't let ANYONE else use our subscriber list. By subscribing, you agree to our
Privacy Policy
.
So go ahead,
click here to SUBSCRIBE
!