They say that in wine there is truth. Is there also wine in art? Pinot's Palette in Livermore celebrated their Grand Opening last Friday, and we were invited to unleash our inner artist!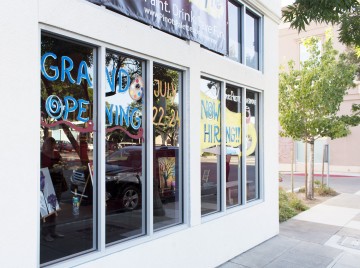 Pinot's Palette is a very successful national franchise. They have a wonderful formula: sip on some nice wine while a patient instructor takes a class of amateur artists through a series of simple painting steps which miraculously result in a painting. We had a chance to spend an evening with the Alameda franchisee a few months ago, and we had fantastic time. As an added bonus, we met Kevin and Barbara Brown, owners of R&B Cellars, who happened to be pouring their wine that night. It was a fun evening that included producing art that was not awful! We were very excited to learn that a Pinot's Palette was scheduled to open in Livermore, and counted down the weeks until their grand opening.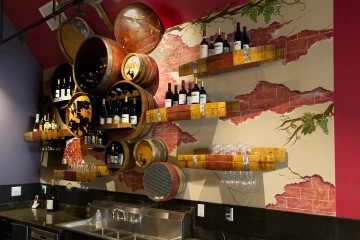 We arrived to find a studio buzzing with anticipation and laughter! The interior was very attractively decorated, with clear ties to the local winemaking community. The main area was already set up with easels and canvases, with a painter's name chalked festively by each canvas to eliminate any possible confusion.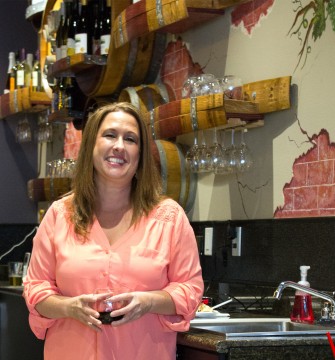 We met the very friendly staff and the franchise owner, Leslie Warren, who welcomed us to their grand opening event. Introductions completed, we put on our (grand spankin' new) painting aprons and made our way to the bar. The bar was definitely the place to be at that moment! We were immediately impressed by the breadth and depth of the bar menu. Both wine and beer were well represented, with a special section of the menu devoted exclusively to local Livermore wineries. This evening was off to a very good start!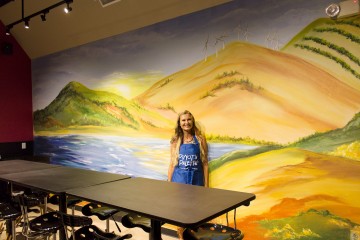 Wine glass in hand, we received a quick tour of the facility from Leslie. In addition to the spacious classroom up front, we found a smaller room in back, ideal for private events. The long side wall featured an amazing hand-painted mural. As we were admiring the work, we had a chance to meet Melinda, the artist who created the mural, and express our admiration.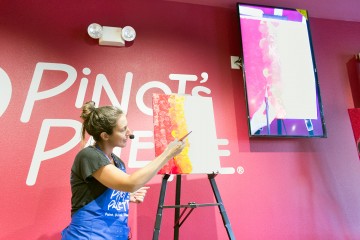 And then it was time. Time to paint! We found our personalized painting positions and met Kira, the painting trainer from the Pinot's Palette headquarters in Texas. She brought confidence and an infectious laugh to a stage that featured an exotic sound system and a clever closed-circuit TV arrangement that let everyone in the room see a magnified version of Kira's canvas. After a few fun icebreakers, she got everyone painting.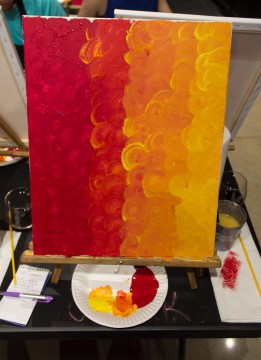 Prior to the grand opening, Leslie had conducted a social media poll to let her fans choose the first image to paint. By a clear margin, the painting "First Pour" was selected. Given the local wine community, this made total sense! We started painting our canvas using an advanced technique that Kira called, "smoosh and twirl." This was clearly the product of many years of art school education. Luckily, she was able to make it accessible to all of us (even art-challenged engineers). Not to give away any industry secrets, but "smoosh and twirl" involved smooshing a paint-laden brush into the canvas and twirling it in one place to create a pinwheel effect. We mastered this technique as we covering our canvas with a color gradient that transitioned from red to yellow. By now we were all feeling like artists!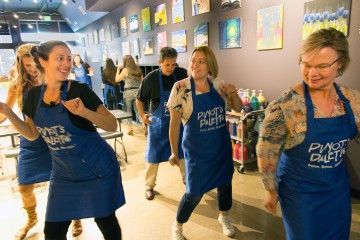 After all of this high-level artistry, we were ready for a break, which Kira kindly granted. There was a general rush to the bar for wine refills, but the staff took care of us quite handily. For reasons beyond any comprehension, a line dance broke out among the Pinot's Palette staff. That's right, a line dance made up of people who were NOT drinking wine! A very fun interlude, nonetheless.
Properly refreshed and re-energized (yes, there were some amazing snacks at this event!) we returned to our art. Kira next showed us how to draw the outline of a wine glass on a no regrets basis. This used another advanced technique: drawing with chalk! Some of us used more chalk than others, repeatedly wiping the chalk line off the canvas with a damp piece of paper towel, then taking another run at drawing a symmetrical wine glass. Eventually a uniquely shaped wine glass seemed like a good idea. Once the outline was acceptable, we painted over the chalk with white paint. Our secret technique was now safe! Wow, the things they don't teach you in engineering school!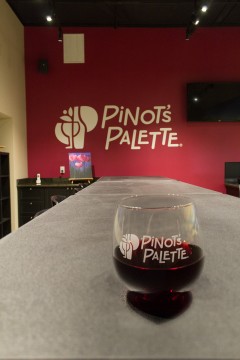 As we nibbled on some amazing cupcakes, Kira took us through the final steps in creating our painting. Wisely, she saved the wine for last. Wine-colored paint, of course. We filled in our chalk outline with paint reminiscent of a nice Merlot or maybe a Pinot Noir. Again, this was more challenging than it sounded, but Kira kept us feeling positive and accomplished. Just a few more embellishments and our painting was done! We took some celebratory group photographs, complimented each other on our creativity and imagined where we would each be hanging our canvas. The night was a smashing success!
Paintings in hand, we thanked the Leslie and her staff for a wonderful evening. We wish Pinot's Palette Livermore every success in the coming years!
---
About the Author
: John grills a mean steak and is always in the market for another wine fridge. Believes that if a winery has more than 10 employees, it's probably too big. Buys wine faster than he drinks it, but who cares?
---
It pays to subscribe!
We will send you a brief email whenever there's a new post, so you'll never miss an article. We promise not to be a pest. Unsubscribe any time you like. And, of course, we won't let ANYONE else use our subscriber list. By subscribing, you agree to our
Privacy Policy
.
So go ahead,
click here to SUBSCRIBE
!