Most people love spending an evening enjoying art, or wine, or live music. Combining any two of these activities and you have scored major good-spouse points. Put all three together? That was exactly what happened when we recently visited Pinot's Palette in Alameda.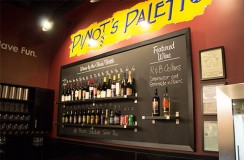 The Pinot's Palette formula was designed with people like us in mind: a fun, non-judgmental environment for people to learn a bit about painting while drinking some local wine and listening to some nice music. The owners of the Alameda location took the business model even further by inviting a local winery come in for a custom tasting. Bonus points? The husband and wife winery owners were also performance-level musicians!
This Pinot's Palette is located in the Alameda South Shore Center. We arrived quite a bit early (a bit too excited) so we spent some time shopping and sipping on a latte at Starbucks (two of us went each direction, go figure). Once we were merely fashionably early, we made our way to Pinot's Palette, only to find that the party was already in full swing!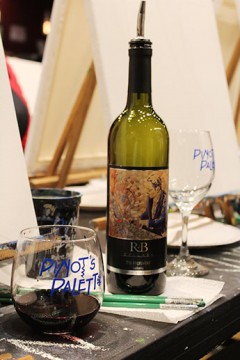 We were immediately greeted by owners Peri and Sean Gabriel and provided aprons. Obviously they had heard about my painting skills, although I would have also recommended drop clothes. We also met the owners of R&B Cellars, Barbara and Kevin Brown. We suited up, purchased a bottle of R&B Improviser (a red blend) to sip on and took up our positions in front of the intimidatingly blank canvases. We spent the next few minutes chatting nervously and pretending like we did this all the time. No more waiting, the struggle was about to become very real!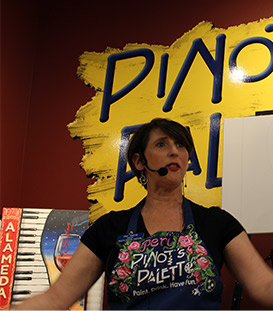 Peri slipped on a wireless microphone and got everyone's attention. She described the format for the evening and tried to reassure us that although this might be our first time, it certainly wasn't hers. Everything was going to be fine if we just trusted the process and supported each other. She also introduced everyone to Barbara and Keven Brown from R&B and even welcomed the Wine Tasting Bliss editors to the room! She acknowledged several birthday celebrations (which explained the tiaras) and some friends of R&B Cellars.  She explained that helpers Adam and Hank were going to be roaming the room all night, ready to provide more paint and personalized painting advice and that Sean would be providing "canvas-side" beverage service!
As we began the painting adventure, Kevin and Barbara started the wine tasting flight with their Chardonnay, called Sarabande, made from Russian River grapes. Kevin explained that this Chard was one third from French oak barrels, one third from puncheons (double capacity barrels) and one third from a concrete egg (the new kid on the block that's getting a lot of attention lately). We enjoyed the crisp apple notes with just a hint of butter. We also learned that the new R&B Cellars tasting room is set to open on March 5th, located on the bay in Point Richmond (part of the Kaiser ship yard). Between Kevin's description and the artist's sketch on their flier, we have a new entry on our March winery tour list.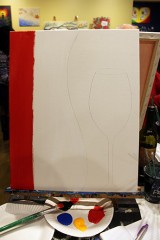 Our personal paintings were making good progress (that's a relative, rather than absolute term) as we progressed to tasting R&B's Swingsville Zinfandel. This 95% Zin / 5% Petite Sirah blend showed great fruit and restrained pepper. Rob immediately pictured this beside a grilled pork chop, possibly with a mushroom and cream sauce. Perfect! Kevin explained that the moniker "swingsville" wasn't actually a place, but rather a state of mind. Wherever it's located, I am convinced that Swingsville improved my painting prowess. Opinions vary, but that's my story and I'm sticking to it.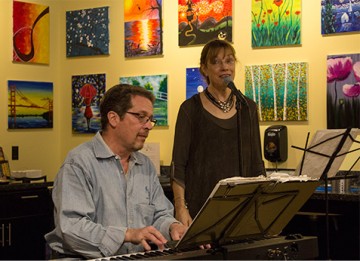 After we enjoyed some show tunes from Kevin and Barbara, they shifted back to winemaker mode. We next tasted the R&B 2009 Cabernet. We learned that this Cab spent 3 years in the barrel, then another 2 years in the bottle before being offered for sale. Kevin's pride in this wine was apparent! They say you never forget your first love and it definitely applies to winemakers and their wine, too. All of us loved the big, bold, punchy personality of this Cab!
During a short break, we had a chance to chat with Peri about their Pinot's Palette franchise. She told us that their location had been open for only 4 months. Looking around the room, it seemed that their business was off to a great start. Joining about 150 other franchisees, Peri spoke highly of the support that the franchise headquarters provided. Their customers come from throughout the Bay Area, for birthday parties, team-building and couples' painting events. She mentioned a special Valentine's Day couples' painting event, but we already had a wine club release party on the books, so maybe next year?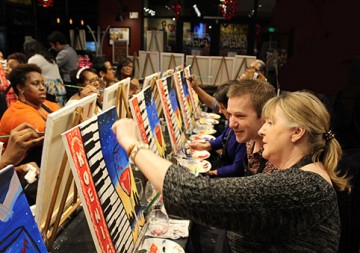 Our paintings were really coming together! For some of us (and by that I mean ME), that was a very humbling period, as an accumulation of small mistakes became harder and harder to overlook.  Other paintings in our group were looking very much like Peri's. For them, things were really looking up! The entire experience, though, really didn't hinge on artistic ability. The live music, encouraging art instruction and lovely wine all came together to put everyone in a great mood.
Our final tasting was the R&B 2011 Syrah, sourced from a Volcano vineyard in the Sierra Foothills. We were struck by the chocolate aromas, the unrestrained fruit notes and a crisp, clean finish. We listened to a few final songs by Barbara and Kevin while hustling to bring our paintings to completion. We finished our wine, cleaned up our snacks and complimented each other on our artistic achievement. All in all, an amazing way to spend an evening, with art, wine and song.
Many thanks to Peri and Sean Gabriel of Pinot's Palette, and Barbara and Keven Brown of R&B Cellars for an outstanding experience!
---
About the Author
: John grills a mean steak and is always in the market for another wine fridge. Believes that if a winery has more than 10 employees, it's probably too big. Buys wine faster than he drinks it, but who cares?
---
It pays to subscribe!
We will send you a brief email whenever there's a new post, so you'll never miss an article. We promise not to be a pest. Unsubscribe any time you like. And, of course, we won't let ANYONE else use our subscriber list. By subscribing, you agree to our
Privacy Policy
.
So go ahead,
click here to SUBSCRIBE
!