Visiting an established (winery) friend in their new place, what could be better? We could not wait to visit Urban Legend in their new Alameda tasting room!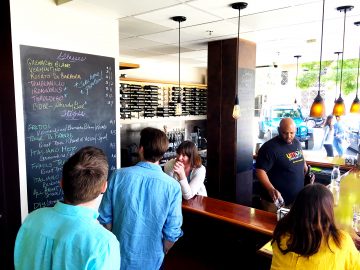 As part of our Mother's Day celebration this year, we visited Urban Legend in their Oakland location. A good time was had by all (thanks, wine guide Molly!) and at that time we learned that they were moving their tasting room to Alameda, into the building that already held their production equipment. We waited, somewhat impatiently, until their new space was ready. It was time for our first visit!
Our impatience was our (trivial) undoing. We were SO excited about our visit that we forgot to check their tasting hours. Sigh. The tasting room opens at 1:00, which is great, unless you arrive at noon, like us. So we drove to the end of Monarch Street and spent the hour taking in the amazing scenery. Everything from massive Navy ships at dock, to sea birds preening for attention, to the panorama of the San Francisco peninsula just across the bay. It was hard to feel sorry for us, soaking up the sun and sights. Before we knew it, it was 1:00 and time to start our tasting.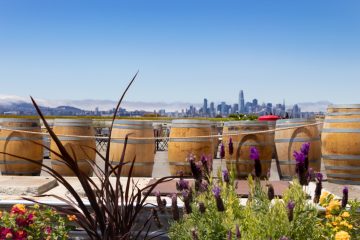 Urban Legend now shares a building (and a whole lot more) with Dashe Cellars. The parking lot is more than spacious, with a lot of outdoor seating available for tasting either winery's finest. We saw that several groups had brought picnic baskets and were having a wine-and-cheese event. After checking out the beautiful plantings and barrel placements, we went into the tasting room.
The tasting room was bathed in sunlight from the large windows that formed the outside wall. We found two tasting bars, an ample picnic-style table and a sectional sofa with rolling ottomans, perfect for holding a tasting flight's worth of wine glasses. We were greeted by Marilee, half of the owner/winemaker Shaffer couple. She welcomed us and told us about our options for tasting.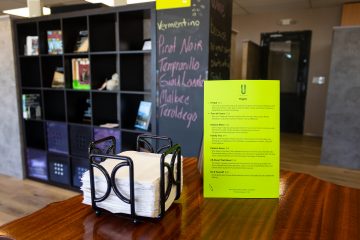 Tasting was available a number of ways. There was the daily flight (indicated on the chalkboard), wine by the glass (perfect for the patio), and a series of curated flights with fun names like Freddi, Tour de France, Italiano Misto, and All About That Blend. The three of us each chose a flight and, of course, swapped glasses throughout the experience.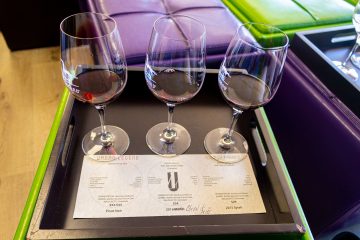 Judi chose the Freddi flight, with white and rosé wines: Vermentino from Lodi fruit, Grenache Blanc from Lodi fruit and Rosato di Barbera from Clarksburg fruit. Rob chose the All About That Blend flight, with a Sangiovese/Cabernet/Syrah blend called Sonici, a Zin/Petite Sirah blend called Gioia Locale, and a Cab Franc/Merlot/Petite Verdot blend called Cheval d'Acier. I selected the Tour de France flight, with a Pinot Noir, a Syrah, and the Cheval d'Acier in place of the Merlot that was typically in the flight.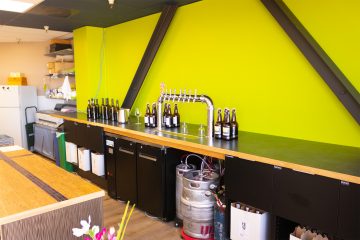 There was a lot to like! The Vermentino was a delicious trip to the tropics with fun grapefruit notes toward the finish. Rob thought that the Sonici would be perfect with a medium-rare tritip and steaming baked potato. It was the Syrah, though, that made its way to the Take Home list. It was a difficult decision, but our wine racks just don't have the space to store every wine we love!
Tasting complete, Marilee and her husband Steve graciously gave us a tour of the production area that they share with Dashe Cellars. Both wineries can bring grapes in through the massive doors in back and perform all the processing steps required to make wine, right in this room. With the cool bay climate and military-grade building insulation, the wine ages in an ideal temperature and humidity setting.
We learned that the building was originally used by the Navy to sandblast P-3 Orion Sub Hunter airplanes. That meant that the building had to be huge, with office space tucked into the front corners of the building where the airplane's nose would go, with plenty of width for the wings. Merilee said that there were huge 130 foot-long sand augers under the floor drains to push the leftover sand out of the building. Very practical then, but challenging to remove in the current day.
After the tour, we paid for our tastings and bottle of wine and stepped next door. We have time for another tasting!
---
About the Author
: John grills a mean steak and is always in the market for another wine fridge. Believes that if a winery has more than 10 employees, it's probably too big. Buys wine faster than he drinks it, but who cares?
---
It pays to subscribe!
We will send you a brief email whenever there's a new post, so you'll never miss an article. We promise not to be a pest. Unsubscribe any time you like. And, of course, we won't let ANYONE else use our subscriber list. By subscribing, you agree to our
Privacy Policy
.
So go ahead,
click here to SUBSCRIBE
!