The Taste Our Terroir weekend is regarded by many to be the highlight of the Livermore Valley wine season. The food and wine pairing competition is an event worth rearranging a vacation schedule to attend. The 2019 edition lived up to all of those lofty expectations.
Taste Our Terroir 2019 was produced by the Livermore Valley Winegrowers Association and sponsored by VinoDestinations, Dublin Doin' it Right Dealers, Black Tie Transportation, City of Dublin, City of Livermore, Visit Tri-Valley, Amos Productions, Sysco, Livermore Valley Florist, Ron Essex Photography and Livermore Wine Trolley. Once again this year, it was hosted at the Casa Real Event Center.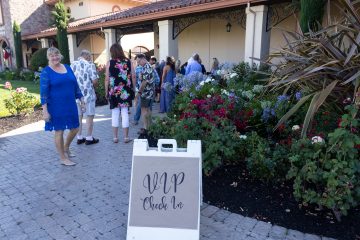 As often happens, this amazing event sold out. 700 people attended the competition featuring 16 food and wine pairing teams that featured the very best of Livermore. Those with VIP tickets were admitted an hour ahead of General Admission. Upon arrival we were welcomed, given our voting token for the People's Choice awards, and a wine glass for tasting. We were offered tastings of sparkling wine by Boa Ventura Winery and Elliston Vineyards. Because of the outdoor temperature, these "welcome" wineries were moved from the typical patio positions into the silent auction area. Only 5 minutes after arrival our evening was already off to a great start.
Just as we reached the bottom of our glass of sparkling, the doors to the main event space were opened, giving us access to all of the tasting teams. We were immediately greeted by a dizzying array of cloth-covered tables made busy with chefs putting out one-bite wonders and winery staff pouring their paired wine.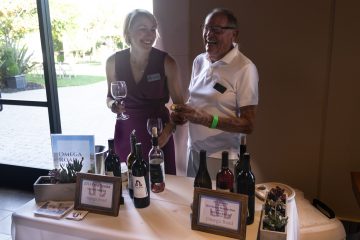 As another accommodation to the uncomfortably warm evening, the wineries that would normally be pouring on the patio (without a food pairing partner) were moved indoors. All the wine tasting fun with none of the sweat! We enjoyed some new releases from Embodied Wines and Omega Road Winery.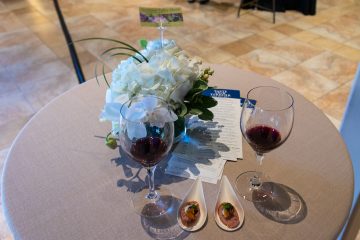 The only challenge was deciding where to start! We typically find a benefit to starting in the back of the room and working our way back to the front door. Tonight was no exception. There was so much to like! We love Livermore wine, of course, but the food pairings brought out so much more from every sip of wine. The creativity and precise execution of each chef was remarkable. With so many amazing pairings, it was difficult to choose which teams were the very best and deserving of our precious People's Choice votes.
Instead of just one favorite, we had about a dozen! For us, a few really stood out. Garré Vineyard paired their 2018 Rosato de Sangiovese with a spiced poke tuna in phyllo shell from their Cafe. This was the spirit of summer in a bite and a swallow. Page Mill Winery poured their 2017 Vintners Select Chardonnay beside Millenium Restaurant's chilled sweet corn soup. So good! A surprising combination of relaxing and complex flavors that surfaced the best of the wine AND the soup.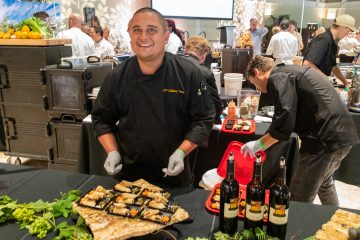 The 2015 Das Riko from Big White House and Sauced BBQ's Burnt End Rednexican Nachos built a line of tasters (and re-tasters, to be honest) that made it clear that this was a heavenly match of punchy red wine and the deep BBQ smokiness that put Sauced on the map. The Wood Family 2016 GSM paired with First Street Alehouse gochujang roasted pork was pronounced as "YUMMY" by most of us. We also loved the nuanced flavors highlighted by the pairing of Las Positas Vineyards' 2015 Meritage with a red pepper and Italian sausage tamale from their own kitchen.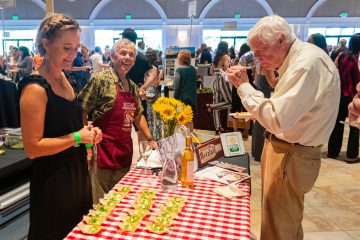 After making our way around the room, visiting every table and thoughtfully considering how each wine and food sampling enhanced the other, we went to the back of the hall and placed our votes for People's Choice. At the same time, judges Ethan Fletcher of Diablo Magazine, wine and travel writer Jill Robinson and Mike Dunne of Dunne on Wine made their own determinations. Here are the award winners:
Best Classic Pairing: Page Mill Winery and Millennium Restaurant
2017 Vintners Select Chardonnay, Livermore Valley (Dane Stark, winemaker and owner)
Chilled sweet corn soup, crisp polenta crouton, herbed almond ricotta, smoked pimenton oil (Chef Eric Tucker)
Most Innovative Pairing: Big White House Winery and Sauced BBQ & Spirits
2015 Das Riko Syrah, Livermore Valley (John Evan Marion, winemaker and owner)
Burnt End Rednexican Nachos: Burnt Ends with poblano queso, black beans, roasted corn, fresh jalapeno and a cilantro garnish, drizzled lightly with BBQ sauce (Chef Brenden Scanlan)
Judge's Best Pairing: Cuda Ridge Wines and Campo di Bocce
2016 Merlot, Livermore Valley (Larry Dino, winemaker and owner)
Duck "Merguez" Sausage with Stone Fruits: Housemade duck sausage with toasted coriander, charred chili cream and an apricot relish, finished with a summer stone fruit Merlot reduction and epazote garnish (Chef Salinna Grant and Chef Michael Wogen)
People's Choice Best White Wine Pairing: Longevity Wines and PlaYT
2018 Pinot Grigio, Livermore Valley (Phil Long, winemaker and owner)
Cajun Crab Cake Bite finished with lemon aioli and she crab sauce (Chef Spike Williams)
People's Choice Best Red Wine Pairing: Wood Family Vineyards and First Street Alehouse
2016 GSM, Livermore Valley (Rhonda Wood, winemaker and owner)
Gochujang Roasted Pork: pork seasoned with fermented soybean paste and other spices (Chef Tara Teetsel)
But the fun wasn't over! After the General Admission guests had a chance to visit the pairing tables, the dessert room opened. Ah, what a wonderful way to end an incredible evening! All sorts of chocolate, fruit, and candies spread across several tables, each competing to take a spot on your plate. Even better, the room was ringed by wineries sampling their Ports. What a night!

We tasted a Petite Sirah Port from Bent Creek, personally paired with a chocolate coconut truffle. Mind blown! Their Zinfandel Port was classic, with just enough raisin and tobacco notes. The Chocolate Port from the Singing Winemaker actually contains chocolate! What a great use of "spare" chocolate; a complete dessert in a glass. Cedar Mountain was pouring their Chocolate Royal Port (great with blueberries), a Cabernet Royale (my favorite), and an incredible Viognier Port. The Port from Charles R was our nightcap: smooth and mellow, with delicious dark fruit notes that stayed with us all the way to the door.
As the sun set on the hills, we left the Casa Real Event Center with a firm resolve to make sure that our calendar continues to reserve Taste Our Terroir weekend long into the future!
---
About the Author
: John grills a mean steak and is always in the market for another wine fridge. Believes that if a winery has more than 10 employees, it's probably too big. Buys wine faster than he drinks it, but who cares?
---
It pays to subscribe!
We will send you a brief email whenever there's a new post, so you'll never miss an article. We promise not to be a pest. Unsubscribe any time you like. And, of course, we won't let ANYONE else use our subscriber list. By subscribing, you agree to our
Privacy Policy
.
So go ahead,
click here to SUBSCRIBE
!