After building their reputation with a tasting room in Alameda, R&B Cellars made  a big move, trading one view of the bay for another. We were privileged to attend their recent grand opening event, celebrating their new facility at the very tip of Port Richmond.
We first met Kevin and Barbara Brown, R&B Cellars' owners and winemakers, when we let our inner artist come out and play at Pinot's Palette in Alameda. We loved sampling their wines and really enjoyed their music. We were also excited to learn of their upcoming move to the Port of Richmond. We waited somewhat impatiently for the new tasting room to open. At last, the waiting was over and we drove to their new site with great anticipation.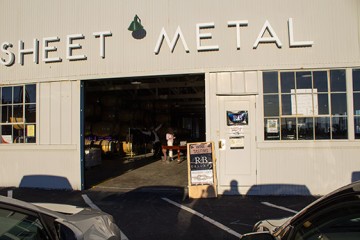 Getting to the new winery was both easy and hard. Getting within a mile was trivial, just take the Canal Boulevard exit of I-580 just short of the bridge to San Rafael, and follow it toward the water. How easy is that? The hard part: navigating through the port without getting distracted by the bustling activity of the port or the amazing scenery along the roadway. After some twists and turn, and a few pauses to take in the views, we arrived at the winery, right next to a Victory ship and the Rosie the Riveter park!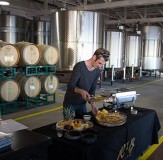 We were warmly greeted as we entered, and even photographed (in-house paparazzi?) as we looked around the expansive interior. Very much the working winery, there were oak barrels and large stainless steel tanks along one wall and an unbroken wall of glass along the bay-side wall. Between these two walls we found happy people, an inviting hors d'oeuvres table and an open rectangular bar abounding with wine bottles.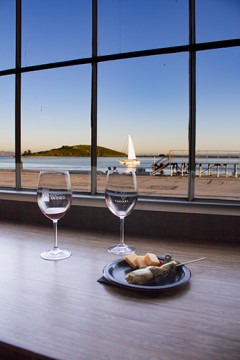 And then the view! With the winery less than 100 feet from the bay, with a panoramic vista of San Francisco in the distance, it was hard to look anywhere else. Nearly the entire wall of glass was lined with a wooden bar ledge and matching stools. As we approached the bar, we discovered that there were two wineries being poured: R&B Cellars and Carica Wines. We started with a Sauvignon Blanc from each winery, grazed at the snack table,  and got comfortable at the window, taking in the distant city and various sailboats as they left the harbor for a night on the bay. The evening was off to a great start!
As we moved down the tasting menu to red blends, The Improviser from R&B and Siren from Carica. In what would prove to be a pattern all night, Judi preferred one while I preferred the other. We next compared R&B's Merlot with Carica's Syrah. Again, a split decision, with one of us preferring each blend!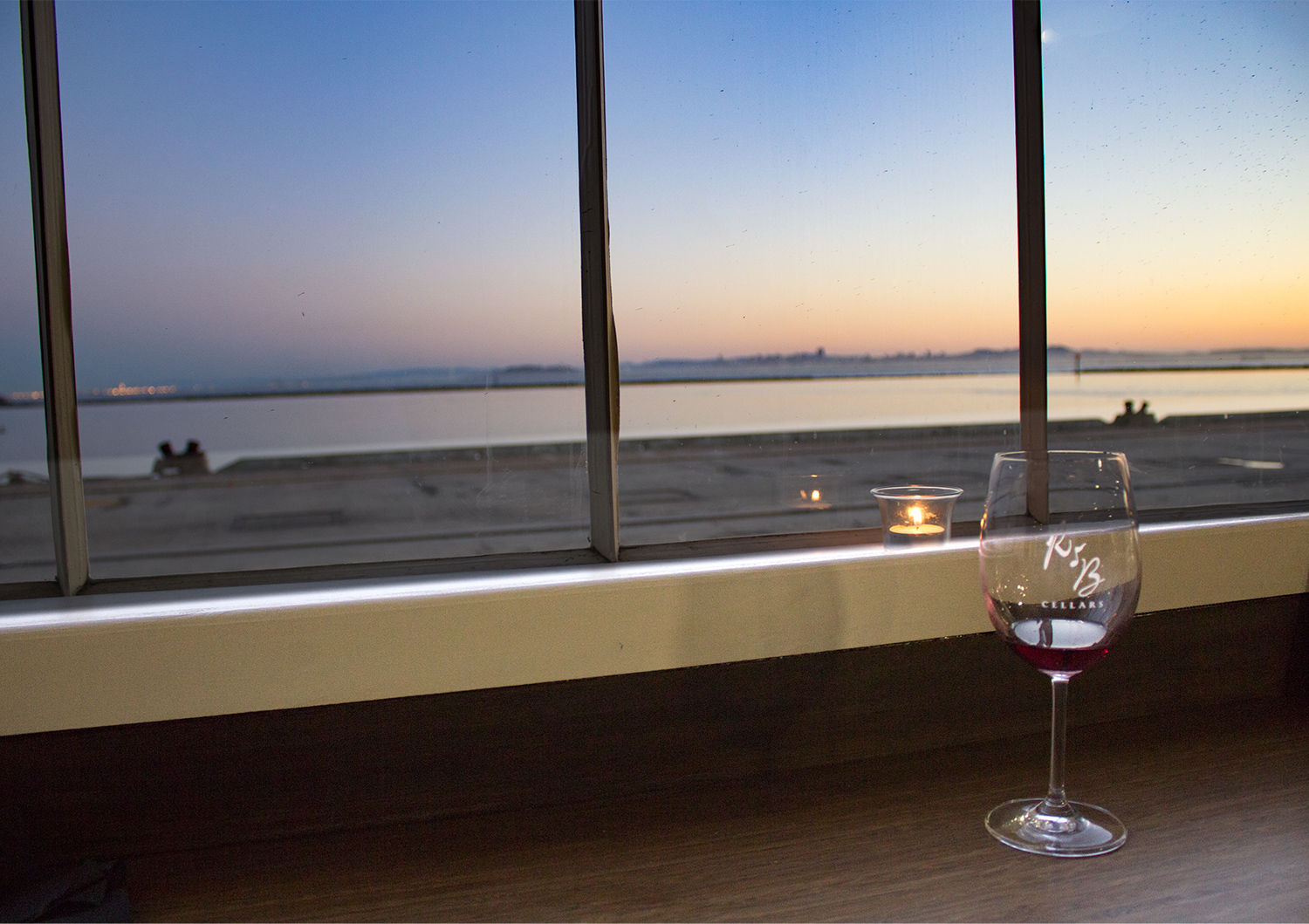 As we tasted Petite Sirahs from Carica and R&B, the music shifted. The entire time we had been enjoying a live ensemble playing background music, but now Barbara and Kevin took the stage. After a few words of greeting and thanks, they kicked off a set of show tunes and standards that captured the audience and brought the first quiet to the room. The string bass and drums provided a nice background to Barbara's vocals and Kevin's keyboard solos. What a talented duo!
As the music came to a close and the sun sank below the horizon it was time to head home. We congratulated Barbara and Kevin on their great new space and set off, past the Red Oak Victory ship, into the dark to drive home. We promised ourselves that we would be back soon!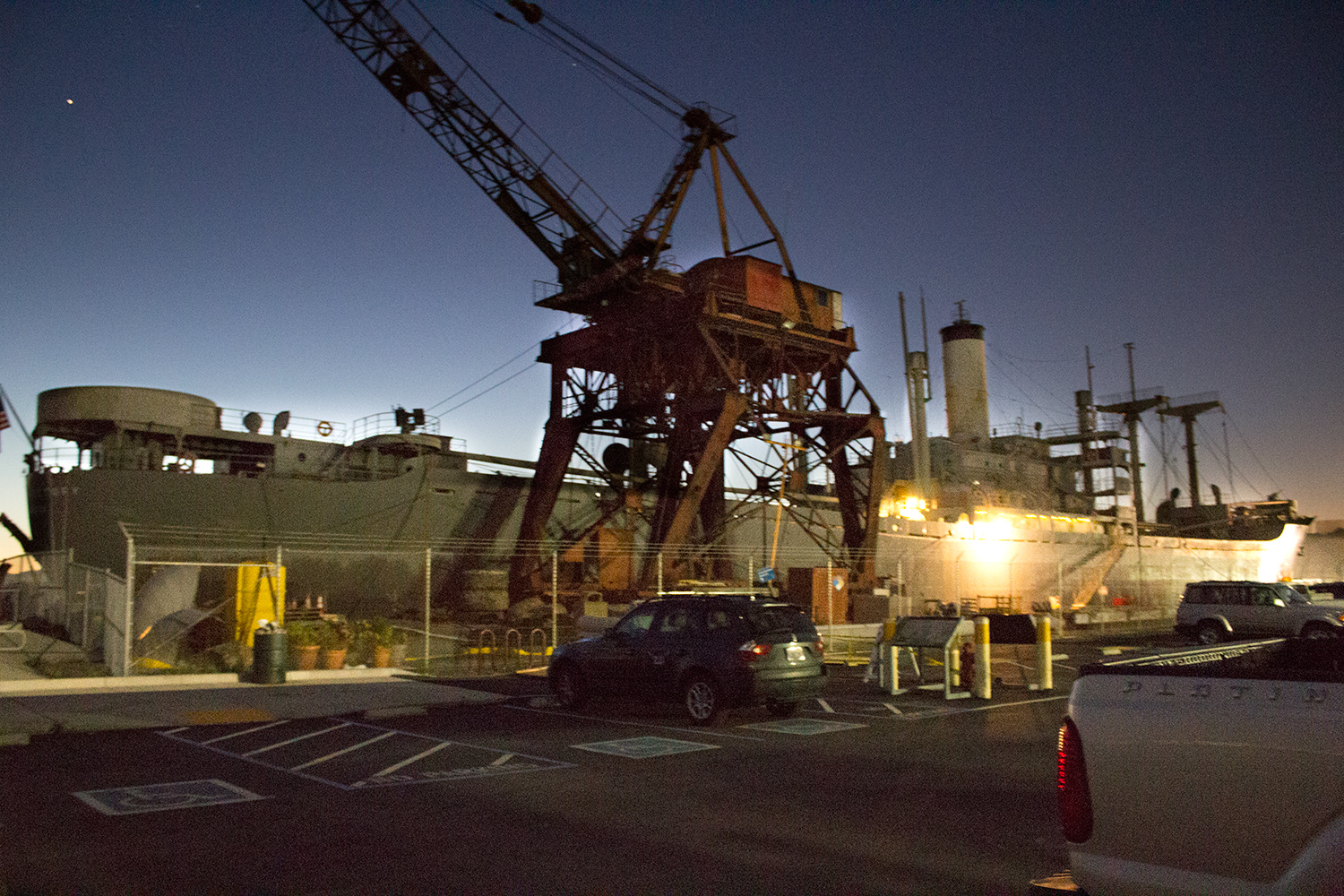 ---
About the Author
: John grills a mean steak and is always in the market for another wine fridge. Believes that if a winery has more than 10 employees, it's probably too big. Buys wine faster than he drinks it, but who cares?
---
It pays to subscribe!
We will send you a brief email whenever there's a new post, so you'll never miss an article. We promise not to be a pest. Unsubscribe any time you like. And, of course, we won't let ANYONE else use our subscriber list. By subscribing, you agree to our
Privacy Policy
.
So go ahead,
click here to SUBSCRIBE
!