Some of our most cherished gifts are experiences, rather than things. Especially as our home runs short of storage, having the memory of a shared experience becomes all the more dear. Recently we enjoyed a gift that we received last Christmas: an evening of Italian food, wine and cheese in San Francisco. What a fantastic time!
We began the evening with dinner at Defina, on 18th Street in San Francisco. We chose the restaurant somewhat blindly, relying on Yelp reviews and proximity to our ultimate destination, the Cheese School. As we arrived and saw the throng of people waiting to get in and the staff bustle around, preparing for our arrival, we knew that we had chosen well.
As we were seated, we learned that the restaurant was presenting a "Meet the Winemaker" event, with Vincenzo di Meo of La Sibilla winery. The winery is located near Naples, Italy, in a wine district called Campi Flegrei. The restaurant was offering three wines from the winery: a 2014 Falanghina, a 2013 Falanghina "Cruna de Lago" (Reserve) and a 2014 Piedirosso.
From the widely varied menu, the three of us selected cauliflower soup (times two), grilled Monterrey Bay calamari, grilled "Little Gems" lettuces with thinly sliced radishes, and Wolfe Ranch quail with polenta to taste and share.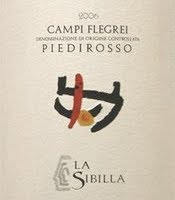 We also chose the La Sibilla wine tasting flight. The 2014 Falanghina was a celebration of bright fruit, a lot like a lightly-buttered Chardonnay, with a fiery burst of citrus on the finish. This played very well with the rich and creamy notes of the cauliflower soup. The Reserve had more minerality and less citrus, with interesting chocolate and blackberry notes. Some tannins and acid on the finish provided a great finale for our appetizers. The Piedirosso was rich and full, with a lingering finish, a great accompaniment to the quail.
With no time to spare, we hustled over to the Cheese School for our Cheese & Wine of Italy class. Once again we enjoyed amazing parking karma, scoring an easy-in-easy-out spot just across the street. The night just kept getting better!
The three of us entered the classroom to discover that Brian had found us ideal seats, right up front by the instructors, with easy access to the aisle way. Each student's place was set with a plate of 8 cheese samples, arranged like a clock face, and a series of empty wine glasses. Since we had been given filled champagne flutes as we entered, the empty glasses did not cause concern.
Moments after we sat down, we met the instructors for the evening: Naomi Smith covering wine and Andy Lax on cheese. Both of them exuded a sense of confidence that only a career totally focused on a single creative art can produce. Within seconds we were again thanking Julie and Brian for an amazing gift!
Naomi and Andy led the class through a series of stories and pairings. Each wine and each cheese had a fascinating story. Each had a very specific location in Italy that it called home. Each had its own set of unique ingredients, local influences and production processes that made it notable. Each had its own pleasant flavor when sampled individually, but assumed a better version of itself when tasted with its pairing partner. This was the magic ingredient for the evening.
Once each pairing was appreciated, Naomi polled the class, using a clever rating scale. If the student felt that the wine and cheese each suffered from the pairing, a score of -2 was awarded. A "marriage made in heaven" pairing was given a +3. Gradations of goodness filled in the range in between. By a show of hands, each pairing was scored by the classroom. This added a fun interactive component to the evening in an environment of "there's no right answer."
In a whirlwind of flavors, we tasted a Mozzarella di Bufala and a Robiolo due Latti, both paired with a nonvintage I Clivi RBL Brut Nature from Corno di Rosazzo, Italy. The soft and super fresh Mozzarella blew our minds, especially with the sparkling wine!
A 2014 Cortese di Gavi from Peidmont, Italy was paired with two cheeses. The Robiola di Roccaverano, made from raw (unpasteurized) goat's milk won a +2 from both of us. The Piave Vecchio from Veneto was a big hit with both of us. We also tasted it with a 2011 Mongrana Maremma Toscana from the Tuscany region. The assertive fruit and solid tannins from this "Super Tuscan" worked equally well with this cheese.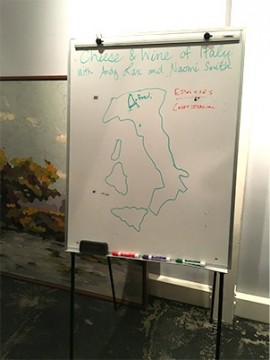 Two cheeses, a Quadrello di Bufala (yes, from water buffalo's milk) and Pecorino Ginepro (the name literally means sheep's milk) were also paired with the Mongrana. They both scored a somewhat pale +1 from both of us. I guess the sheep and goats are safe around our house.
Our final wine was a sparkling nonvintage "La Selvatica" Moscato d'Asti from Piedmont, Italy. Super low alcohol (7%, much like a hearty beer) and fruity bubbles made this a great closing taste. It was paired with a Fiore Sardo (again with the sheep's milk) and a Gorgonzola (finally, some pasteurized cow's milk!), to the benefit of both. We judged the pairings to be +2 in each case.
Empty plates and empty wine glasses drove home a sad fact: the tastings and the stories were done. What an amazing few hours! We thanked Naomi and Andy, purchased some cheese to take home, and went out into the cool evening. What a great Christmas gift!
---
About the Author
: John grills a mean steak and is always in the market for another wine fridge. Believes that if a winery has more than 10 employees, it's probably too big. Buys wine faster than he drinks it, but who cares?
---
It pays to subscribe!
We will send you a brief email whenever there's a new post, so you'll never miss an article. We promise not to be a pest. Unsubscribe any time you like. And, of course, we won't let ANYONE else use our subscriber list. By subscribing, you agree to our
Privacy Policy
.
So go ahead,
click here to SUBSCRIBE
!