The Livermore Valley has a long and prestigious history of fine wineries. This year marks the 20th anniversary of a landmark in Livermore: the Mitchell Katz Winery. We dropped in to see what was new!
We had just completed an amazing tasting at the Steven Kent Winery, so we were less than a quarter mile from Mitchell Katz. The day was warm, the sun was shining, and we were excited to learn about the recent releases at Mitchell Katz. We reached the expansive parking lot to discover a happy group, all learning how to drive Segways. It was a Segway wine tour! The group even had their own tasting tent so they didn't have to leave their mounts. We loved our Segway tour a few years ago, so we wished them well and made our way into the tasting room.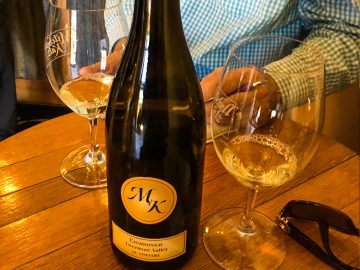 The room was comfortably full, with happy wine tasters along the main tasting bar. We were excited to see that a table with two chairs was open and ready for us! Cheers! A seated tasting was upon us. We love wine tasting, but a seated tasting is even better. Things were going our way already. Wine guide Andy hustled over and got us started with their 2016 Gu Vineyard Chardonnay. Lots of enticing Chard fruit notes on the nose, with oak and light butter on the front of the palate with ginger and peanuts toward the back.
We next tasted an immediate favorite: their 2013 Crackerbox Sangiovese. We loved the great aromas that were backed up with dark fruit leading to a lingering finish of tobacco and spicy nutmeg. With just enough tannins to balance out the upfront fruit, we reached the bottom of this taste far too soon. Andy told us that this wine was their $20 special of the month, in honor of their 20th anniversary. That settled it! This Sangionvese was going to the top of our take home list.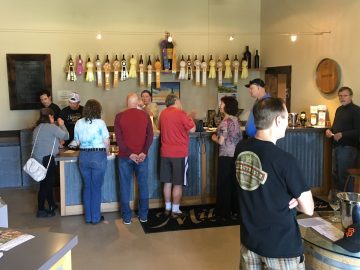 Next up was their 2013 Tempranillo, full of smoky cigar notes floating across dark pitted fruit. This is a great pairing for a bowl of chili or a curry. Their 2013 Falling Star Merlot had it all: enticing color, great aromas, a balance of tannins and acid, even a flavor reminiscent of sarsaparilla. A Merlot classic! Andy next poured their 2014 Corvino Petite Sirah. Judi imagined sipping this jammy, nicely layered Petite on a Tahoe porch. I enjoyed the menthol on the finish. Something for everyone!
We loved the nuanced ride that the 2013 Yee Vineyard Syrah provided. An herbaceous nose with a solid plum punch on the palate leading to a lingering tannic finish. A great sipping wine that beckons quietly "take one more sip!" The 2014 For Play Zinfandel was surprisingly sweet for a Zin, with luscious light fruit notes and restrained pepper on the finish. Light and lovely, not a Zin bomb at all. If you want to pair a Zin with your meal but your guests say that don't like Zins, serve this one and they will become converts.
It was time to select our wines to purchase, so we made the tough calls, thanked Andy for all the guidance and charm, and set off. Congratulations to the Mitchell Katz Winery for reaching the milestone of 20 years of wine excellence in the valley!
---
About the Author
: John grills a mean steak and is always in the market for another wine fridge. Believes that if a winery has more than 10 employees, it's probably too big. Buys wine faster than he drinks it, but who cares?
---
It pays to subscribe!
We will send you a brief email whenever there's a new post, so you'll never miss an article. We promise not to be a pest. Unsubscribe any time you like. And, of course, we won't let ANYONE else use our subscriber list. By subscribing, you agree to our
Privacy Policy
.
So go ahead,
click here to SUBSCRIBE
!