The wine tasting season of 2017 has begun! Nearly every weekend offers kickoff tastings at nearby wineries, many times adding food and live music to the already attractive new wine releases. This weekend was Fenestra's Spring Fling. Here is a quick glimpse of their event!
Celebrating their 40th anniversary, the Fenestra Winery is one of the pillars of the Livermore wine scene. They always deliver a fun tasting experience, with their tasting room in a half-underground barn and views of vineyards, hillsides and even a stream to soak in as you sip from the picnic tables scattered about the back lawn. For their Spring Fling event, Fenestra added live music by the Tom Rose Band and BBQ food by Dirty's Wild West BBQ.
We arrived a bit early (is that a sign of getting old?) to find the band setting up and the wine getting deployed. That gave us plenty of time to check out the entire area and select just the perfect place to set ourselves up. We strategically chose a table with a great view, easy access to the BBQ tent and wine, a responsible distance from the band's speakers, and an optimal division of sun and shade.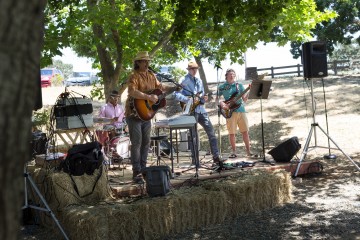 The band started up, and we were immediately impressed. In addition to Tom Rose on guitar, vocal and piano, the band included local students and graduates Toby Scarborough (Amador Valley High School) on bass guitar, Lucas Sanchez (Las Positas College, Berkeley Jazz Institute) on guitar and Carlos Ventura (Las Positas College) on drums. The Tom Rose Band played a wide range of musical styles, with very successful covers including daunting pieces by Carlos Santana and Joe Satriani. They demonstrated a keen understanding of their audience, playing songs that we recognized and enjoyed. The younger people in the crowd may have scratched their heads a bit, but they need to develop an appreciation for "classic rock" shouldn't they? We had a great time listening to each set.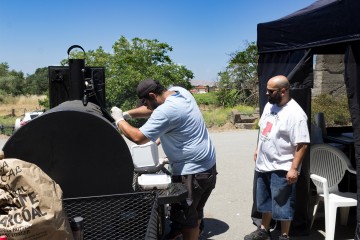 One of the great features of our seating was its proximity to the BBQ station. The smoker was already spreading wonderful aromas when we arrived, so it wasn't too long before we decided to check out their wares. We met Shawn of Dirty's Wild West BBQ and found a man who really understood his craft!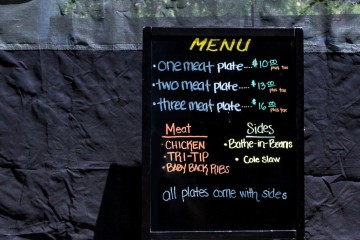 They were offering chicken, ribs and tri-tip, with cole slaw and "bathe-in-beans" as sides. The naming of the beans intrigued us, so Shawn explained that the last time they served these beans, one customer exclaimed that they wanted to bathe in them, hence the name. Never a group to shrink from difficult decisions, we chose the three-meat combo meal. It was a wonderful decision! The chicken was moist and flavorful, the ribs were fall-off-the-bone tender and the tri-tip rivaled anything we had ever tasted (and we've tasted our fair share).
Oh, yes, there was wine! Fenestra was offering wine by the glass or the bottle, plus tasting flights. Their white wine inventory was on sale, too, with some case sales to make decisions even more difficult. Two of us chose tastings and two of us split a bottle of their True Red. There were no losers in this decision. As a member of team True Red, I can report that it served as a perfect counterpoint to the amazing Dirty's BBQ.
What a great afternoon: good music, good food, good wine, good friends! The Fenestra Winery combined all the elements beautifully. Our thanks to the Tom Rose Band, Dirty's Wild West BBQ and, of course, the people of Fenestra for making the afternoon so wonderful!
---
About the Author
: John grills a mean steak and is always in the market for another wine fridge. Believes that if a winery has more than 10 employees, it's probably too big. Buys wine faster than he drinks it, but who cares?
---
It pays to subscribe!
We will send you a brief email whenever there's a new post, so you'll never miss an article. We promise not to be a pest. Unsubscribe any time you like. And, of course, we won't let ANYONE else use our subscriber list. By subscribing, you agree to our
Privacy Policy
.
So go ahead,
click here to SUBSCRIBE
!