With Halloween just around the corner, we decided to give ourselves an early, slightly spooky treat: a tasting at Wood Family Vineyards.
It was a typical October day in Livermore: sunny and mild, with a capricious breeze that kept the falling leaves dancing across the road. Halloween decorations were everywhere, putting us fully in the spooky spirit. It was nearly Halloween, and we had made several trips to the store to pick up additional candy to hand out on the big day, but something seemed to happen to much of the candy to make it disappear. We had been invited to join a collection of family and extended family to celebrate the anniversary of one of us turning 21 (we didn't ask which anniversary). Never one to overlook an opportunity to celebrate, we gratefully accepted the invitation and showed up with out best wine tasting attitudes!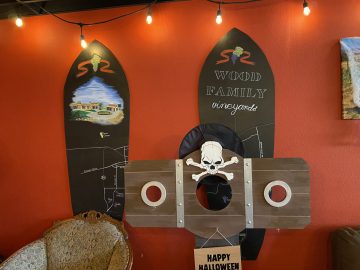 We arrived to find that most of the group had preceded us, and they had chosen a comfortable seating group for all of us, with couches and chairs around a low table. A perfect setting for a tasting! The Wood Family tasting room is always attractive, but today it had some extra elements added in the Halloween spirit. The tasting room was bustling with activity with happy tasters clustered around tables or wine barrels enjoying tasting flights or wine by the glass. As usual, there were plenty of Wood Family wine guides on duty, making sure that no glass sat empty for long. We were excited to taste what they had to offer in the autumn tasting flight!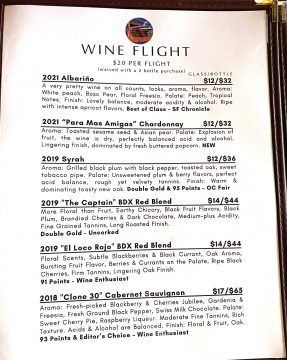 Wine guide "Lace" greeted us and got everyone set up with wine glasses and tasting flight menus. What a flight! Lace started us with their 2021 Albarino. The brisk lemon and peach notes and surprising banana finish woke up our palates and put smiles on faces all around. We were happily surprised with an "off menu" taste next, their 2021 Rosé of Grenache. What a happy addition to our flight! Perky and drinkable, we loved the notes of melon and raspberry and cleansing citrus (especially grapefruit) on the finish. Jumping back on the menu, Lace next poured their 2021 "Para Mas Amigas" Chardonnay. An attractive Chardonnay, it led with aromas of rose and honeysuckle and delivered slightly oaky/buttery flavors through to an assertive finish. A nice wine for a wine and cheese pairing! Our next taste was a big hit with all of us: their 2019 Syrah. A classic Syrah, this wine showed lovely, nuanced fruit layers with restrained tannins on the finish. This is a great choice for sipping while waiting for Trick or Treaters to ring the doorbell! This led off our "Take Home" list and we picked up more than one (don't judge).
We then tasted their 2019 "The Captain" BDX Red Blend. This was a fun rollercoaster ride of berries and pitted fruit, a wine that is easy drinking and perfect for holiday get-togethers. Lace then poured their just released 2020 Cabernet Franc. Made from estate fruit, this young wine showed great promise, with an intriguing nose and lots of fruit across the palate. We plan to cellar this one to maximize its characteristics. We then got another surprise: their 2019 Livermore Valley Vintners' Collective. This was the result of a fascinating challenge: six Livermore vintners agreed to independently craft their unique blend of Livermore grapes into unique wines. Blending local Merlot and Syrah fruit, with optional additions of Cabernet Sauvignon, Malbec, Petite Sirah, and Zinfandel, each vintner created their own representation of the best of Livermore. We absolutely loved Rhonda Wood's creation! Bright fruit, balanced acids and tannins, and a cherry finish that demanded another sip. This crushed our Take Home list around the table. Their 2019 "El Loco Rojo" BDX Red Blend drew smiles around the table. We loved the entire experience, from the lovely nose through the smooth and approachable layers of fruit, and onto the polite but assertive fruit finish. A lovely representation of the Bordeaux style! Our final taste was their 2018 "Clone 30" Cabernet Sauvignon. This was a wonderful way to close out the tasting, a classic Cab with great clarity of fruit and a pleasant, lingering finish.
Tasting complete, we totaled up our Take Home list, thanked Vine for all of her attention, and set off toward our next treat!
---
About the Author
: John grills a mean steak and is always in the market for another wine fridge. Believes that if a winery has more than 10 employees, it's probably too big. Buys wine faster than he drinks it, but who cares?
---
It pays to subscribe!
We will send you a brief email whenever there's a new post, so you'll never miss an article. We promise not to be a pest. Unsubscribe any time you like. And, of course, we won't let ANYONE else use our subscriber list. By subscribing, you agree to our
Privacy Policy
.
So go ahead,
click here to SUBSCRIBE
!