So it was the "Bonus Monday" part of the Livermore Valley Harvest Celebration and we were ready for a change of pace. We had visited a dizzying number of wineries on Sunday, so we were ready to slow down and really savor a tasting experience. We dropped into the Cedar Mountain Winery and found just what we wanted!
We entered the sunny tasting room to find it buzzing with happy tasters. There were plenty of wine guides pouring and chatting, keeping smiles on all the faces. We took up some space along one of the tasting bars and settled in. Although we were still wearing our Celebration wrist bands, it quickly became clear that we were going to enjoy a much more expansive tasting flight than we expected on Bonus Monday.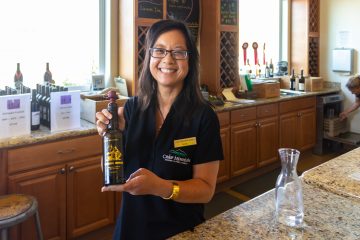 We met wine guide Denise, who certainly added a spark to our tasting! Her enthusiasm for the wine she was pouring was infectious. Then, we discovered that owner/winemaker Earl Ault was in the room! Between Earl and Denise we learned something new with every wine. What an incredible opportunity any student of wine! This was going to be a great flight.
We started with 2016 Grenache Rosé. Denise told us that this lovely wine enjoyed six hours of skin contact for color and a "start and stop" processing technique that is uniquely Earl's. We enjoyed the punchy Grenache flavors and tropical fruit notes and just a hint of flowers on the finish. Their 2015 Cabernet Sauvignon was next, bursting with cherries and plums. The time spent in new oak did a nice job of rounding any sharp edges. 
Next up was their NV Duet, a blend of 2014 Cabernet Sauvignon and 2015 Merlot. Dancing behind the fruit we found fun hints of tobacco and smoke, all in a wonderful balance. The artistry of the winemaker was quite apparent in this one! Denise then poured their 2015 Reserve Petite Sirah made from fruit from the Ghielmetti vineyard. Earl mentioned that this vineyard was recently sold, so future vintages on this lovely wine will depend on a new source of fruit. We loved the smooth mouth feel, with cherries and blackberries leading to gentle tannins on the finish.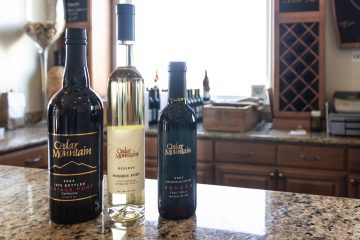 Then onto the dessert wines! First up was their Cheri d'Amour, a dry Sherry-style wine from Pinot Gris grapes. A unique wine, especially for Livermore, we thought that this was a great after-dinner wine, with pecan notes that would go great with some dessert cheese. We then tasted Earl's Viognier Port, a consistent favorite. Yes, a bottle followed us home. Delightful on the nose, amazing on the tongue. Might possibly cure the common cold!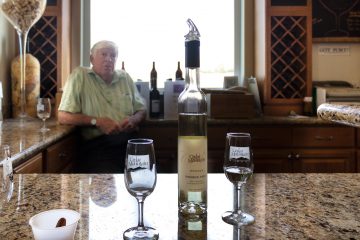 We then tasted a lovely dessert wine called Luana Inu. Earl told us that the unique label image was based on their kitchen's sushi mat with a bit of Photoshop magic. We loved the peach and guava notes. Denise then made a Bellini Bomb (1 part Luana Inu and 2 parts sparkling wine) that we also found delicious. Perfect for a backyard party! We then tasted their 2007 Cabernet Royale Port. This was a hit with Judi, with a lighter-than-tawny flavor with nice berry notes but no jammy overtones. Another bottle for the Take Home list. We compared that with their 2003 Late Bottled Vintage Port. One of my favorites, this blend of Tinta Armamelo, Bastardo, and Tinta Cao was everything a Port should be: rich, overflowing with berry and currant notes, with a lingering raisin finish. The Take Home list was really taking a beating!
Their 2005 Touriga National Port was our next taste. Look up "Port" in the dictionary and this will be pictured. This is the standard! Our Take Home list was spared only because we already had adequate inventory at home. Our final taste, the 2005 Souzau Port looked and smelled like Petite Sirah and tasted of blackberry  and coffee.
Tasting complete, with a bulging Take Home list, we thanked Denise and Earl for all the time and attention and set off for home. Our tasting at Cedar Mountain was exactly what we needed!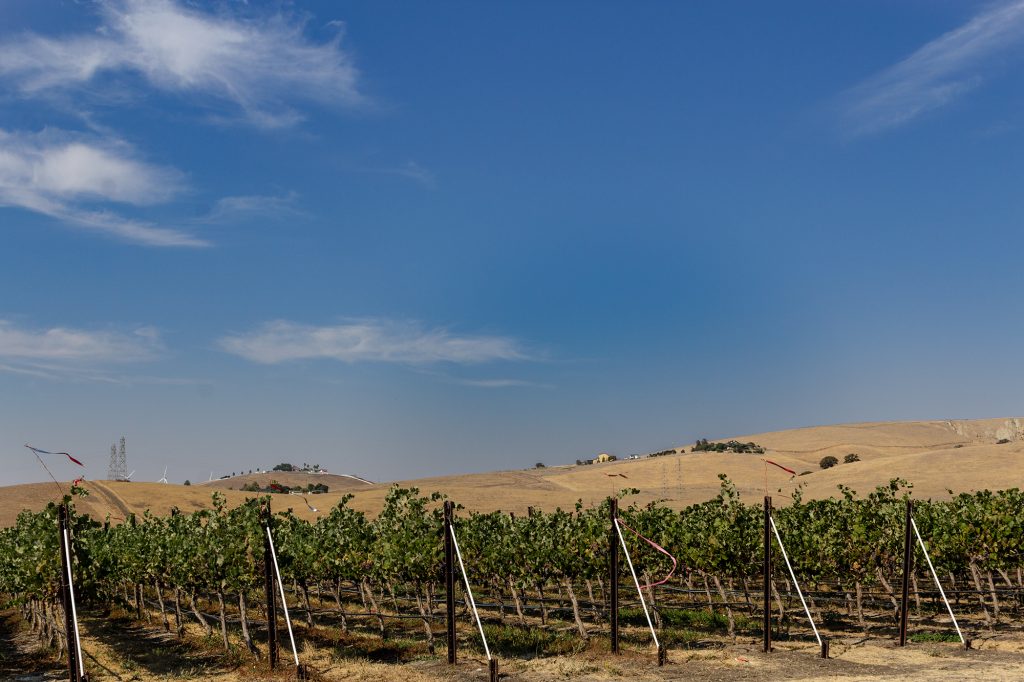 ---
About the Author
: John grills a mean steak and is always in the market for another wine fridge. Believes that if a winery has more than 10 employees, it's probably too big. Buys wine faster than he drinks it, but who cares?
---
It pays to subscribe!
We will send you a brief email whenever there's a new post, so you'll never miss an article. We promise not to be a pest. Unsubscribe any time you like. And, of course, we won't let ANYONE else use our subscriber list. By subscribing, you agree to our
Privacy Policy
.
So go ahead,
click here to SUBSCRIBE
!