In wine, the word "premium" is overused. It should not mean a high price, nor a superior attitude. It should instead connote an attention to detail and an adherence to the highest standards, with everything else secondary. A great example of a premium wine tasting experience was recently had at the Steven Kent Winery.
The Steven Kent Winery does not over-use the word premium. Instead, every aspect of their experience is premium, with the visitor applying the term instead of the proprietor. Arriving at the winery one discovers a rambling building that would be at home in Provence or Tuscany, with mature olive trees shading an ample parking lot and well manicured vineyards and grounds in every direction.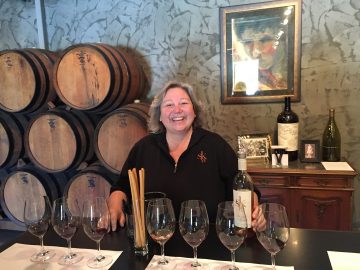 We entered the main tasting room, with art on every wall and wine barrel tables scattered throughout. We were greeted by Cindy, the Tasting Room and Hospitality Manager for Steven Kent, who had prepared our tasting experience. We had contacted Cindy in advance to be sure that there was space available for us, but left the choice of wines entirely up to her. This strategy turned out to be very much to our benefit! The Steven Kent Winery produces premium wines that bring the personality of the grape varietal forward and demonstrate the uniqueness of each year's harvest. Cindy's encyclopedic knowledge of their wine list allowed us to sample wines that were representative of each of the Steven Kent collections.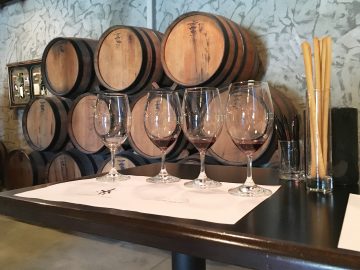 We started our tasting with their 2017 Vin Gris of Grenache. Crisp and food friendly, we bantered a bit about the perfect food pairing: goat cheese, cheese cake with cherry topping, pool-side with good friends.  We loved the apple and Rainier cherry notes, with just the right amount of acid on the finish to cleanse the palate without dryness. With summer in the wings, this was a wine to stockpile!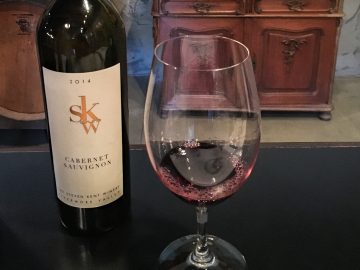 Our first red was their 2015 Premier Cabernet Sauvignon. Although this wine was released only two weeks ago, it was already drinking magnificently! Deep cherry, bay leaf, and smoke notes followed a peppery nose, with a delicious, lingering finish. Cindy told us that this was the first appearance of the Sachau Vineyard in this wine, with 40% of the Cab from the Smith Ranch Vineyard, 40% from the Home Ranch vineyard, and 20% from Sachau. One red wine into our tasting and we already had a favorite! Several bottles of this amazing release followed us home.
We next tasted their 2014 Lineage, their Grand Cru quality Cab-based line. The 2014 release was atypical in that it did not contain any Malbec. It was comprised of 50% Cabernet Sauvignon, 35% Cabernet Franc, 10% Merlot, and 5% Petit Verdot, from the Ghielmetti Estate Vineyard and the Home Ranch Vineyard. Already drinking as a mature wine, we enjoyed the restrained aromas hinting at the complex layering of fruit that was to come. A remarkable wine!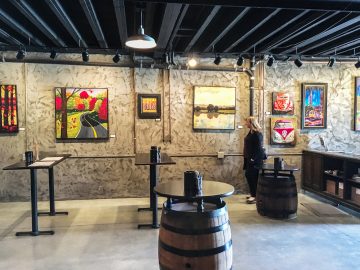 The 2012 Lineage followed in the flight. It was blended from 72% Cabernet Sauvignon, 14% Cabernet Franc, 10% Merlot, and 4% Petit Verdot, from the Ghielmetti Estate Vineyard and the Home Ranch Vineyard. Ten of the thirteen barrels used in aging were new French oak. With a bright fruit nose and incredible layers of plum and tobacco on the palate, we immediately put this wine at the top of our favorites list. If the world was about to end, we wanted this to be our final sip of wine!
We next tasted their 2015 Cabernet Franc, part of their BDX line. The BDX label indicates a wine of Bordeaux inspiration. Technically not released until tomorrow, we thought that this wine was tight, but ready to pour, with a lot of Cab Franc fruit up front and a lovely balance of acid and tannins on the finish. We are fans of the Cab Franc varietal, and this release should show well for years to come. A great addition to their BDX family.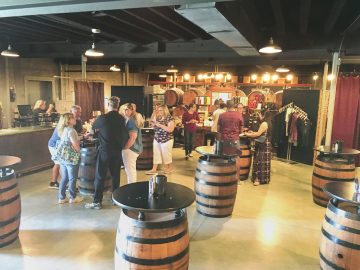 Their 2015 Ghielmetti Cabernet Sauvignon was next on our flight. The dense layers of fruit and balanced tannins made friends all around. This is a great wine for pairing with just about any meal, or even just a cheese plate, as it plays well with others while still maintaining its own personality as a sipping wine. We were quite taken, to say the least.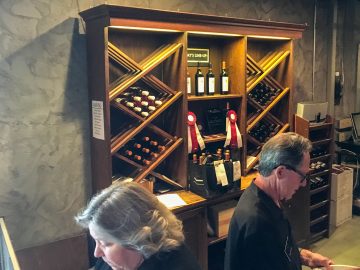 Next up was their NV Vincere. A 50/50 blend of Cabernet Sauvignon and Sangiovese from Home Ranch Vineyard, we were smitten by the cascading fruit having a party everywhere in our mouth. A happy wine, we promised ourselves that we would save a bottle for next Christmas, this was such a joy to taste. Wrapping up our tasting was their 2014 Ghielmetti Cabernet Sauvignon. With a 5% splash of Petite Verdot, we loved the playful waterfall of plum and cherry notes, and warm, fruity finish.
Tasting complete, we were left with some hard decisions regarding our purchases. Clearly we wanted to take several of each wine home, but our wine racks and our credit cards were just not adequate. With Cindy's help, we made our selections and said our goodbyes. What an amazing tasting experience that well deserved the term "premium!"
---
About the Author
: John grills a mean steak and is always in the market for another wine fridge. Believes that if a winery has more than 10 employees, it's probably too big. Buys wine faster than he drinks it, but who cares?
---
It pays to subscribe!
We will send you a brief email whenever there's a new post, so you'll never miss an article. We promise not to be a pest. Unsubscribe any time you like. And, of course, we won't let ANYONE else use our subscriber list. By subscribing, you agree to our
Privacy Policy
.
So go ahead,
click here to SUBSCRIBE
!