"Second verse, same as the first!" In the case of Pat Paulsen Vineyards, the second verse is, if anything, better than the original. A new generation, a new location, but the focus on premium, innovative wines hasn't skipped a beat.
The original Pat Paulsen Vineyards opened in Sonoma County in 1971. Owned by comedian Pat Paulsen of Smothers Brothers Comedy Hour and "Paulsen for President" fame, it produced award-winning wines until its closing in 1990.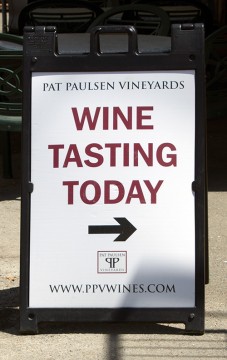 By then, Pat's son, Monty, had a U.C. Davis degree in winemaking. He built his reputation at Rosemblum Cellars. leaving only when the winery was sold. Pat Paulsen Vineyards reappeared in Oakland, as part of the East Bay Grape Bar. Soon thereafter, the Livermore location opened.
We recently visited Pat Paulsen Vineyards, part of the Tesla Vintners quartet of wineries. Joining The Singing Winemaker, Ehrenberg Cellars and Lone Dove Wines, PPV has a nice outdoor space for sipping on a summer day as well as a cozy tasting room for a more intimate, climate-neutral environment.
We entered the tasting room and were immediately greeted by Monty. The array of wine bottles ready for tasting was truly impressive, and a bit daunting. We were relieved to learn that the wine was divided into four distinct tasting flights, plus a Reserve flight. That took a lot of pressure off! We adopted our typical "divide and conquer" approach, with each of the four of us taking a different flight to maximize coverage.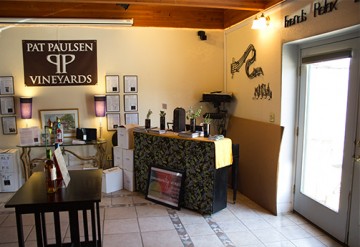 Judi chose the "Fun Reds" flight and I took the "Serious Reds". A bit of type casting, yes. I particularly enjoyed the Odyssey, a blend of Syrah, Grenache and Zinfandel, with aromas of cherry and strawberry and nicely balanced blackberry, plum and butterscotch notes dancing across the tongue. One of Judi's favorites was the Rancho Las Juntas Petite Sirah. She commented on the smooth, fruit-forward flavor, evocative of cherry and citrus zest, with a nice spice finish.
As we completed our tasting flights, Monty told us about his latest experiment: coffee infused wine! Since we are great fans of coffee, in all its incarnations, we were excited to taste this new creation. We learned that Monty had created four variations on the Coffeehouse Wines  theme, ranging from Espressovino (for espresso fans, obviously) to Cappuvino, Mochavino, and finally Caramelovino (a happy marriage of caramel and wine). I preferred the Espressovino, with its assertive coffee punch. Judi appreciated the delicate balance of coffee and wine in the Cappuvino. Laura, our resident sweetie, loved the Caramelovino. Something for everyone!
Since we had more wineries on our touring plan, we purchased some Coffeehouse futures and thanked Monty for a wonderful experience. The reprised Pat Paulsen Vineyards made a great first impression!
---
About the Author
: John grills a mean steak and is always in the market for another wine fridge. Believes that if a winery has more than 10 employees, it's probably too big. Buys wine faster than he drinks it, but who cares?
---
It pays to subscribe!
We will send you a brief email whenever there's a new post, so you'll never miss an article. We promise not to be a pest. Unsubscribe any time you like. And, of course, we won't let ANYONE else use our subscriber list. By subscribing, you agree to our
Privacy Policy
.
So go ahead,
click here to SUBSCRIBE
!