Please note that this winery has closed.
The Livermore wine scene recently welcomed a newcomer to the area, but a newcomer in name only. We had a chance to visit the newest tasting room to the area: Lone Dove Wines. New wines, new label, but a winemaker far from new to us.
One of the highlights of our first tour of Lodi wineries was Omega Cellars. We met the incomparable George Natsis, wine maker and co-owner and knew that we had found someone and something special. When we returned to Lodi, we couldn't miss another opportunity to visit Omega. During that visit, we met George's brother Jim, who was equally warm and enthusiastic about their wine. During our conversation with Jim, we learned that George had opened a new tasting room and wine label in Livermore called Lone Dove Wines. We knew that we had a very important follow-up visit to prioritize on our tasting calendar!
A tiny bit of research showed that Lone Dove Wines had joined the Singing Wine Maker, Ehrenberg Cellars and Pat Paulson Vineyards in the complex called the Tesla Vintners, located on (you guessed it) Tesla Road. We were quite familiar with the Tesla Vintners tasting rooms, and loved the variety of wines and the ample parking. Park once, taste three, now four, times. A pretty great arrangement!
After a few false starts, we finally put together a trip to Lone Dove. Between the threatening weather and the NFL Divisional Championships on television, we were not surprised to see a more-than-adequate number of empty parking spaces. We walked from the parking lot toward the Singing Wine Maker and saw the new easel sign announcing Lone Dove. Ta-da! We had arrived.
As we approached, we heard happy people and saw an aluminum shed transformed into an inviting tasting room, complete with a broad tasting bar, interesting crafts for sale and, of course, George himself. The bar was fully occupied, but George, after greeting us by name (pretty amazing) invited us to sit at a table and let him bring us our wine.
Our wine, ah yes, our wine! We started with a 2013 Chardonnay. George explained that this was aged in one third new oak, one third neutral oak and one third stainless containers. We found it to be refreshing, with orange blossom and lemon notes. All we needed was a warm summer day and a chair beside the pool.
We next tasted two lovely rosés, one of Merlot and one of Syrah. The 2014 Rosé of Merlot had a fun, super-fruity start (some said Sour Patch Kids?) and a tropical sensibility. The 2014 Rosé of Syrah was a peachy surprise, an ideal wine for introducing "I only drink white wine" people to wines of color. This blush has the personality of a red wine with the low alcohol of a white. Start with this rosé and before long it will be Zinfandel time!
From there we sampled their 2013 Trilogy Red, a wonderful traditional red blend. Lots of fruit and the long, delicious finish that led to deep disappointment when the glass was empty.
Up next was their 2012 Cuvée É. This Merlot blew us away! Lots of berry fruit, with tobacco and smoke on the finish. Perfect with a steak and chived potato. Several bottles of this amazing concoction came home with us, because one bottle was not going to survive the night.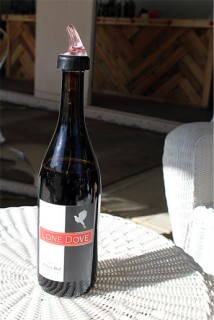 Our final tasting was something of a work in progress, according to George. He called it his Cuvée Noir, built on a Petit Verdot foundation. The 2.5% residual sugar made this a bit sweeter than a typical red. Right in Sarah's wheelhouse. Her smile was contagious!
About then, we asked about the inspiration for the name Lone Dove. George told us that 10 years ago he noticed a single dove in his back yard, braving a nasty storm. On a whim, he sketched the dove, later to be the foundation of his new label.
We had successfully sipped our way through the entire Lone Dove tasting flight. There was quite a lot to like, and a lot that really needed to come home with us. Some difficult decisions were required to trim the purchase list to something that would fit in our available rack space. Luckily the tasting room is mere minutes away!
We said goodbye to George and headed off, happy that the newest vintner in Livermore was off to such a great start!
---
About the Author
: John grills a mean steak and is always in the market for another wine fridge. Believes that if a winery has more than 10 employees, it's probably too big. Buys wine faster than he drinks it, but who cares?
---
It pays to subscribe!
We will send you a brief email whenever there's a new post, so you'll never miss an article. We promise not to be a pest. Unsubscribe any time you like. And, of course, we won't let ANYONE else use our subscriber list. By subscribing, you agree to our
Privacy Policy
.
So go ahead,
click here to SUBSCRIBE
!