We love getting to know the people who make the wine we taste! As we all stay safe in our homes and exercise social distancing, we spent some time learning a bit about the winemaker at Charles R Winery, Lisa Lee.
As with several of our previous interviews, we conversed by email. Here is what Lisa Lee had to say about her history and approach to making wine:
How did you get into the wine business? Did you expect to be a winemaker from an early age? How did you settle in Livermore?
My Italian grandparents, who were lifelong restaurateurs, were always passionate about wine.  Not so much as connoisseurs, but as the natural complement it lent to food shared at the table with varying numbers of friends and family.  It was a way to enhance that time together.  They planted a vineyard in the early 80's and always dreamed of having a working winery on their property, but only ever sold the grapes to others.
I never thought I would be a winemaker.  In fact, I spent a fair amount of time insisting that I would find a career path that had absolutely nothing to do with food or wine.  I only started to really appreciate wine in my mid-twenties and then it became like a shared secret between my grandfather and myself.  When my wife and I decided to try to make wine, my grandparents were all too happy to offer up the grapes.  The slippery slope began with offering help at local wineries to learn cellar skills, then slid into classes at Las Positas College and UC Davis. Ultimately, I was hooked and made a career out of it.  Moving to Livermore in 2012 opened up an entirely new access point to being part of this wine country community.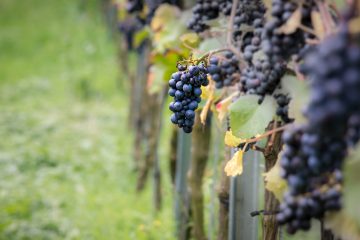 Are there particular regional styles that influence your work?
There was a time very early on that I naively believed I would be able to steer the style of a wine into a specific flavor-profile box.  I love Pinot Noir.  My favorite Pinot Noirs tend to come from the Willamette Valley in Oregon. 
In the beginning, I thought there was some way I could take Pinot Noir grapes from a vineyard in Sonoma Mountain (a place that produces hugely sturdy and boldly back-boned Pinots) and create a wine that tasted like it was from the Dundee Hills (an area that tends to have lighter, lower alcohol and more nuanced wines).  But over time, I realized that wines are like people.  If you push too hard, they only end up resentful and never self-actualizing.  I wouldn't say there is an influential regional style, so much as an overall objective of balance. If I can help a wine to come across as balanced aromatically and across the palate, then I have helped that wine shine.
---
Other wineries near Charles R Winery:
---
Although it is very early to say, how is your most recent harvest working out? Any stand-outs that are really exciting you?
The 2019 vintage is shaping up to be delightful, with many of our varietals showing signs of being early bloomers.  We brought back Touriga as a dry red for the first time in about 10 years.  That was both exciting and a humbling homage to our beginning roots at Charles R Vineyards.  We recently opened a 2009 library Touriga made by the late Randy Bartlett during a special cellar event, and were all blown away by the elegance of this wine.  I am feeling hopeful that our Touriga revisited will also stand the test of time.
Where can we find you, how can our readers connect with you?
Once the SIP is lifted, you'll be able to find me in the tasting room every Friday afternoon.  I'll be looking forward to sharing my two favorite things with you – wine and talking about wine!
---
About the Author
: John grills a mean steak and is always in the market for another wine fridge. Believes that if a winery has more than 10 employees, it's probably too big. Buys wine faster than he drinks it, but who cares?
---
It pays to subscribe!
We will send you a brief email whenever there's a new post, so you'll never miss an article. We promise not to be a pest. Unsubscribe any time you like. And, of course, we won't let ANYONE else use our subscriber list. By subscribing, you agree to our
Privacy Policy
.
So go ahead,
click here to SUBSCRIBE
!