Our "socially distant" interview series with local winemakers seems to have struck a chord with many of you! This week we get to know more about Dante Robere Vineyards with a conversation with Bob Bossi.
As with our previous interviews, we provided Bob Bossi, co-owner/co-winemaker at Dante Robere Vineyards, with a series of "jumping off" questions. I opened a lovely Dante Robere 2015 Syrah to sip on as I read Bob's comments on the history and future of the winery.
How did you get into the wine business?
I had started wine tasting, learning about wines, collecting and enjoying wine from an early age (early 20's). When Dan moved to Livermore in 2003, he too got the "wine bug" and then the future of "Dante Robere" started to take shape. We spent years going on trips to most of the finest wine regions in California, usually visiting smaller family run wineries. The experiences of meeting and talking with winemakers, having fun with family and friends in the intimate tasting rooms, and enjoying quality wines, created a desire to one day be standing behind our own counter and pouring our own wines.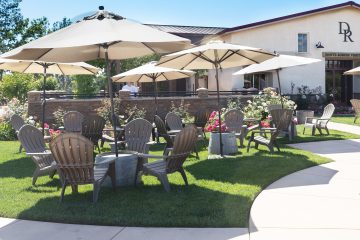 In 2007, we planted a small Zinfandel vineyard in Dan's backyard and began making wine at home. The thought of developing a winery and a tangible business that our children could become a part of, and someday embrace, was a powerful motivator…. And the fact that the wine we were making at home was "pretty darn good". So in 2012, we officially decided to build a new winery from the ground up. We found a great piece of property across the street from Sycamore Grove Park on Wetmore Road and purchased the adjoining 6-acre Syrah vineyard.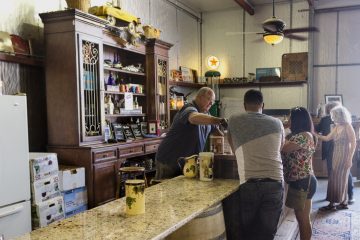 Are there other winemakers who helped you along the way?
Yes, starting in about 2007 we volunteered our time helping Gary Rodrigue with his harvest and wine making…learning the basics…subsequent to that we solicited information, tips, etc. from Dane Stark of Page Mill, Earl Ault of Cedar Mountain, Hal Liskey from El Sol and Jim Perry of Eagle Ridge.
Are there particular regional styles that influence your work?
Yes…the only varietal we grow is Syrah (a Rhone Varietal). We've always liked the style and flavors of Rhone varietals and especially Rhone Blends.
What are your favorite varietals?
Our favorite varietals are Syrah, Grenache, Mourvedre, Petite Sirah, & Barbera…but we love so many more.
Do you prefer to create "pure varietal" wines or blends?
That's a tough one…. I'd say in general we really enjoy making blends. It seems the synergy of blends can create a situation where 1+1+1=4. However, having said that, we also enjoy the purity of individual varietals and Terroir. Virtually all of our "pure varietals" are just that…100% one varietal.
Are there any emerging wine trends that interest you? Any changes in what your customers ask for when they come in?
As with any industry there is always something changing in the wine business. But we are pretty "old school"…. so things like wine in a can, or on tap at a restaurant, or "wine and weed", etc. are things we have not embraced…at least not know. Our customer experiences have been great…. sometimes suggestions are made such as "you should make a sparkling wine" or "put in a bocce ball court"…we listen to all suggestions…some we embrace, others we don't…lol.
Although it is very early to say, how is your most recent harvest working out? Any stand-outs that are really exciting you?
A cool spring and very mild summer temperatures allowed the grapes to mature gradually, which is a good thing. But the 2019 harvest was a bit spotty from our perspective. Most of the fruit was very good but we also experienced some uneven ripening with some vineyards. Our Syrah, as is usually the case, tastes wonderful at
this early stage in its maturity. It tastes ripe and fresh. A good start to its 18 month life in the barrel, where French and Hungarian Oak which add spice, oak and mouthfeel.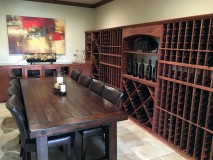 What is something exciting or unique about your winery that you would love for our readers to know?
I think one of the unique things about Dante Robere is that we produce a lot of different varietals and many blends… many that tasters have never experienced before. So it adds to their wine tasting experience. In addition, we make a lot of small lot wines, and we roll out the different varietals and blends over time. So if someone comes into the winery in say March and then returns for another visit in July, they get to experience different wines. Some of the wines that were on the menu in March will be sold out and new wines will be added to the tasting menu….always something new to try.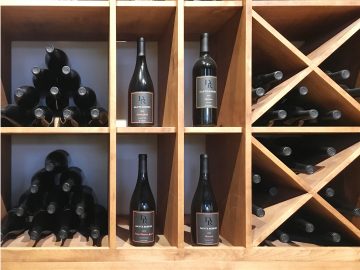 How is your winery handling our "shelter in place" situation?
This has obviously been a difficult time for everyone in the country. Our tasting room has been closed since March 16th but our loyal customers and Club Members continue to support our winery. We are fortunate that Dan and I can handle the winery operations required this time of year without the need for any employee assistance, so our employees and staff do not have to worry about coming to the winery. We have been offering specials, free local delivery, $1 shipping and curb side pickup and have remained busy thus far. We look forward to the time when our friends, family, Club Members and others can join us in the tasting room.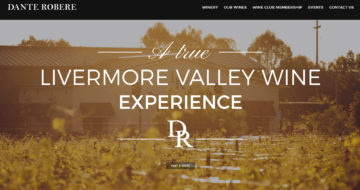 Where can we find you, how can our readers connect with you?
Readers can find us on our website…Danterobere.com and on our Facebook Page. In addition, readers can email us at tastingroom@danterobere.com and asked to be put on our mailing list. Emails are sent out periodically updating customers on happenings around the winery, events, new wine releases, and wine specials.
---
About the Author
: John grills a mean steak and is always in the market for another wine fridge. Believes that if a winery has more than 10 employees, it's probably too big. Buys wine faster than he drinks it, but who cares?
---
It pays to subscribe!
We will send you a brief email whenever there's a new post, so you'll never miss an article. We promise not to be a pest. Unsubscribe any time you like. And, of course, we won't let ANYONE else use our subscriber list. By subscribing, you agree to our
Privacy Policy
.
So go ahead,
click here to SUBSCRIBE
!