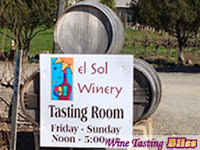 We really try to visit a broad variety of wineries, we really do. But sometimes, our intentions are thwarted in the most wonderful ways. This was the circumstance a few weeks ago when we set out for an afternoon of winery visits. We thought dropping by three or four wineries would be nice, since we hadn't been out in a while. Then we selected El Sol winery as our first winery. Three hours later we were still having a great time at El Sol winery. The other three wineries? Not going to happen! Here's what went down:
Early October is a great time to visit Livermore wineries. The crush is happening, the wine makers are tired but excited, and the anticipation of another great vintage is palpable. Against that backdrop, we entered El Sol. As usual, it felt like a party had just begun.
Greg Kennedy Performs
The atmosphere was amazing. Lots of happy people, friendly pourers, and once again live music. The super-talented Greg Kennedy (owner of Danville Music) was playing his guitar. This guy has real skills. Or fifteen fingers. His music provided an ideal backdrop for an afternoon of tasting. I just wish that he made it look difficult. The music just seemed to pour out of him through the guitar while he enjoyed it right along with us.
We started, as usual, with the Grand Cuvee Champagne. This is a favorite; fruit forward yet dry with almost no finish. We find a hint of orange zest. Wonderful sipping champagne for the back yard contemplation sessions.
The 2009 Grenache Rose was next. Most people will think they are about to sip a port if performing a blindfolded tasting. Don't know why you would actually do a blindfolded tasting, but if you do, this is a great trick to play on friends. Once you get past the nose, you will find a peppery, Zin-like start, with apricot and raspberry notes. We also found Rainier cherries toward the back of the tongue, but we're particularly fond of Rainier cherries.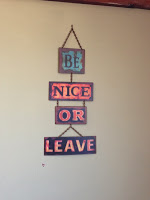 Next we tasted the 2008 Sangiovese. We named this the "essence of wine" because of its many noble attributes. Great fig aromas with apples, raisins and cinnamon in the finish. It made is yearn for an autumn canoe trip down a tree-lined river with a glass of this in our hand.
We moved on to the Seat of My Pants. Sometimes known as Hal's Greatest Hits. Not to be confused with "There's something left in these barrels and we can't waste it." In all seriousness, this is a great wine. Warm and balanced, with berry and plum notes. Maybe a bit of nutmeg? We're not sure how Hal did this, but he created a masterpiece out of shards.
The Battle Rages
By now, things were getting pretty serious, so we shifted to our "battle of the varietals" mode. This is where we each take a different vintage/sourcing of the same wine varietal. In this case, we chose to compare the 2006 San Francisco Bay Reserve Merlot with the 2007 Contra Costa Merlot. The SF Bay showed a bit of "new car" nose with an assertive and leathery palate, while the Contra Costa had a bit of a green grass by the ocean nose and a young finish. I'd drink the SF Bay immediately and lay down the Contra Costa for a couple of years.
We next compared the 2009 Livermore Syrah Reserve with the 2006 Estate Syrah. The '09 was still a bit young, with a hint of citrus and leather. Very little fruit, evocative of a slate terroir. The '06 contrasted nicely, with a jammy nose and nice plum and raisin notes. Crisp and balanced fruit, we thought about drinking this one immediately, paired with a nice tri-tip. We're always looking for pairings with a nice tri-tip.
Some favorites, a 2008 Tempernillo and a 2009 Mourvedre came next. We loved them both a dash of spice and very low tannins. They tend to come home with us. Great with BBQs and hot afternoons. We couldn't call a winner in this battle, though. Two winners and no losers, I guess!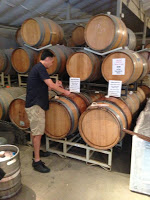 Rafael at the Barrels
At that point, our pourer, Rafael, led us to the barrel tasting. Hal was offering futures on a 2009 Mourvedre and a 2008 Cabernet. The Mourvedre was great; fruit forward but not too complex yet. We'd drink it now in a pinch, but ideally we would lay it down for a bit. The Cabernet was still a bit rough around the edges. A wine with personality, this one will be great in a few years. Both definite contenders in the futures business! Our thanks to Rafael for a fun and informative time in the barrel room.
As usual, we wrapped up our tasting with their Port. Hal's port is clear and distinct, with raisin and plum but not the muddy notes that some ports show. Clearly an option during cold season. Then we were offered their Port and Champagne spritzer. I am not a fan, typically of this combination, but I must admit that this made me into a spritzer lover.
As all good things must come to an end, so did our afternoon with El Sol. Our initial plan to visit three or four wineries was laid to dust. The folks at El Sol just put on too fun of an afternoon!
Thanks guys, we'll see you again soon.
---
About the Author
: John grills a mean steak and is always in the market for another wine fridge. Believes that if a winery has more than 10 employees, it's probably too big. Buys wine faster than he drinks it, but who cares?
---
It pays to subscribe!
We will send you a brief email whenever there's a new post, so you'll never miss an article. We promise not to be a pest. Unsubscribe any time you like. And, of course, we won't let ANYONE else use our subscriber list. By subscribing, you agree to our
Privacy Policy
.
So go ahead,
click here to SUBSCRIBE
!