Visiting long-established wineries is wonderful, and discovering new wineries is always a thrill. This tasting was a blend of the two as we visited the new Del Valle Winery.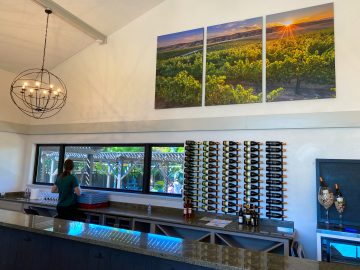 We noticed that the "Crooked Vine / Stony Ridge Winery" sign had transformed into a "Del Valle Winery" sign. Crooked Vine was one of our very first wine club memberships, way back in the day, and it still held a special place in our hearts, so seeing the new sign was a bit of a jolt. To ease this existential pain, we immediately made plans to schedule a visit, and today was the day! After a wonderful tasting at Omega Road Winery, we arrived to find that much had stayed the same: the front building was unchanged (in fact, the shadow of the Crooked Vine lettering was still faintly visible in the paint), as was the wonderful covered pavilion in back. After parking in the huge lot, we went into the tasting room (which looked very familiar), received a lovely glass of sparkling wine, and were escorted to a nice table in back under the paviolion.
Wine guide Celeste got us situated and told us about our tasting choices. When we commented on our past experience with Crooked Vine, she explained that the Garré people had purchased the property in late 2019, but the Covid situation meant that they only operated for a few weeks before closing. She said that the Del Valle wines were separate and distinct from the Garré wines. We enjoy Garré wines, and the bocce ball, so we were even more excited to taste the new Del Valle wines to compare and contrast. After we were done tasting the sparkling, Celeste served us their 2019 Reserve Chardonnay. She said that the wine had only a brief time on French oak with the balance of its aging in stainless steel. We found it dry and pleasant, not too sweet and not too buttery. A fine "new" Chardonnay!
We next tasted their 2016 Tres Rouge, which Celeste called their "event wine" because it was broadly popular and pairs well with a broad variety of event dinners. She was right, it was punchy, food friendly, and had a ghost finish. Their 2019 Cabernet Sauvignon was next. Celeste told us that this wine was just released last February (if a wine is released, but everyone is sheltering in place, is it REALLY released?) and getting good reviews. We enjoyed the plummy aromas and the flavors that segue gradually from cherry to apple blossoms. Our penultimate taste was a hit with all of us: their 2018 Primitivo. We thought that this wine was all of the best parts of a bowl full of cherries. A lovely cherry nose leading to dancing cherry notes across the palate, with a cherry and caramel finish. This wine went onto our "Take Home" list! Our tasting wrapped up with their 2016 Petite Sirah. Although this is already a nicely aged wine, it had all the earmarks of a wine that can still cellar well: punch tannins and good acid. We would lay this down for several more years, if we could keep away from it!
The winery was closing for the day, and pivoting to a private event, so we purchased our wine, thanked Celeste for her hospitality, and set off toward home. The old is truly new again!
---
About the Author
: John grills a mean steak and is always in the market for another wine fridge. Believes that if a winery has more than 10 employees, it's probably too big. Buys wine faster than he drinks it, but who cares?
---
It pays to subscribe!
We will send you a brief email whenever there's a new post, so you'll never miss an article. We promise not to be a pest. Unsubscribe any time you like. And, of course, we won't let ANYONE else use our subscriber list. By subscribing, you agree to our
Privacy Policy
.
So go ahead,
click here to SUBSCRIBE
!