Springtime in Livermore is host to a wide range of weather conditions. On this particular Saturday, the cool air from the bay was swooping through Livermore toward the central valley. That meant cloudless skies and moderate temperatures. It also meant random, gusty bursts of wind. We decided to take advantage of the lovely day and checked in with Omega Road Winery to catch up on their latest wines.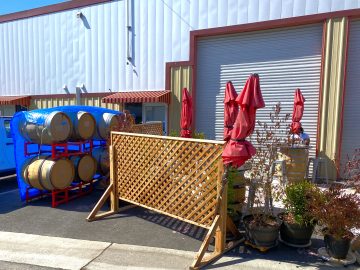 It was a great Saturday for winetasting, and the Livermore streets were buzzing with excited wine lovers in search of their next tasting. Happily for us, there was plenty of parking in the lot by Omega Road Winery. As we approached the entrance, we were greeted by all three principals: Ken, Nicky, and Alexandra Henkelman (or dad, mom, and daughter, if you prefer). Even though everyone was wearing a mask, we were immediately recognized and warmly greeted all around. Given the size of their customer base, this is facial recognition at an impressive level. We chose a table close to a clever windbreak fashioned out of stacked wine barrels and a tarp to cut the occasional wind gusts and perused the tasting menu. There were a lot of new wines to explore!
Since there were three of us tasting and we were well known to the Henkelmans, we put our tasting flight determinations in their hands. This is always the best way to have an outstanding tasting! Judi received a flight of whites and a rosé, Rob had medium reds, and I had more powerful reds. Before we knew it, we had before us a comprehensive survey of the new Omega Road wines. Judi's first wine was their 2019 Gratia. The Gratia label  changes blends from year to year, and this vintage was a blend of Sauvignon Blanc, Chardonnay, and Torrantés. Judi commented on the pear and honey notes and the lovely sunshine color in the glass. She next tasted the 2020 Gratia, which was a blend of Sauvignon Blanc, Sémillon, and Chardonnay. The silky mouth feel and layers of orange and tropical fruit notess made this an instant hit. Judi's third glass held their 2019 Alicante Bouschet Rosé. This wine is a consistent favorite in our house because of the swirling array of strawberry and plum flavors, with a slightly peppery finish.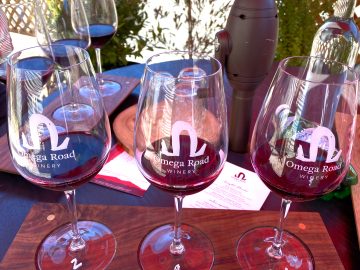 Rob's tasting kicked off with their 2017 Telacla, a blend of Petite Sirah and Cabernet Sauvignon. He liked the burst of red fruit up front that matured into a pleasant fig finish. This wine led off our "Take Home" list! His second taste was their 2015 Petit Verdot. This was a great example of the varietal, and was shared around the table. It started with a dusky nose and nicely layered fruit. This wine is ready to drink NOW! The "Take Home" list grew another entry. Rob's final taste was their 2016 Cabernet Franc. He appreciated the earthy and floral notes that made this wine perfect to pair with a nice steak. My tasting flight started with their 2018 Zinfandel. Alex told us that this was a very newly bottled wine and she was looking forward to tasting it over the coming months as it mellowed in the bottle.  I thought that this was "barrel tasting in a bottle" with all of the lively, peppery notes that sometimes get lost in older Zins. A good start to my tasting! Next up was their 2017 Red Blend #8. This wine had aromas of cocoa that led me into a nice balance of dark fruit and restrained finish. My final taste was their 2020 Caring On Carignan. Alex told us that Omega Road Winery will donate portions of the proceeds from this wine to the Tri-Valley Haven. A beautiful gesture for a beautiful wine! I love the amazing cherry and plum notes as well as the lingering finish. This is a wine that will cellar well, as long as there's enough discipline in the house to keep it corked!
There was still some daylight to be enjoyed, so we purchased our wine, thanked the Henkelmans, and set off toward our next winery. Off to visit a brand new winery and we can't wait!
---
About the Author
: John grills a mean steak and is always in the market for another wine fridge. Believes that if a winery has more than 10 employees, it's probably too big. Buys wine faster than he drinks it, but who cares?
---
It pays to subscribe!
We will send you a brief email whenever there's a new post, so you'll never miss an article. We promise not to be a pest. Unsubscribe any time you like. And, of course, we won't let ANYONE else use our subscriber list. By subscribing, you agree to our
Privacy Policy
.
So go ahead,
click here to SUBSCRIBE
!