We love visiting wineries whenever we have an unscheduled weekend! There are a few winery events, however, that cause us to rearrange our schedule to attend. When we learned that Las Positas Vineyards was presenting their 6th Annual Bacon and Barbera Pairing weekend, we cleared our calendar to attend. This is an event not to be missed!
We have enjoyed the Las Positas Vineyards bacon pairings before and loved them. Chef and AGM Curtis Pipes has applied his training and background in the culinary arts to deliver delicious and fun events for nine years at Las Positas, and his efforts and the team he has assembled have supported dramatic growth for the winery and these events. We learned from Curtis that he was extending his popular summer music program into the winter months with a lounge-style indoor music event series on weekend evenings. This was exciting news for us, as we have been hoping for just such an entertainment opportunity in our area!
We arrived at Las Positas Vineyards promptly at noon and found Christmas décor in every direction. We checked in at the reception desk and were immediately led to our reserved table in the large indoor event space. The room was filling rapidly, with good spirits and happy conversations throughout the space. The holiday vibe was palpable! Wine guide Olivia got us started with their Sparkling, which was a great palate cleanser, with mango and citrus notes leading to a Mandarin peel finish. Olivia mentioned that this was the only wine that was not produced from estate grapes on site. Instead it was produced for Las Positas Vineyards in Lodi. Regardless of heritage, we were very pleased with this bubbly welcome taste.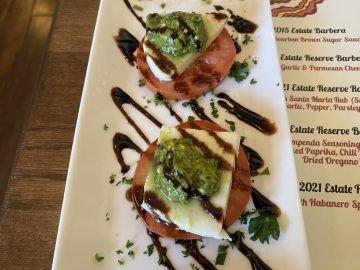 Before we started the actual bacon and Barbera pairing, we started with two of Chef Curtis' amazing tapas. First we enjoyed their Pesto Caprese Bites, an attractive combination of Roma tomatoes, buffalo mozzarella, and pesto sauce, all highlighted with a balsamic glaze. This was a wonderful way to start out our gustatory experience. Everything about the appetizer was carefully thought out, a pleasure for the eyes as well as the palate. Were we in a Michelin-starred restaurant or a Livermore winery? We were especially pleased to learn that Curtis substituted sunflower seeds for the more traditional pine nuts in the recipe. Hooray for everyone who is sensitive to pine nuts!
Our next appetizer was then delivered to our table: their baked bourbon Brie cheese with toasted pita chips. Bourbon sauces are really hot right now, and Chef Curtis did not let us down with his interpretation in this dish. Although I am not the biggest fan of Brie cheese in general, I absolutely loved this Brie with the sweet bourbon glaze. It played well with the sparkling, even bringing out some previously hidden strawberry notes. Even though we knew that the bacon and Barbara pairing were just around the corner, we really dug into the Brie and chips. After all, isn't there ALWAYS room for some bacon?
Then, with a bit of fanfare, Olivia brought us our bacon and Barbera tasting flights. Again, the presentation was beautiful! Five different bacon treatments, each paired with a different Las Positas Vineyards Barbera. It was time to get serious! No, actually, we were not getting serious at all. Everyone was happy and bright (to steal a lyric) and enjoying their pairings. We got started with their 2015 Estate Barbera paired with bacon glazed with a bourbon brown sugar sauce. We started with a sip of the wine. Smooth plum and raspberry notes with an earthy element that made us feel like we were standing in the middle of a vineyard heavy with ripe fruit. We immediately put this wine on our "Take Home" list, before we even tasted the bacon. One bite of the glazed bacon and our minds were blown! Such depth of flavor delivered on a slice of bacon. It highlighted the bright notes in the Barbera and made us plan to somehow recreate this scene at home, seated in front of a Christmas movie on TV and a blazing fire in the fireplace. Pairing number one set a very high bar!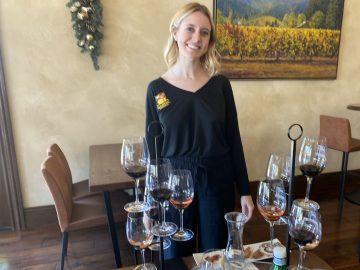 Our second pairing was their 2013 Estate Reserve Barbera paired with bacon dusted with garlic and parmesan cheese. A complete change of pace, but equally engaging! Olivia told us that their Reserve wines received extending aging in barrels before bottling. The wine was rich with cascading layers of chocolate and plum, embracing the entire tongue, with a long, smooth finish. The bacon was surprisingly garlic forward, yet stopped short of blowing out our palates. Quite a delicate line to walk, but mission accomplished. The pairing brought out some surprising cherry notes in the Barbera. This wine went on our "Hope we can take this scarce wine home" list. Fingers crossed.
Our next pairing pivoted to a rosé, their 2021 Estate Reserve Rosé. This was a bright and spicy wine with Rainier cherry, Mandarin orange, and lemon notes. The bacon had a Santa Maria rub, made from salt, garlic, pepper, and parsley. This rub would be great on anything on the BBQ, and it made the bacon dance across our tongues. The bacon softened the edges of the rosé, producing a mellow partnership that kept us coming back for more. Once we had devoured the Santa Maria bacon, we moved to their 2017 Estate Reserve Barbera, paired with bacon with empenda seasoning, consisting of cumin, smoked paprika, chilli powder, and dried oregano. This was another wonderful pairing, with the classic Barbera notes in the wine blending with the barbeque festival of the bacon.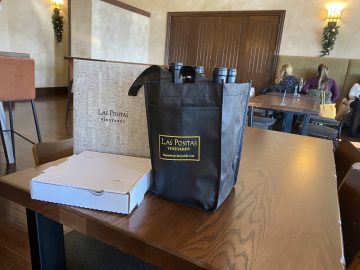 Our final pairing featured their 2021 Estate Rosé paired with bacon with habanero spice rub. The habanero peppers are sold exclusively to Las Positas Vineyard and smoked to the chef's specifications. We could taste the care that went into this rub. The peach, cherry, and kiwi notes of the rosé danced excitedly with the deep smoke and surprising zing of the bacon rub to create a nearly effervescent combination. Truly a great way to end the pairing flight. It was time to make way for another pair of tasters, so we placed our wine order with Olivia and went off into the sunny afternoon.
Once again, Chef Curtis created incredible pairings that combined seeming incongruous flavors to produce an amazing experience! This is why we do our very best not to miss these events!
---
About the Author
: John grills a mean steak and is always in the market for another wine fridge. Believes that if a winery has more than 10 employees, it's probably too big. Buys wine faster than he drinks it, but who cares?
---
It pays to subscribe!
We will send you a brief email whenever there's a new post, so you'll never miss an article. We promise not to be a pest. Unsubscribe any time you like. And, of course, we won't let ANYONE else use our subscriber list. By subscribing, you agree to our
Privacy Policy
.
So go ahead,
click here to SUBSCRIBE
!