What is the first thing we did after moving to San Diego? We checked out the local winery scene, of course! Our first stop was Bernardo Winery in beautiful Ranch Bernardo.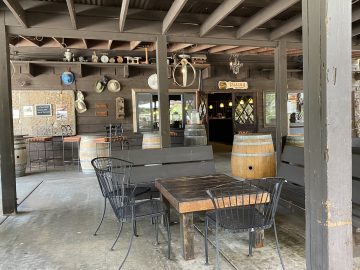 Bernardo Winery is only about a half hour's drive from our new home, so it was an easy trip up the freeway, then winding through some lovely city streets. We easily found their location and parked in one of several parking areas. We quickly discovered that the winery is part of a large facility that includes a coffee shop (not to be missed), a restaurant, fun and quirky shops, and lots of places to sit and enjoy the scenery and all these offerings. Everything is done in an "old west" style that is endearing without going too far. Toward the back of the broad center promenade is the tasting room and spacious covered patio. It was time to learn about some San Diego wine!
We made our way into the tasting room and met wine club manager Cecily. She welcomed us and gave us a capsule history of Bernardo Winery. We learned that they are the oldest continuously operating winery in Southern California. Hats off to any winery that could navigate through Prohibition! She mentioned that all of her wines were made from local, but not estate, grapes. Cecily offered a number of ways to explore and enjoy their wines. In addition to wine by the bottle or glass, there are two tasting flight formats: three largish pours of three different wines or six smallish pours of six different wines. Being adventurous, we chose the six taste flight. We then met their simple and effective way to keep the tasting flights coordinated, their taste counting card! We each received a card and Cecily marked off each tasting as she poured. No need for anyone to keep track of our progress through the flight!
We started with their 2022 Viognier. This wine blends in 10% Pinot Gris, which we felt contributed nicely to the zesty and floral aromas. We enjoyed the honey and tart notes with some of us detecting a bit of cantaloupe toward the finish. A fine start from a young wine! Their other newcomer was next, a 2022 Primavera Rosado. This blend of 65% Sangiovese, 25% Syrah, and 10% Cabernet Sauvignon showed faint watermelon and leather on the nose and lovely Mandarin orange and pumpkin spices across the palate. This refreshing wine could be your next "porch pounder" or special guest to Thanksgiving. Red- and white-wine lovers alike will love this wine.
At this point we took a moment to order lunch. The menu has quite a nice selection, ranging from sharable bites to pizza to house-made pastas. There were happy smiles all around when our food was delivered to our patio tasting table. How nice! Lunch delivered directly to the tasting patio in just a few minutes. Well done!
By happy chance, our next taste was their 2021 Burgundy, which paired very well with my pasta. The aromas of tobacco and dark cherry melded well with the garlic wafting up from the plate. The dusty tannins and plum flavored danced with the meaty red sauce harmoniously. The fleeting oaky finish made me ready for my next bite. A great taste for the pasta all around. I also tried their 2021 Tempranillo before my lunch was done. What a fantastic aroma! The deep pitted fruits on the nose made we wish for a candle with this scent. Please? The wine was smooth and flavorful, with plum and blackberry notes. One of our tasters called this one "a party in your mouth" and I could not disagree. The lingering plum and pepper finish was great punctuation to each sip.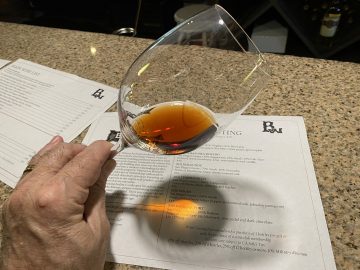 We next tasted their 2020 Syrah. This was paired with their own dark chocolate! Aromas of vanilla and mysterious spices made us wish for a candle again. We loved the tart cherry, leather and blackberry flavors, especially after a nibble of chocolate. Our tasting flight wrapped up with our choice of their 2015 Barbera Port or their sparkling wine. Being true lovers of Port, we went that way and it turned out to be a great decision. The Port was an interesting color in the glass and showed a classic Port nose, with blackberry and plum notes of a tawny on the palate, with a hint of chocolate lurking in back. It made us wish that we hadn't finished that nice bit of dark chocolate that came with the Syrah. A wonderful ending to the tasting flight! We thanked Cecily and made our way back out to the main thoroughfare to check out the shops.
It turns out that the shops are just as interesting and rewarding as the wine tasting! We found items for the home by local artisans, scented candles (one came home with us), and all sorts of fun knick-knacks that were very hard to resist. We grabbed another coffee from the shop and set off back to San Diego. Our first winery visit as "locals" was a success!
---
About the Author
: John grills a mean steak and is always in the market for another wine fridge. Believes that if a winery has more than 10 employees, it's probably too big. Buys wine faster than he drinks it, but who cares?
---
It pays to subscribe!
We will send you a brief email whenever there's a new post, so you'll never miss an article. We promise not to be a pest. Unsubscribe any time you like. And, of course, we won't let ANYONE else use our subscriber list. By subscribing, you agree to our
Privacy Policy
.
So go ahead,
click here to SUBSCRIBE
!