As new San Diego residents, we have a lot to learn. Top of our list is learning about the many and varied neighborhoods, and of course, the wineries and tasting rooms located therein. Recently we decided to visit Ocean Beach, quickly learning that we should call it "OB" and that we should visit Gianni Buonomo Vintners.
It was a beautiful Friday afternoon (are there afternoons in OB that aren't beautiful?) and we easily found Gianni Buonomo Vintners. We even found a parking spot directly in front of the storefront! Because we weren't yet adjusted to how quickly we could get places in San Diego, we arrived right as they opened. Wine guide Marc welcomed us and seated us at a comfortable table right at the large front window. Great people-watching opportunity! The room had something to examine in every direction. Our favorite wall was covered with hats, supporting their "Fedora Fridays" promotion, offering discounts to tasters wearing hats on Friday. The rear of the space was filled with wine barrels stacked three high. This was clearly a winery that revered wine and didn't take itself too seriously. A great fit with the OB vibe.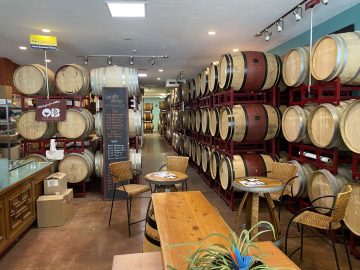 We learned from Marc that their wines were made with fruit from Amador County in California and the Yakima Valley in Washington, with the reds processed and aged in this facility and the whites produced by a custom crush facility in Lodi. We were offered several options for wine tasting and true to form, I selected the red wine flight. That flight started with their 2019 Grenache, made from Amador fruit. A fun introduction to the winemaker's point of view, this wine started with a mild-yet-spicy aroma, paying off with deep, balanced red fruit flavors and leaving with a lovely, lingering finish. Each of us tasted it and responded similarly, "yummmmmm." We were off to a good start!
I next tasted their 2019 Blaufränkisch. This wine was made from Yakima Valley Blaufränkisch grapes. I was new to Blaufränkisch varietal, which I learned was from Central Europe. The wine had aromas of cranberry and spice and lit up the edges of my tongue with sweet-tart cranberry notes with no tannin residuals. A very nice introduction to a new grape varietal. Next up was their 2019 Sangiovese, blended with 10% Petit Verdot. Made from Yakima Valley fruit, the aromas were a great precursor to the fantastic cherry and plum flavors that went on and on. A bottle of this lovely wine came home with us! From there, Marc poured their 2019 Maestrale, a blend of 40% Cabernet Sauvignon, 30% Petit Verdot, 15% Malbec, and 15% Cabernet Franc. I was entranced by the Rainier cherry nose and the great layers of fruit that cascaded across the tongue. Between the chorus of fruit flavors and brief, dry finish, this would be a great pairing for nearly any meal.
Their 2019 Mataro was the next taste. Marc told us that Mataro was another name for the Mourvedre grape. Whatever the name, this was a great wine, especially if paired with food. An aroma reminiscent of a lofty library and a bright berry taste, this was a fun take on Mourvedre's twin sister. The final taste was their 2017 Off-dry Grenache. Marc told us that this wine was a happy surprise, when the secondary fermentation on a barrel of Grenache wine did not go as expected. The resulting wine was silky on the tongue in a Port-adjacent way, with a very pleasant fruity finish. A solid completion of a robust tasting flight.
Tasting complete, we paid Marc for our tastings and wines for home and set off to find our OB afternoon lunch. Next time, we need to remember our Fedoras!
---
About the Author
: John grills a mean steak and is always in the market for another wine fridge. Believes that if a winery has more than 10 employees, it's probably too big. Buys wine faster than he drinks it, but who cares?
---
It pays to subscribe!
We will send you a brief email whenever there's a new post, so you'll never miss an article. We promise not to be a pest. Unsubscribe any time you like. And, of course, we won't let ANYONE else use our subscriber list. By subscribing, you agree to our
Privacy Policy
.
So go ahead,
click here to SUBSCRIBE
!