Wine club release parties are the best part of club membership! A party full of happy, wine-loving club members, exciting new wine releases, and typically some special treats to highlight the wine. The recent Ruby Hill Winery release event covered all the bases, with a dash of wedding party on the side!
After a fun tasting at Pat Paulsen Vineyards, we made our way to Ruby Hill. As we approached the parking lot, we discovered that a wedding was in full swing at the adjacent Casa Real event center. This particular wedding had the typical crowd of joyous guests and festive music, and threw in a horse for extra matrimonial jubilation. Everyone was having a great time, and we wish the bride and groom every happiness.
Ruby Hill club parties are very well organized. Upon entry to the tasting room, we collected our wrist bands and wine pack claim checks at the welcome table. Once again, we appreciated the more than adequate staffing and thoughtful organization that kept the waiting time to a minimum. There's nothing worse than being excited about a release party, only to wait in long lines to get in. With Ruby Hill parties, the waiting is minimized so the party can be maximized. That's something that keeps us coming back, party after party, year after year.
Properly credentialed, we collected our wine glasses from CJ, our favorite Ruby Hill wine guide, and proceeded to the members-only patio. Let the party begin!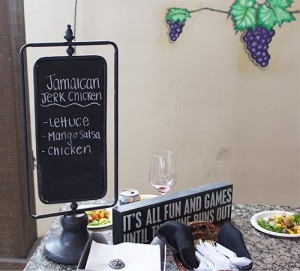 The patio had several wine and snack pairing stations set up for our enjoyment. My favorite snack was their Jamaican Jerk Chicken wrap, which had enough heat to make my eyelids sweat. The rest of the table thought it was a bit too much, but I loved it. It provided a nice counterpoint to the 2013 Intesa, which was a co-star of the release party.
The other new release was a 2013 GSM, which was a blend of 55% Syrah, 35% Grenache and 10% Mourvedre. Maybe it should be called SGM, based on its formulation? It was paired with cubes of sharp cheese to highlight the lovely layers of fruit and slightly spicy finish. This wine was the favorite for several of us.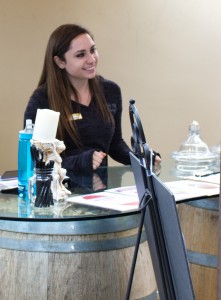 For this event, the term favorite  meant more than usual. We were each given a "voting cork" when we checked in, and were invited to vote for our favorite new wine release. Although there were preliminary voting results from Saturday, we tried not to let that sway us in our deliberations. In fact, we were so serious about our voting that some second tastes were required. Finally, our decisions were made and our corks were cast. When we visit next time we can learn which wine was more popular. Finally, an election I can get behind.
Voting complete, we went back into the building and went into the barrel room in back. There, we compared the new  GSM from a standard 750 ml bottle with the same wine from a magnum (1.5 l) bottle. Once again, we were struck by the differences, with the magnum delivering more fruit and less spice than the smaller bottle.
Our final taste was straight from the barrel. We got an early peek at their 2014 Petite Sirah. Like most barrel tastings, the wine still had some sharp edges that will fade with more time in the barrel. We enjoyed the brilliant fruit and already restrained tannins. There are several reasons why I have stayed on the consumption end of the winemaking pipeline, among which is my inability to predict the final, bottled wine based on preliminary tastes from the barrel. That said, this wine showed real promise. We will all know the truth this fall when the wine is released.
It was eventually time to go. Once again, the organizational wizardry of Ruby Hill came through. The check-out table had each member's order prepackaged. We merely presented the receipt that we collected when we entered to receive our release pack. Since we had somehow missed a release party (shame, shame!) we also received a 2013 Cielo Viola and a 2013 Petite Sirah, too. Something akin to getting two desserts!
Off we went with our armload of wine, still very happy to be members of the Ruby Hill wine club.
---
About the Author
: John grills a mean steak and is always in the market for another wine fridge. Believes that if a winery has more than 10 employees, it's probably too big. Buys wine faster than he drinks it, but who cares?
---
It pays to subscribe!
We will send you a brief email whenever there's a new post, so you'll never miss an article. We promise not to be a pest. Unsubscribe any time you like. And, of course, we won't let ANYONE else use our subscriber list. By subscribing, you agree to our
Privacy Policy
.
So go ahead,
click here to SUBSCRIBE
!